How was the 2020 tagDiv Year for our team and business? In short, we all know 2020 was not an ordinary year. We had to learn how to help all of you create awesome websites in a pandemic year. As many businesses moved online, we've focused our attention on providing the platform, tools, and support to allow you to achieve your goals.
The past had great hits, but today is amazing
It was challenging. Tough. Complicated. With ten months working exclusively remote for social distancing and two lockdowns, our team was present online every day to answer your questions on social networks, to provide support, to create new features and to help you get the best of your website. Daily video conferencing, online brainstorming sessions, countless tasks, helping you while working with you help our team members stay healthy, sane, and focused even though we're working from different parts of the city, without interacting physically. We all learned a more balanced way of organizing our work and establishing priorities. We've demonstrated that we are still a strong team, supported by a powerful and loving community.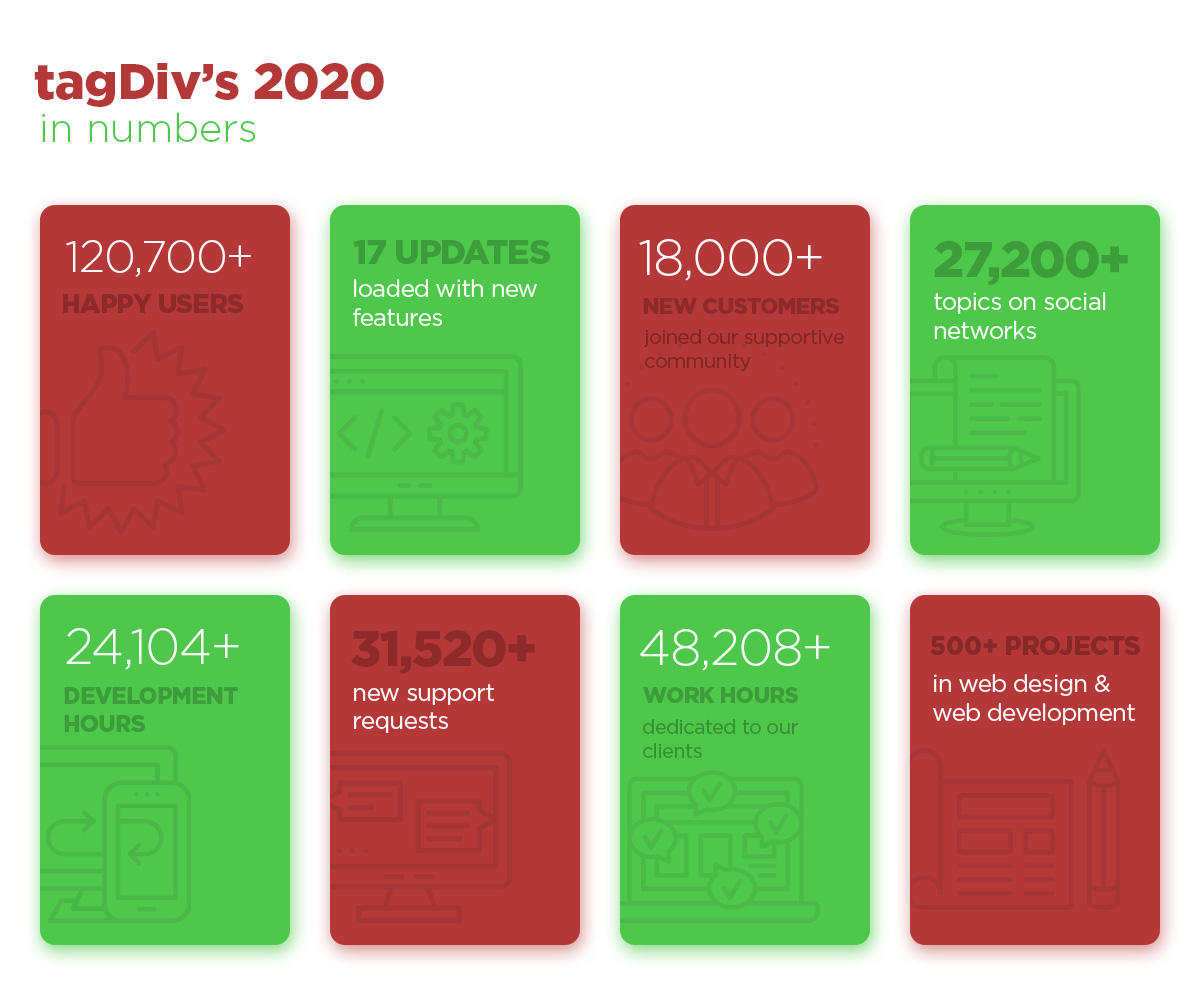 How was 2020 tagDiv Year in Numbers?
At the end of each year, we just want to take a moment and look back and review our achievements and things to improve. We've improved and released our themes with 17 updates, and we had more than 48,000 working hours, and over 31,000 support requests on all the available channels. With utmost care to our customers, we've invested time and hard work into 500+ web development & web design projects.
Besides highlighting the most important numbers, we have also launched some new important functionalities in our themes and also reached a new milestone.
In 2020, Newspaper Theme Hit 100K Customers
In 2013, we launched Newspaper Theme on the Envato, ThemeForest market. Seven years later, Newspaper is the best selling blog, news, and magazine WordPress theme worldwide. Today, there are more than 100,000 customers using Newspaper to build their amazing websites. If you want to know more about our business journey, we've published the whole story and the Newspaper theme evolution infographic.
New Theme Functionalities
Newspaper theme is customizable from top to bottom. From pages, posts to header, builder, and fonts, everything is entirely editable on the frontend of your website using the tagDiv Composer page builder, tagDiv Cloud Library, and useful tools (duplicate content, drag & drop functionality, copy/paste, undo/redo, and others).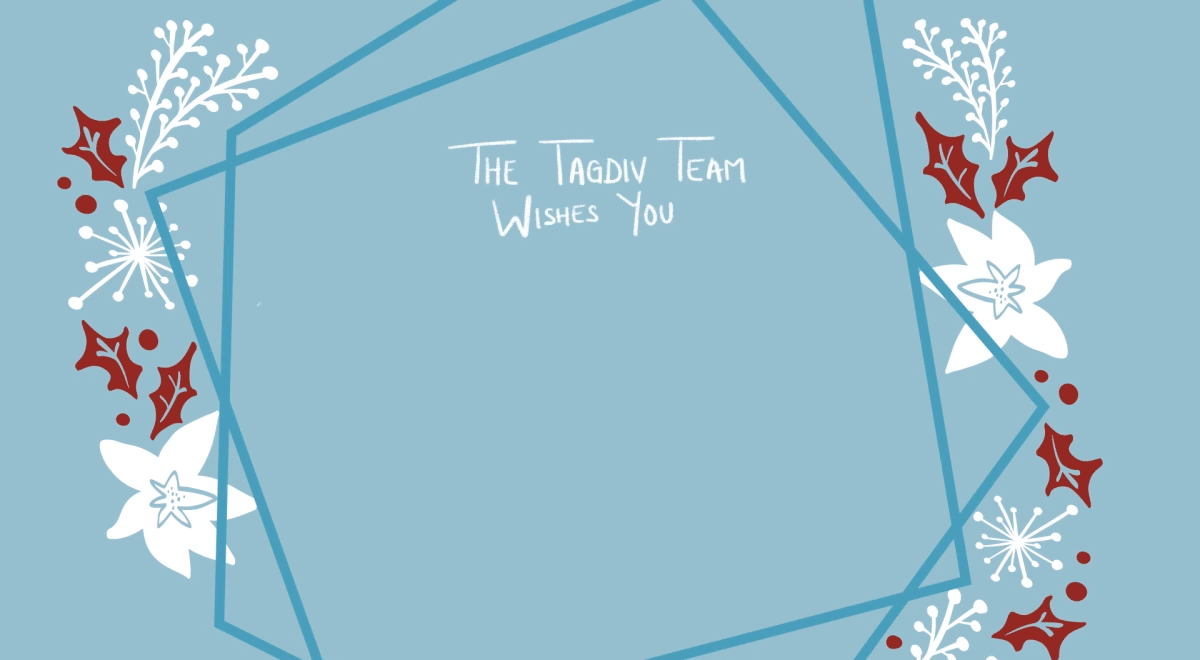 tagDiv Software Company appreciated by the industry
We've been recognized as software creators and authority on various platforms for our on-demand web development and web design services. We've recently published a comprehensive article about tagDiv company and worldwide recognition as a WordPress themes author.
More Sales Campaigns Than Ever
We know how important it is to help people fulfill their dreams. In 2020, we planned and executed more discount campaigns than ever before, so everyone could get Newspaper and Newsmag themes at a special price and start creating their online website. Moreover, we had some special offers for our customization services, as well. So, we had Spring Sale, Summer Sale, Newspaper Birthday Sale, and Cyber Week Sale.
If you're interested in our future campaigns, you can subscribe to our newsletter and be the first to find out about them.
Home of tagDiv: Redesign Touch
This year we felt that our website needs to respond to new customers' expectations and new approaches. In these months, our web designers got so creative that they retouched the tagDiv website to reflect all the solutions we provide. We wanted to show our experience and growth over the past seven years. Always with the user experience in mind, our professional team created new, intuitive user interfaces that easily guide you through our sites. tagDiv.com is the real proof that the Newspaper theme is a complete solution for any website. The new design is described as a shiny, stardust, and spectacular one! There are animated content boxes, an airy layout with plenty of negative space, and well-balanced elements to emphasize the core information. Moreover, all of them are blended with purple-blue color gradient accents for an empowered feeling.
We challenged ourselves to build new and amazing pages using the given Newspaper theme functionality and unlimited customization possibilities. The marketing & web designing team rethinked & reviewed the old pages, and so we made a more visually appealing presentation website for our business. These are part of a more complex project. As you know, we pay a lot of attention to details, and we strive to bring everything closer to perfection.
Customer Support Holiday Schedule
Even if our homes have become our offices, we want to celebrate Christmas and New Year's Eve in our cozy homes and spend valuable time with our families. We want to take a short vacation to start 2021 with a creativity & productivity boost.
Our tagDiv company will have a short vacation between December 25 to 27, but we're back here on Monday, December 28, and close again for January 1 to 3. tagDiv wishes you all the warmest of holiday cheer and joy!

What to Expect in 2021 from tagDiv?
Worldwide big events got canceled. However, there were plenty of people that realized the importance of digitalization and the fact that technology can help us work from everywhere, attend conferences, trainings, receive therapy, and so on. Human interaction is the thing we all cave for. We miss laughing with friends over a cup of coffee or travelling. We can not provide a real hug, but you can find us online ready to help you achieve your dreams. With the hope that in 2021 we'll get back on living our lives as we used to, we'll continue to challenge ourselves every day to keep giving you the professional solutions you love.
Our development team is already working on major releases for our themes, but we cannot disclose anything about this. Furthermore, the customization team is engaged in several the projects and improvements you've requested us to create for you. And as always, the customer support team is ready everyday to help you get the best of your website and customize everything to perfection.
If you want to recap how this year was worldwide, Bored Panda published an article around a viral Imgur post that showcased 2020 in memes. It's the most wonderful year for personal introspection. If you haven't got the chance to build yourself a website in 2020, perhaps in 2021 you'll take the bull of the horns and make your dreams come true. Tell us in the comments how 2020 was for you and what you expect from 2021. We'd love to hear from you <3
Merry Winter Holidays!
XoXo,
tagDiv team