Bluehost is one of the most popular web hosting providers available worldwide, owned by EIG, the Endurance International Group. Developed in 2003 as open-source software, Bluehost is a cloud-based platform that provides online solutions for small and medium-sized businesses with millions of users. Here at tagDiv, we also have many Newsmag theme and Newspaper theme customers that are satisfied using Bluehost services. If you're still looking for a hosting provider, we've decided to write a comprehensive review about Bluehost's history, their business success story, hosting solutions, and best features.
Why did EIG make the Bluehost Acquisition?
EIG acquired Bluehost in 2010 when it was already a key player in the web hosting industry and favored by so many people for their websites. As a growing web hosting company and leading cloud-based solutions provider Bluehost was certainly interesting for a big company. The EIG strategy has always been to acquire companies with the best products already available and make them even better. Besides Bluehost, some of the businesses owned by EIG are popular and well-known names, such as iPage, Hostgator, Domain.com, Mojo marketplace, and many more.
Does WordPress CMS Recommend Bluehost web hosting services?
Definitely. If you're looking for another point of trust, you can definitely turn your attention to WordPress Web Hosting recommendations. Since Bluehost already is "home" for more than two million sites, it is for sure a reliable source. Give it a try and build your amazing website with tagDiv themes!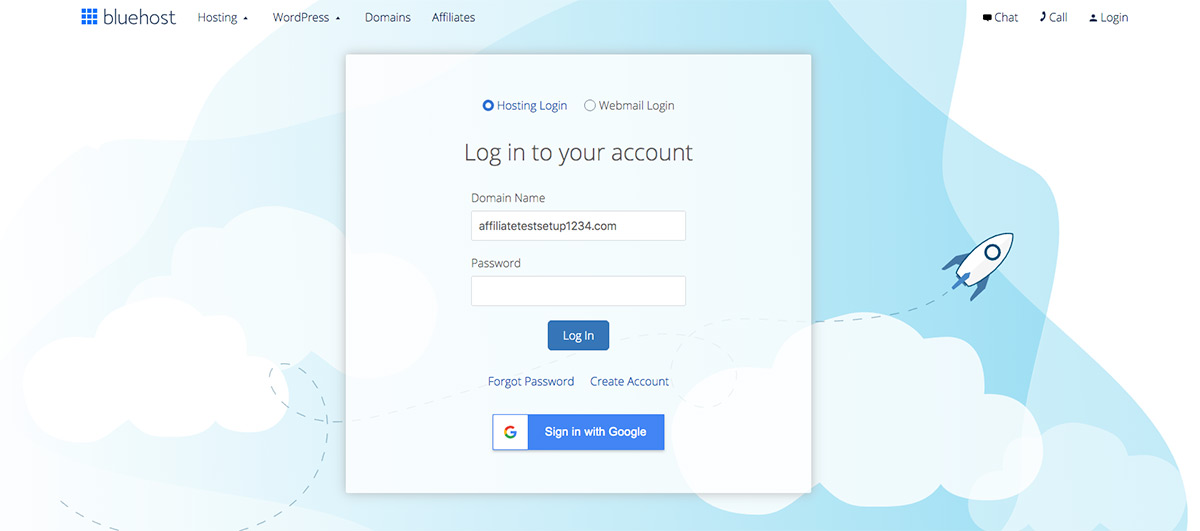 Bluehost Hosting Services Overview
1. Shared WordPress Hosting
The Bluehost shared WordPress Hosting was specially designed for clients that need resources, products, tools, and support to build their WordPress sites in a single place. If you're considering buying WordPress hosting, you should consider one of the three hosting packages. Basic, Plus, and Choice Plus are the WordPress hosting available packages, and the pricing normally starts from $3.95/month, but if you use this link to opt for a hosting plan, it will start from $2.95. The Basic package is more limited than the others as it allows you only one website, 50 GB of SSD storage, five parked domains, and 25 subdomains, while the others two options include an unlimited number of websites, unmetered SSD storage, unlimited parked domains and subdomains, as well as one Microsoft 365 mailbox. They all have in common the free SSL certificate. If you choose the shared WordPress hosting option, Bluehost will automatically install the latest version of WordPress and will keep it updated.
2. Managed WordPress Hosting
The managed WordPress hosting by Bluehost refers to all the tools that are handled by this cloud-based software for you and your website so you can focus on the content instead of technical stuff. Whether you're looking out for site migration, site staging, WP-CLI, and SSH access, daily back-ups, 99.98% uptime, or multi-layer caching, the managed WordPress hosting solutions by Bluehost got you covered. You can opt for one out of three available managed WordPress hosting, starting from $19.95/month up to $49.95/month for one hosted website. Choose wisely, as the Build, Grow, and Scale include interesting options related to your site's security, traffic, and web storage.
3. WooCommerce Hosting
When you create a WooCommerce website, you need to ensure it's backed by strong tools that keep everything under control in a safe and performant environment. Bluehost offers you the possibility of opting for a Standard or Premium WooCommerce hosting package, starting with $15.95/month. Both choices come with top features such as the WooCommerce plugin automatically installed, free SSL & domain name, payment processing, site traffic analysis, store-front theme installed, and you can add unlimited products on the site. Moreover, you can upgrade your shop by opting for a product vendor marketplace, calculate shipping rates, allow customers to pay with their Amazon accounts, and much more.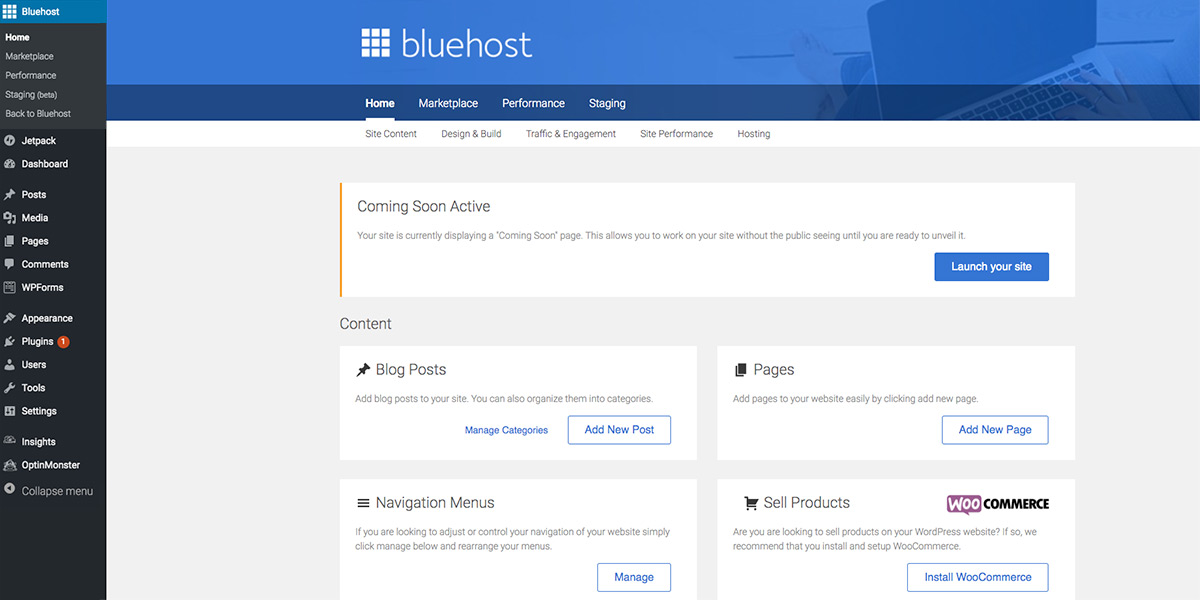 4. Shared Hosting
Usually, shared hosting is described as a "service where many websites reside on one web server connected to the Internet." Bluehost has divided the shared hosting into four pricing plans, with the possibility of paying for 12, 24, or 36 months. With every plan, you'll benefit from SSL certification, a domain manager to organize all your domains from a single place, and other options.
5. Dedicated Hosting
A dedicated hosting plan is the excellent choice to host a single website on a physical server. Bluehost dedicated hosting options provide you with a free domain name for one year, RAID storage, root access to perform customization for yourself, and also increase the server storage right from the intuitive cPanel. The company describes this type of hosting as an "environment that provides the highest level of resource allocation, privacy, and control." There are three available pricing plans, called Standard, Enhanced, and Premium, that start from $79,99 monthly and go up to $119.99/month.
6. VPS Hosting
VPS refers to Virtual Private Hosting and guarantees you to use dedicated resources such as RAM, CPU, or Disk Space. As a VPS user, you have full control over the root access so you can perform commands and do any hosting configuration change. The Standard, Enhanced, and Ultimate pricing plans range from $19.99 to $59.99 monthly.
All the available Bluehost hosting solutions provide basic, additional, and optional features. For sure, you'll find the one that best suits your website or business.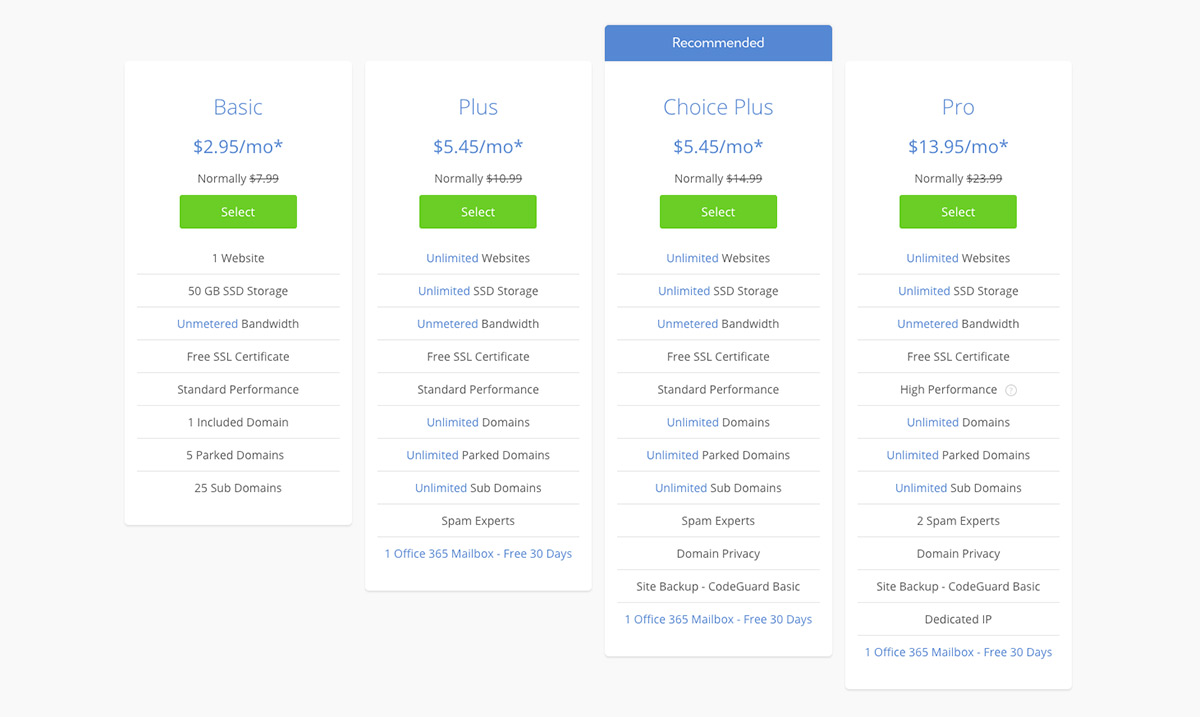 Quality Hosting Services
The Bluehost company provides support via chat and phone, and allows you to test their hosting services with a 30-day money back guarantee. It's available for apps like WordPress, Drupal, Joomla, phpBB, and other open-source software, and it also includes migrating services.
99,98% Uptime
Includes plenty of add-ons that can extend your hosting functionality
Free SSL (Secure Sockets Layer) certificates to confirm your site can be safely accessed, from Let's Encrypt company
Migration services from the standard cPanel dashboard
Unlimited domains
Domain manager tool
Parked domains
Access to Cloudflare CDN
Apps and CMS quick installation
Easy to use by WordPress beginners
Multiple add-ons and tools available within the cPanel
24/7 support through live chat and phone
30-day money back guarantee
Bluehost Customized cPanel Interface
My Sites
This is the area that shows you all the hosted websites managed by the same account you're logged into. From this section, you can create new websites or enter your WordPress admin dashboard.
Marketplace
The Bluehost marketplace is the one-shop place where you can search for new add-ons, professional services, themes, or plugins to extend your hosting functionality.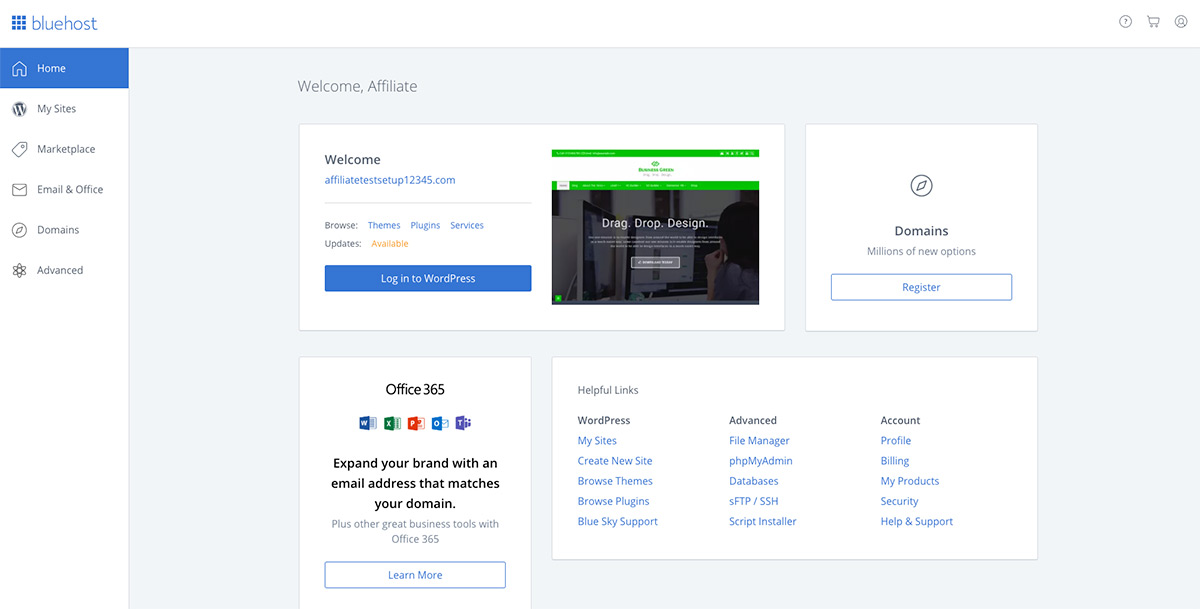 Email
From this area, you can manage your email accounts. If you want to access cloud-based email & features, you can opt for Microsoft office 365 or Google G Suite. Or, you could utilize a basic email service to use your site's domain name.
Domains
This is the domain manager, the section where you can preview all the domain names you own, the affiliate servers. Moreover, you can find & register other domain names, assign them to another website, transfer domains, or manage the subdomains.
Advanced
The advanced tab gives you access to the file manager, directory privacy, FTP connections, and accounts, or disk usage. This area is the database of all the management, email settings of your web hosting account.
Conclusion
Bluehost is a popular hosting provider that offers you a multitude and variety of features and hosting services. It's true that the more options you opt for, the more you'll pay. However, the Bluehost company provides six hosting types you can choose from and their pricing rates are affordable. They are either cheap and basic, or expensive and extensive. Also, for your website to run smoothly you'll also need a powerful, flexible, and performant WordPress template. There are so many customers that have chosen Newspaper or Newsmag themes to easily build their websites hosted on one of the Bluehost's servers. If you're a WordPress beginner and looking out for a hosting service, you should definitely go for the Bluehost Shared Hosting plan. As a recommendation, you could save some great money opting for an annual hosting fee instead of monthly payments.
Disclosure: Some of the Bluehost links in this article are affiliate links, which means that when you click on one of them and purchase one of the hosting plans, we may receive a commission. However, the review is based on our own extensive research and feedback and we have not received any payments to publish a positive review.