They say, "doing what you love is easy." What do you do when "what you love" takes you outside of your comfort zone and challenges you to move the world forward? We've invited Stuart Masson, editor of one of the most influential UK automotive blogs to share their story with you. Read a detailed Newspaper Theme Case Study on The Car Expert.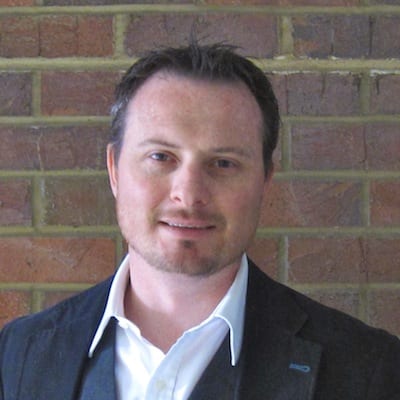 Stuart Masson is an Australian living in the UK. For more than two decades, his passion for cars lit the lives of the people around him. In 2011, Stuart founded a "car finance and buying advice" website. For over eight years, the award-winning "The Car Expert" ranks in top most influential UK automotive blogs. With more than 150,000 visitors per month, it gains the 'Best Automotive Blog' award at the 2017 UK Blog Awards.
The challenges
The Car Expert strived to break through the noisy online medium to help people make informed decisions while buying their cars. It took on four significant challenges:
Creating the website on WordPress with no web development background,
Ranking first in the Search Engine Result Page,
Building the trust in the mind of the visitors, and, of course,
Generating revenue by monetizing the website.
"We were searching to create a custom site design that wouldn't cost tens of thousands of pounds," summaries the Editorial Director, Stuart Masson.
The search for the ideal solution
In 2011, Stuart and his partners took the challenge and bought a domain for their website. He then started to look for the perfect WordPress theme that could help them build a successful website without any coding skills.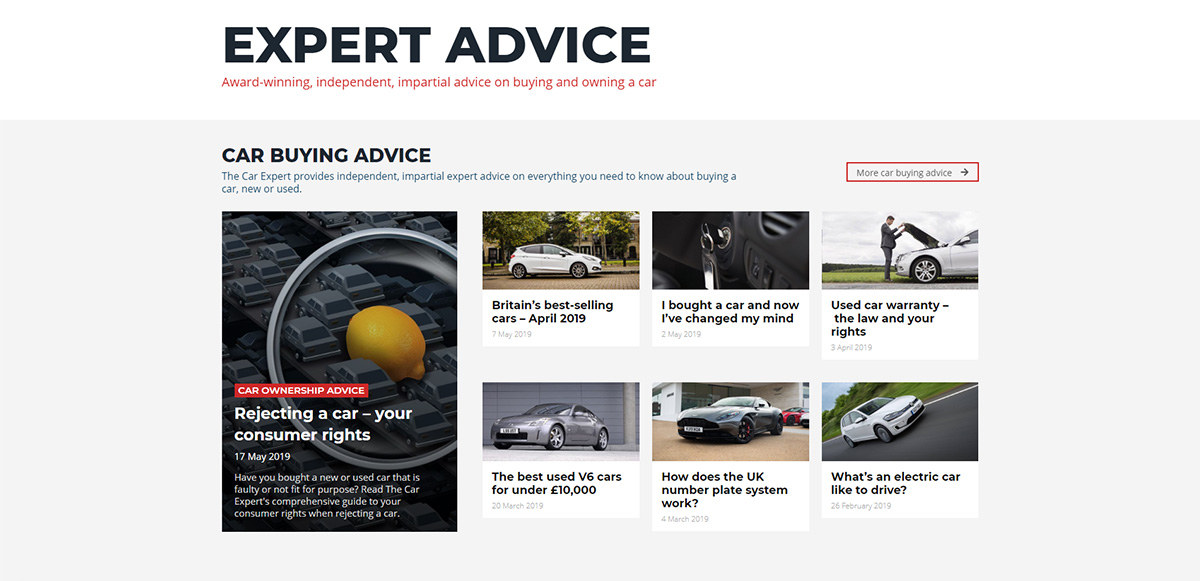 Stuart recalls: "We have tried several WordPress themes over the years (at least seven or eight, I think). Including both Newsmag and Newspaper. And looked at scores of other themes and plugins to find our ideal set-up. After all the testing, we think that the combination of Newspaper 9 and the tagDiv Composer is by far the best theme builder for our needs.
We have been able to create a site with the Newspaper WordPress Theme that looks as professional as a custom site design that would cost tens of thousands of pounds. The tagDiv Composer allows us to have really detailed control over every aspect of every post or page on every screen size, which is incredible".
Ins and Outs of the decision process
We've asked Stuart to share with you and with us the story of how he decided to use Newspaper Theme on his websites.
"I regularly visit sites like Themeforest to look for new ideas and inspirations for how we can improve our websites. I first purchased Newsmag about six years ago, and have always been impressed with the level of support provided by tagDiv to customers.
We then switched to Newspaper 7 as it offered more features that suited our needs. Although we loved most aspects of the theme, one of my bugbears was always the fixed width, which didn't suit our banner ads. So in mid-2017, when tagDiv was updating the theme from being based on Visual Composer to tagDiv Composer for Newspaper 8, we decided to switch to a different template from another developer. It had some features that looked pretty cool, and we could stick with the Visual Composer page builder that we were familiar with.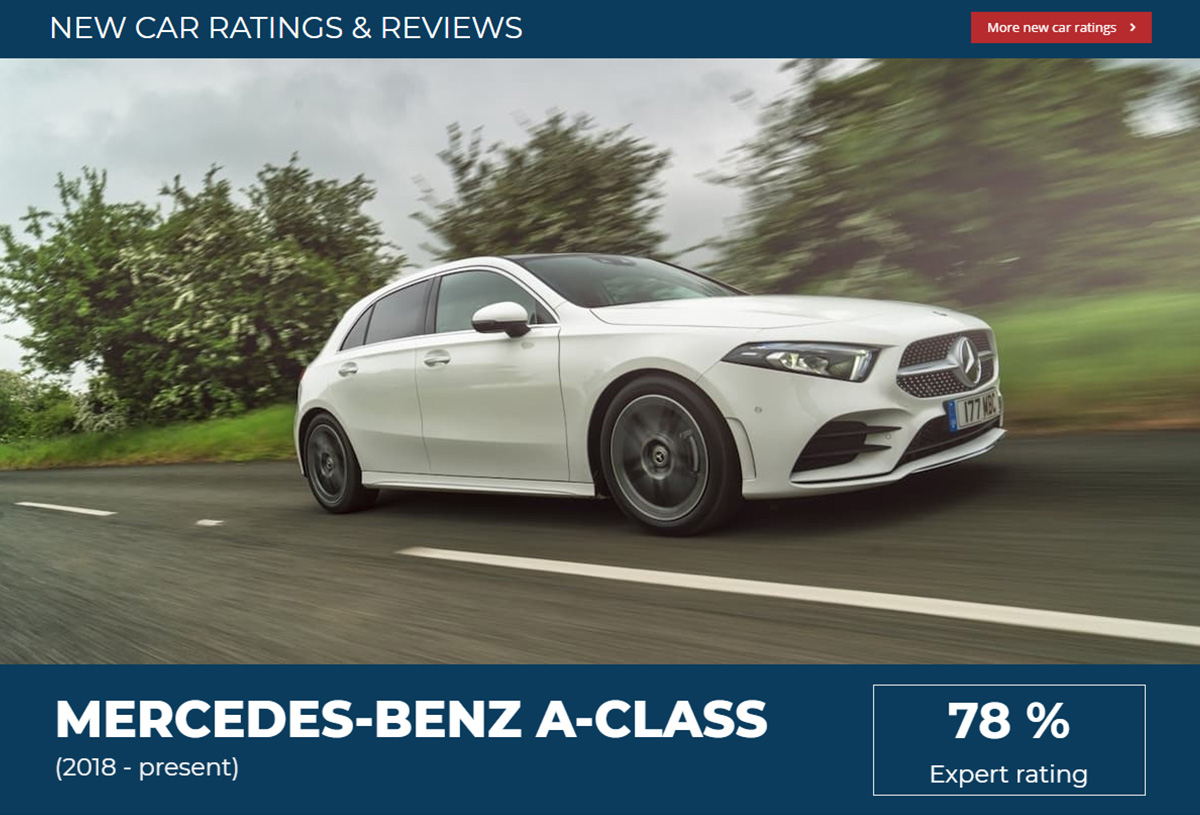 It was a big mistake. Although we got a few new features, we lost a lot of stuff that was included by default in Newspaper and faced lots of problems. We bought loads of plugins to try and regain the lost functionality, but that created all sorts of conflicts and was nothing like the seamless fit of components on Newspaper.
While we were struggling with this theme, tagDiv introduced a massive update to Newspaper with Newspaper 9. Suddenly we realized that tagDiv had addressed most of the things that had been bugging us. The ability to design our own templates for every page and post on the site meant we could style things exactly as we wanted to. We started the process of redesigning our sites (again) to return to tagDiv and also come up with some bespoke templates for our posts and pages", recalls the founder of The Car Expert project.
The solution in action
Once the decision to return to the Newspaper Theme was made, Stuart migrated his website on the Newspaper Theme.
"We have two people involved in the site design and layouts, and neither of us is any good with coding. We have used a professional developer to create a custom plugin that we needed for a particular element, but everything else we've done ourselves.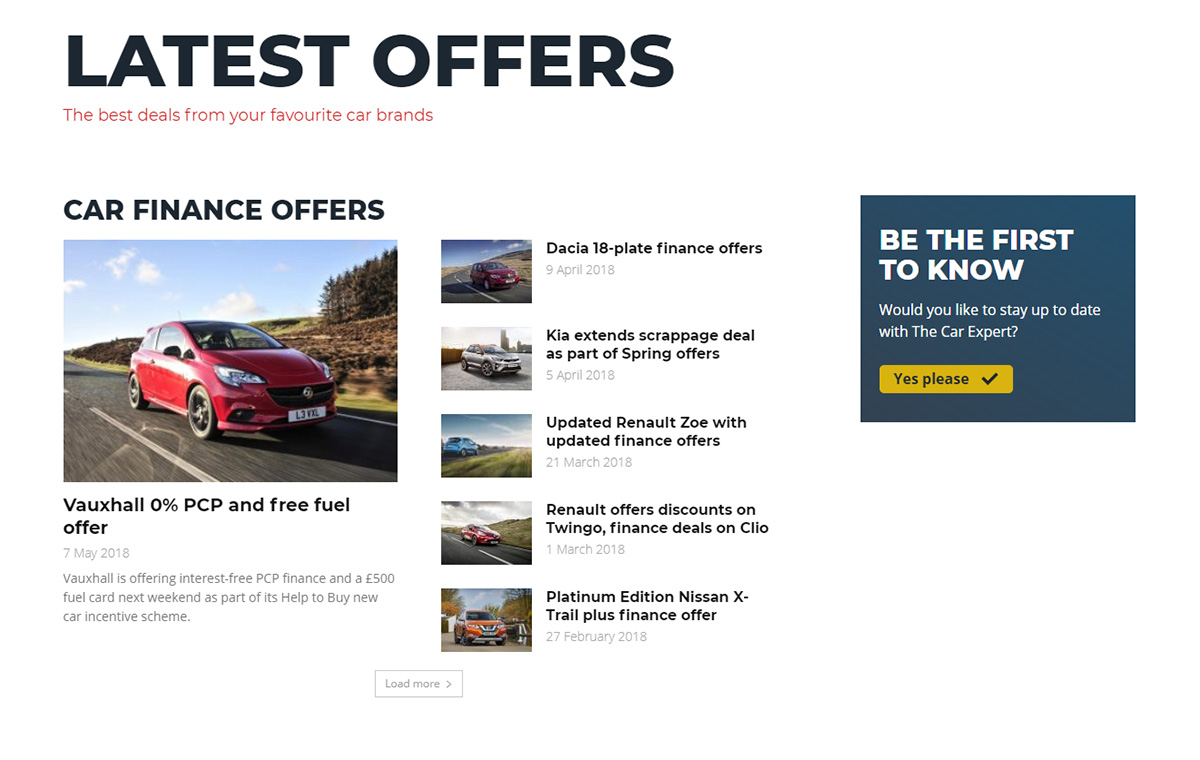 Switching back to Newspaper was really easy, despite having a huge number of pages that all needed to be restyled. We were also better prepared this time around!. If you don't have a lot of time and want something that looks good straight out of the box and is easy to use, Newspaper 9 is great. There are plenty of choices that you can make to tailor it to your preferences. It will look really clean and professional.
But if you want to really get involved in the details, it gets even better. I'm always tinkering with different site elements, so it's a never-ending project. Every now and again, I break something pretty seriously and have to contact my web host to restore the last version urgently. But that's becoming rarer these days…"
From passion to business
Since 2016 and 2017, thecarexpert.co.uk has two "siblings". With the new website The Van Expert and The Truck Expert, Stuart's passion went to a whole new level, a business built around the website(s).
"We run three sites on Newspaper now, and will hopefully add more in the next couple of years. We're using the tagDiv Composer and Flex Blocks for everything rather than the pre-formatted blocks, so they look exactly like we want. Similarly, we build our post templates rather than using the pre-formatted post templates, so we have our own unique style.
The tagDiv forum is brilliant for getting help and advice from the development team and also other users. These guys have all been brilliant whenever we've had questions. They go above and beyond what any other development team does to help customers".
Results? Over 30% year-on-year growth
Measuring passion is difficult, but when it comes to websites, things tend to get easier. You can track results almost from day one and know accurately if and how fast you're growing. Also, in the case of the Car Expert's blog, Newspaper Theme makes it easy to multiply results.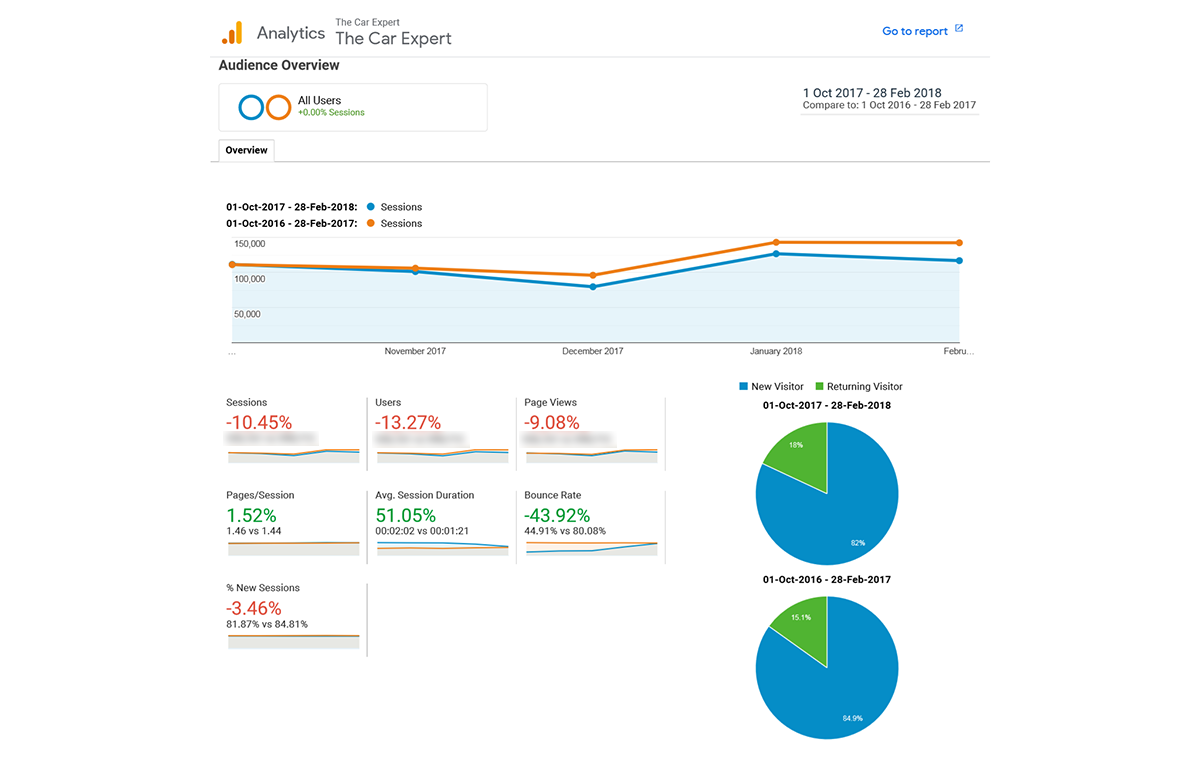 Stuart recalls: "When we switched away from Newspaper 7 in September 2017 to another theme, our site metrics all dropped immediately and then kept gradually falling further over the following six months. The only metric that improved was time on site because pages were taking longer to load!
When we switched back to Newspaper 9 in September 2018, our metrics all bounced back to where they had previously been quick and even improved. Our last quarter for 2018 was up 30% year-on-year and was our best ever. The first quarter for 2019 has also been good".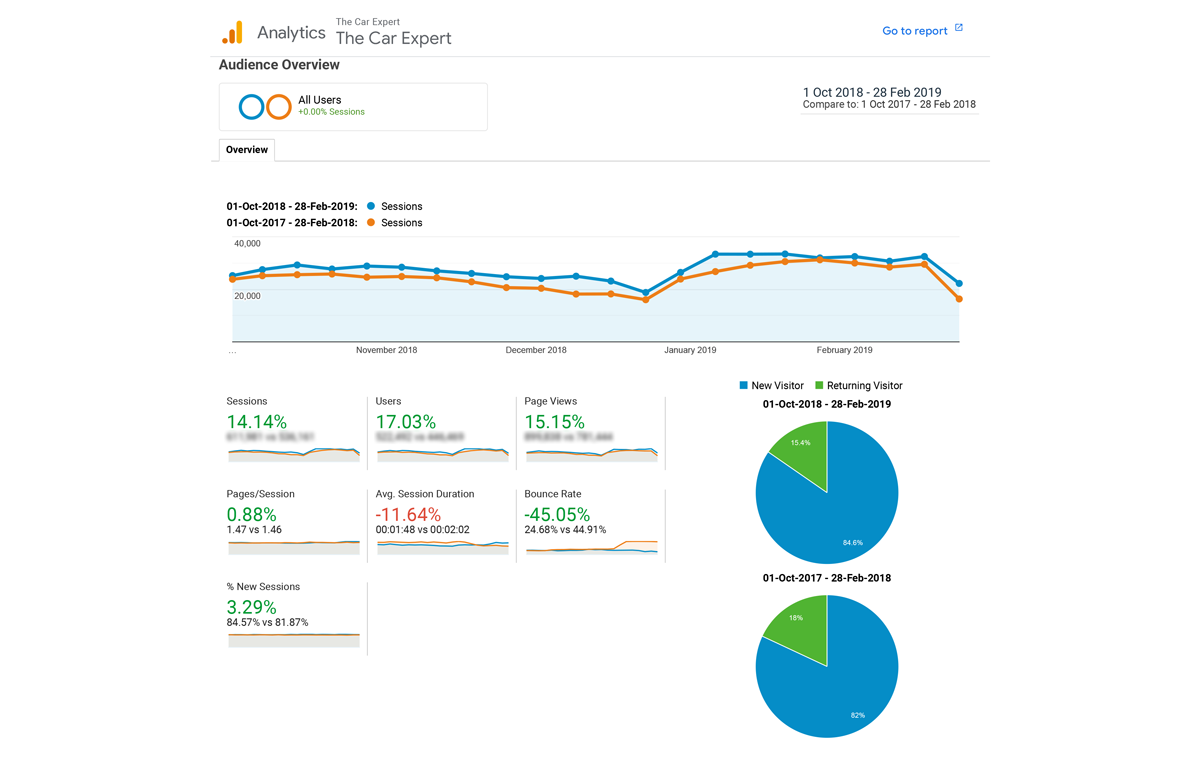 Does the Newspaper Theme save time?
"Our three sites are all related, so we want them to all look the same. With Newspaper 9 that's really easy, as we can copy and paste entire layouts. And then just tweak to suit each site. This means building three new websites takes barely any longer than just building one.
I don't think it's saving us time, as we're always tinkering with things! With so much flexibility and so many options, we are always finding something new to try. We bought an extra license for a development site so that we can test new designs. And to try out new ideas", explains Stuart Masson.
Wrapping up
In this Newspaper Theme case study, we've given you the story of The Car Expert Blog that registered an amazing 30% year-on-year growth while switching from another theme to Newspaper. Even more, the blog's editor shares with us the whole behind the scene process and explains how the decisions they took affected their websites.