It's that time of the year again when we all feel the taste of winter holidays. Hurray! This was an extraordinary year, and we all deserve some wonderful time with our loved ones. Thank you for taking this outstanding journey with us. Before you settle down, let's take a quick look at 2019 in perspective!
Highlights of the tagDiv Journey in 2019
Some people are more receptive to changes than others. In this dynamic world, change is continuous and necessary, inevitable like taxes. 😉 With technology in our grasp, keeping a product at high standards is essential. In 2019, we were challenged to get better, further develop and design outstanding items. I must confess, this has been quite a ride! We've implemented major improvements to our products, making tagDiv themes faster, flexible, more appealing, and easy to use. We want to deliver our items with the best intuitive interface so that you can focus on the content you publish on the website.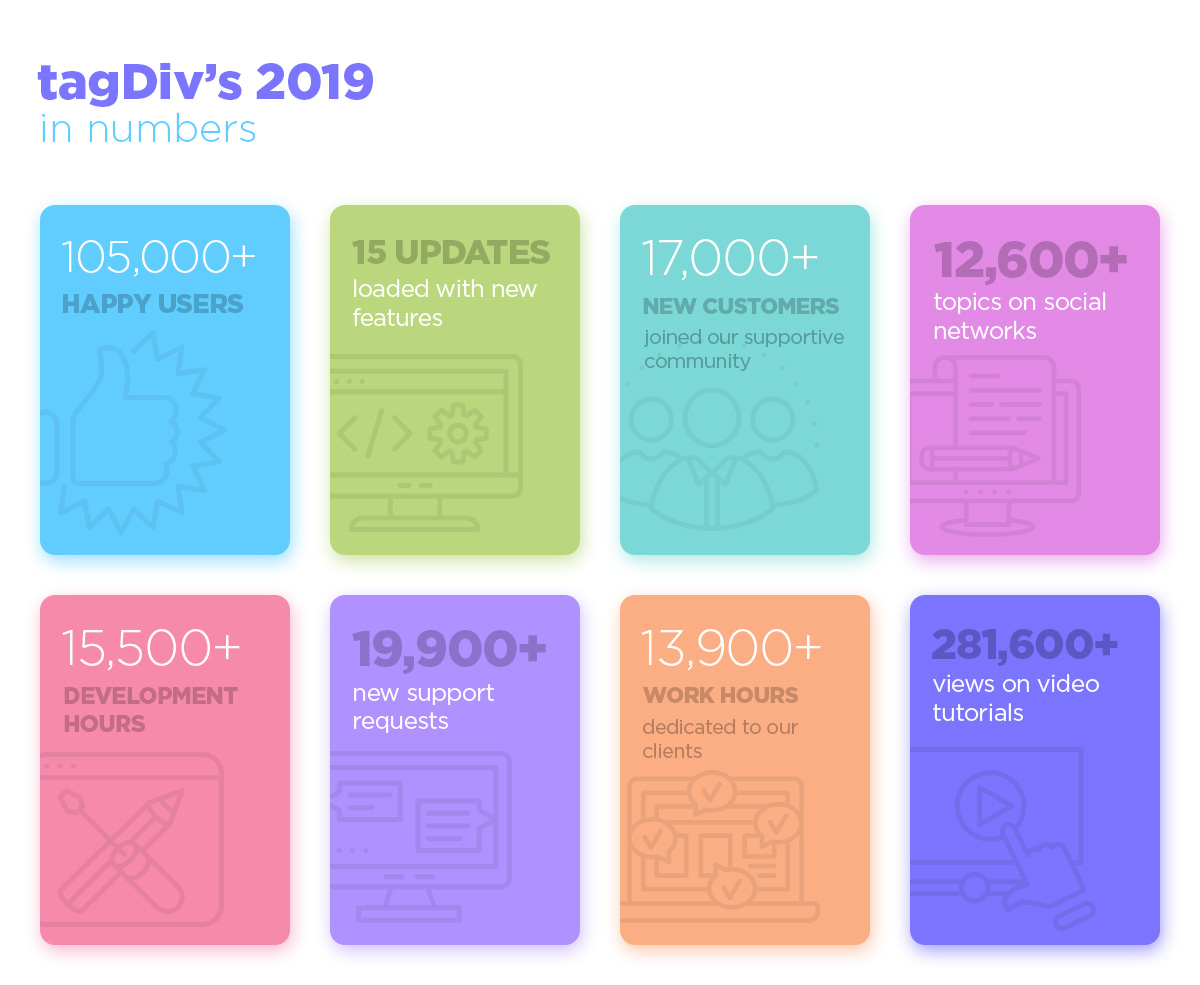 Envato WP Requirements Compliant Badge
The Envato Themeforest Market, where we're exclusively selling our Newsmag and Newspaper WordPress themes, demanded us to make the templates compliant with their WordPress requirements. After long hours of discussions, coding, dark chocolate, more coding, and heaps of coffee, we've made the changes and planned a sequence of updates to deploy them. The major challenge has been to implement this new code structure on your active websites. With your support and understanding, and the whole team working around the clock, together, we pulled it off. We were rewarded with the WP Requirements Compliant Badge. This was one of the most important moments of 2019 because it showed us that we have so much support from you, our dedicated community. Thank you! Find out the whole story here.
Welcoming a new way of creating Headers
2019 also marked the release of a feature that gives you magic powers. Yes, I'm talking about the Header Builder. For the first time in the Newspaper theme, it gives you the power to build entirely different headers for various pages. There's also a great way to design special, responsive, and sticky headers, for small screen devices. To improve the quality and the performance of your headers you can even use SVG logos.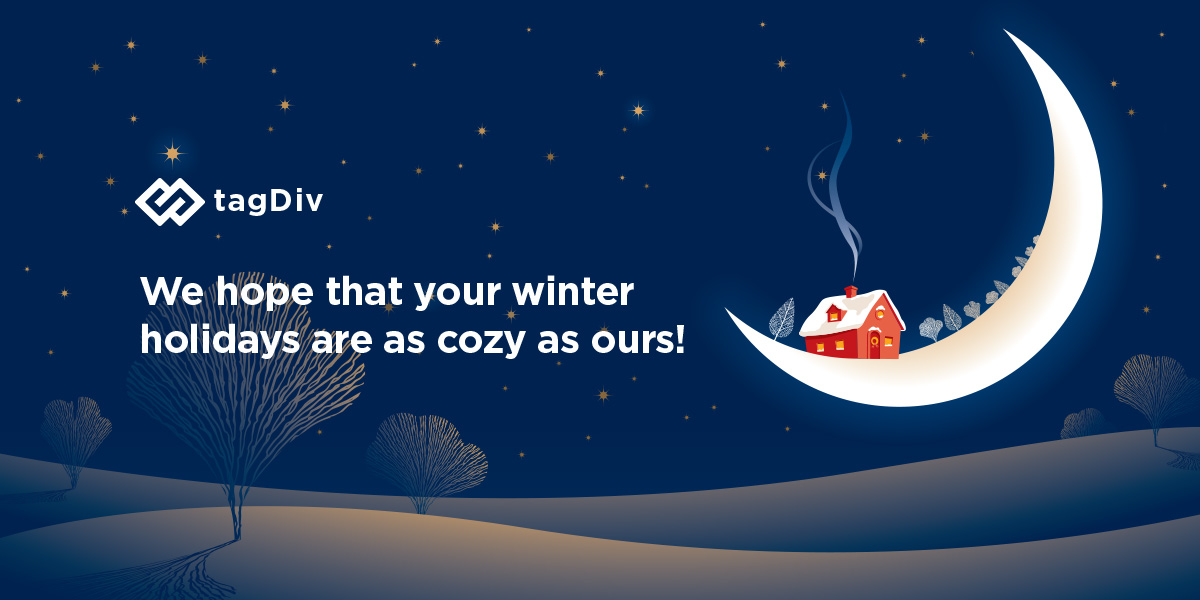 Introducing PRO Demos in Newspaper Theme
If I were to review and describe 2019 in a single word, it would definitely be "Speed". If you give me three words to describe the year, I'd say "Page Loading Speed". On our quest for speed, we've created the PRO Demos for you. Today, the Newspaper theme has 13 outstanding PRO demos you can tweak using the tagDiv Cloud Templates and the frontend page builder. They are highly optimized and load like a charm! Starting with Newspaper 10, even the default demo is now PRO, which represents the perfect balance between lightweight structure, efficiency, and flexibility. We've added new capabilities for mobile, AMP, autoloading on posts, and many other settings to make the themes load faster and better so that you can easily conquer the search engines.
Newspaper WordPress version X
November 2019 also marked one of the most important moments of the year, as we've released the major update you have been waiting for. With a new interface for the frontend tagDiv Composer page builder, blending modes for images, a PRO demo as default, and a brand new plugin to help you deactivate the slower parts of the code, the Newspaper theme 10 was the apex of the year's efforts. Newspaper 10 gives your website a fast page loading speed and improved performance. And again, we couldn't have done it without you! We are so lucky to have such an enthusiastic community of awesome people.
tagDiv Custom Services
We know that sometimes having a dream and making it real does not always go according to plan. Since many of you requested qualified help with your WordPress website, for the first time in more than 6 years, we've launched tagDiv Web Development Services. From basic WordPress installs to professional designer's touch and overall optimization, we are proud to work closely with you and helping you build your dream. Thank you for challenging our skills with your dedication to dream big with the Newsmag theme or Newspaper theme!

Together We Make the Impossible Possible
So, what should you expect from tagDiv in 2020? We don't want to disclose anything this time… it was a joke! In 2020, we promise to put all the creative minds of our team to work on new ways to help you make a successful project for your online presence. And this applies to your blogs, your business websites, your news site and so on. We'll work on solutions to improve user experience and make everything faster and easier. And, new demos, more Speed Optimization are just a few of the things we're already working on.
With this in mind, we would like to thank you all for taking this journey with us and supporting us all the way! We feel proud to have you as our customers!
If you find yourself working on holidays and need our help, drop us a line. You know the drill: open a new topic on forum.tagdiv.com or send us an email at contact@tagdiv.com. We'll be happy to assist you when we get back!
May you all have a Merry Christmas with your loved ones!
And a Happy New Year!
With Respect,
the tagDiv team