tagDiv was awarded by Envato with WP Requirements Compliant Badge. We want to thank you, our customers from our hearts. You've supported us in one of the most challenging refactorization processes we have ever enterprised. Thank you! This moment is a new start, as it opens new possibilities for future outstanding implementations.
For the last six months, our developers managed to surgically move hundreds of features, blocks, widgets, and settings. Envato required us – the theme authors – to change the products to provide only WordPress basic functionality by May 31, 2019.
Rewriting the Core of the tagDiv Themes
Above all, to comply with the new Envato WordPress Quality standards, we faced a significant challenge. In short, rewriting the theme's code while over 95,500 clients are actively using our products. And to do it without disrupting the customer experience and their websites.
So, we've made a plan and created a sequence of four successive updates that gradually rewrote the core of the themes. The first two of them made the changes that empowered the tagDiv Composer page builder plugin to support all the changes.
We've anticipated that the third update was going to be the most challenging for you, our clients. Therefore, we've spent over two months preparing for the worst while hoping for the best. We tried to replicate all the possible update conditions, in dozens of "maybe" configuration and scenarios determined to identify and fix all issues from the candidate versions.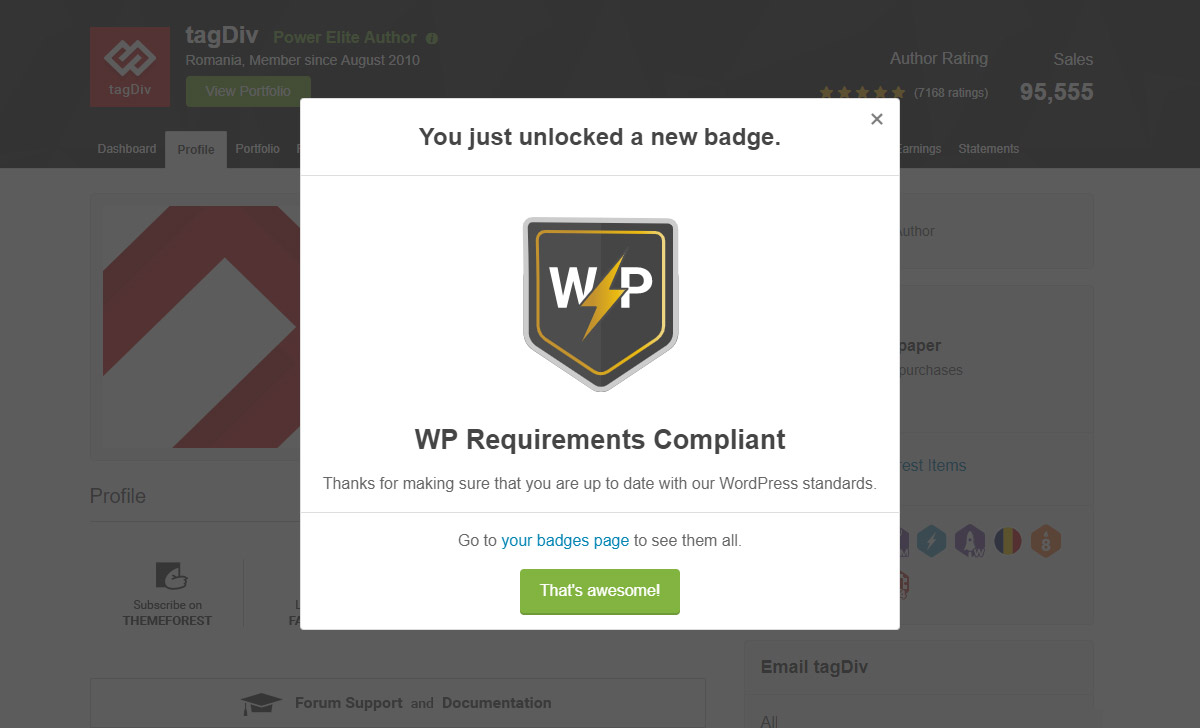 On April 17, 2019, the most significant update in the sequence was released on the Newspaper Theme, and a few days later on the Newsmag Theme. The updates surgically moved the biggest part of the code from the theme into the tagDiv Composer page builder. However, with all our effort, from over 95,500 customers, more the 600 needed our help with the update and came to the support center. Our team – support and development – worked extra hours to help the customers make the update properly and also fixing particular issues on their websites as fast as possible.
The last change came on May 28, 2019, ending the most challenging refactorization process we've ever enterprised.
Why is WP Requirements Compliant Badge important for you?
The new code structure of the Newspaper and Newsmag Theme is lighter and faster.
The modern architecture makes your website SEO ready and helps your SEO efforts.
It opens new possibilities to optimize your website for performance.
Makes new features available in the future.
These updates will unlock more power for your WordPress Guttenberg editor, helping you to create content easier than before.
In the next months, you'll see a new level of integration between WordPress CMS and your favorite theme – Newspaper Theme and Newsmag Theme.
In conclusion, WP Requirements Compliant Badge is a recognition of the WordPress quality standard approved and endorsed by Envato ThemeForest Market reviews. We are grateful that we managed to make this happen together.
Thank you for your support!