If you are looking for advice on how to create a magazine website with WordPress, then you've come to the right place. In this article, we will be taking a look at the essential steps required to get your magazine-style website online and ensure it's a success.
What is a Magazine Website?
Just to ensure we're all on the same page, let's take a quick look at exactly what a magazine-style website is. Typically, it's a website that publishes a steady stream of content on a specific topic or range of subjects.
The topic of your magazine website can be anything you choose. However, it's important that your chosen topic contains enough scope for you to publish multiple articles on a regular basis. Your content can take many forms, from news, reviews, videos, image galleries, recipes, guides, and more.
The more content you publish on your website, the more visitors it will attract. Therefore, it's vital that you and your team are prepared to stick to a busy publishing schedule and keep the new content flowing.
How to Create Your Magazine Website
When it comes to creating your own magazine or news website, if you follow the right path and complete the necessary steps in the correct order, you shouldn't face too many difficulties.
To give you a quick overview of the process of setting up your news website, here is a checklist:
Choose the right platform for your website
Pick a website domain name
Choose a suitable web hosting service
Install your chosen platform
Choose a suitable theme
Install and configure the theme
Add any necessary plugins or extensions
Start publishing your content
As you can see, there are a few steps in the process. However, once you've worked your way through the list, you will have your very own magazine website.
As this article if focused on creating a magazine website, we will be helping you pick a suitable theme, cover some useful plugins, look at content publishing, and growing your audience. If you want to start from the very beginning, then this guide on how to make a website will get you up to speed.
Magazine Theme Shopping Checklist
While technically you can use any good WordPress theme to create your magazine website, if you choose a template that has been built specifically for this purpose, then your project should stand a better chance of success.
If you look at a few of the most popular news and magazine style websites, you will notice a few common traits they all share. Let's take a look at them to help you find the right theme for your project.
An Action Packed Homepage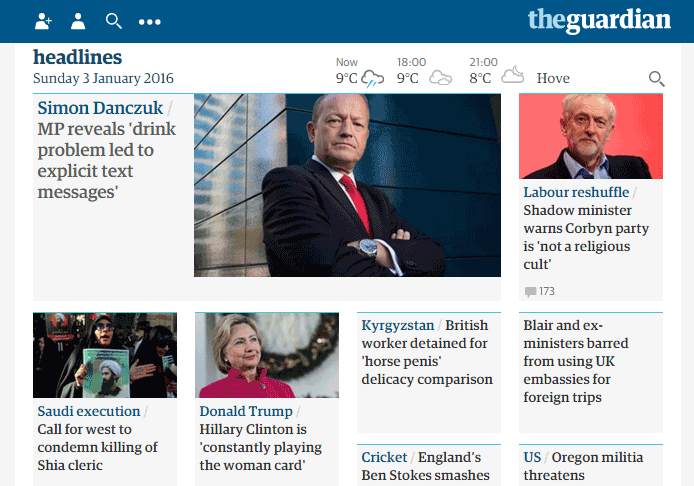 One such trait you will find on a successful magazine website is the ability to display multiple links and excerpts from a selection of articles that have been published on the site. This type of layout ensures that when visitors arrive at the homepage of your site, much like on the cover or a traditional offline magazine, they are presented with many stories or articles to choose from.
Unlike a typical blog theme, which simply lists the latest posts on the homepage, the magazine theme may highlight a few of the most popular or recent stories, while also showcasing many other articles. A good magazine theme will help you build a homepage with plenty of options, without overwhelming the reader and causing confusing.
A Never Ending User Journey

Making your online magazine a success is all about driving traffic to your website and then keeping your visitors on your site for as long as possible. Often magazine and news websites are monetized by displaying adverts. Therefore, the greater the number of page impressions your visitors generate, the more money you can earn from advertisers.
Even if you plan to monetize your website in others ways, such as by selling your own products and services, through affiliate links, or in some other way, it's usually beneficial to keep your visitors on your site for as long as possible. Each page a visitor views gives you a better chance to engage and connect with them, making them more receptive to your offers.
The Best News Theme For You
One key way to extend the number of pages each reader views on your site is to ensure that they always have an easy way to visit another article. This means, that no matter where they are on your site, or at what point they are in an article there are multiple links on display that they can click on to reach another page.
In the image above, the New York Times website displays a panel of related content at the end of each article. This is as well as displaying links in the sidebar and throughout the article text, which are on display while the visitor is reading a news item.
The goal is to create a never ending user journey that ensures the reader always has another story to read or article to view while browsing your magazine website.
Other features to look out for include an advertising management system, multiple homepage layouts, a mobile responsive design, and social media integration.
Suitable WordPress Magazine Themes
Now that you know what features and attributes to look out for when shopping for a suitable WordPress magazine theme, here are a few examples of purpose-built templates that will help you get your project off to a great start.
Newspaper WordPress Theme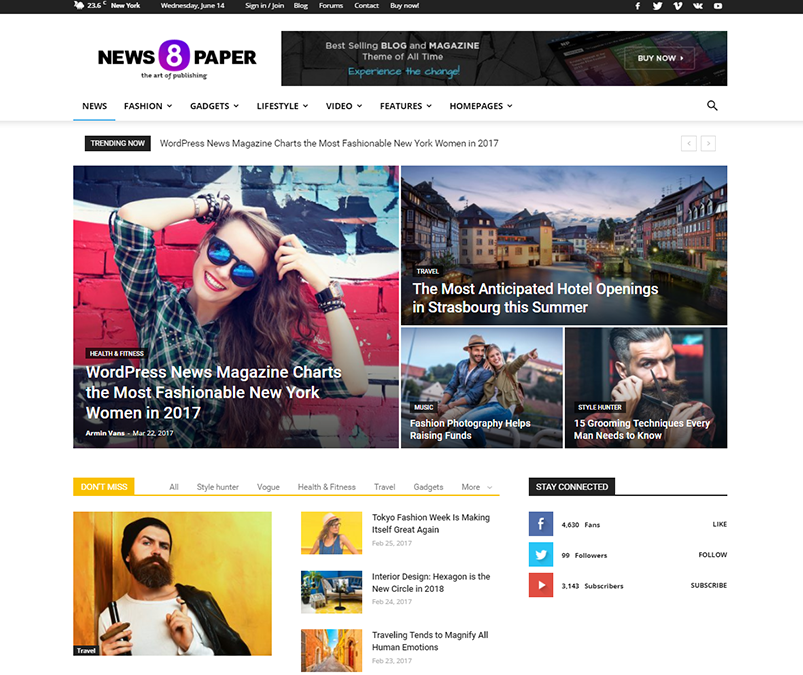 Newspaper is a popular WordPress magazine theme that was launched in 2013. Since its initial release, this theme has been constantly updated and improved to ensure it remains an innovative and modern website template.
If you choose this theme for your magazine-style website, then you will have the ability to create a homepage that will give your readers plenty of options on what to do next. This includes browsing your drop down, mega menus, jumping straight to the trending articles featured in the news ticker, or viewing the content from your category feeds.
Once a visitor does click through to an individual article on your website, they can not only read the content but also interact with any optional videos and image galleries you've included. The floating main menu remains on display, as does the fixed sidebar menu. This means that your visitors will always have somewhere else to go on your site, either, when they've finished the article they are reading, or they've had enough.
Although Newspaper is ready to go right out of the box, with a prebuilt layout and configuration optimized for news and magazine websites, the theme comes with multiple homepage layouts.
These homepage layouts give you a good deal of flexibility for how your visitors will be greeted when they arrive at your site.
Customizable Layouts
Some of these prebuilt layouts include a blog style layout, a format for those publishing lots of video content, tech and sport focused layouts, and a lot more. For those that require more flexibility from their theme, the good news is that each of the prebuilt layouts can easily be customized without the need to edit any code. This allows you to mix and match the best elements from each, or create your own layout from scratch.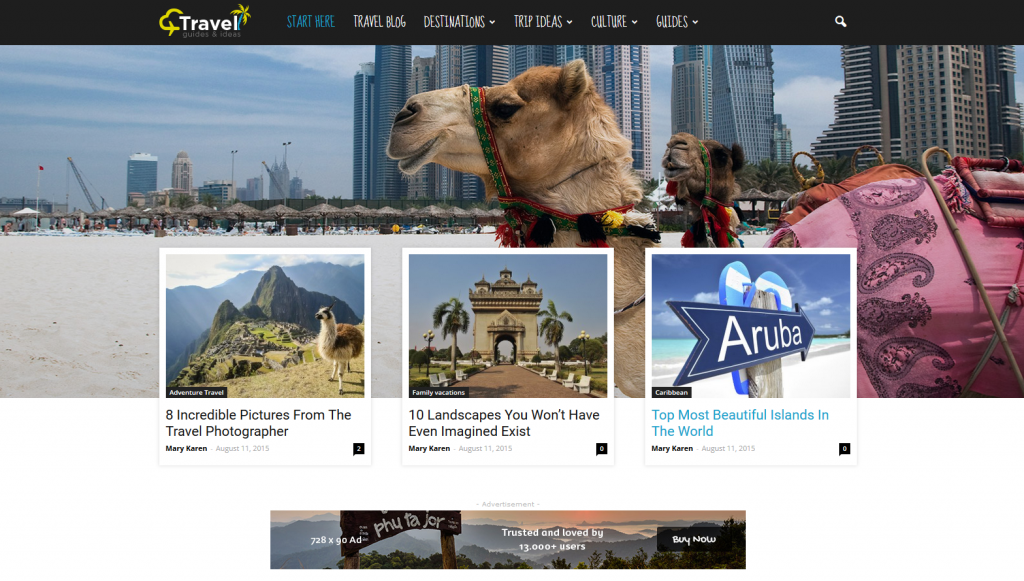 To further broaden your options when using this theme, Newspaper comes with a range of page templates. These templates can be used to format your articles in a specific way. Therefore, no matter what type of content you are publishing, from long-form think pieces to image heavy reports, there should be a suitable page layout to choose from.
Other notable features of the Newspaper WordPress theme include multiple advert locations for monetizing your content, a drag and drop photo gallery builder tool, one-click demo installation for quickly setting your website up, and full support for adding an online store and shopping cart to your website.
Newspaper is packed with features, while also being highly flexible, therefore if you are building a content-rich website, it's well worth taking for a test drive.
Find out more about the Newspaper theme
Newsmag WordPress Theme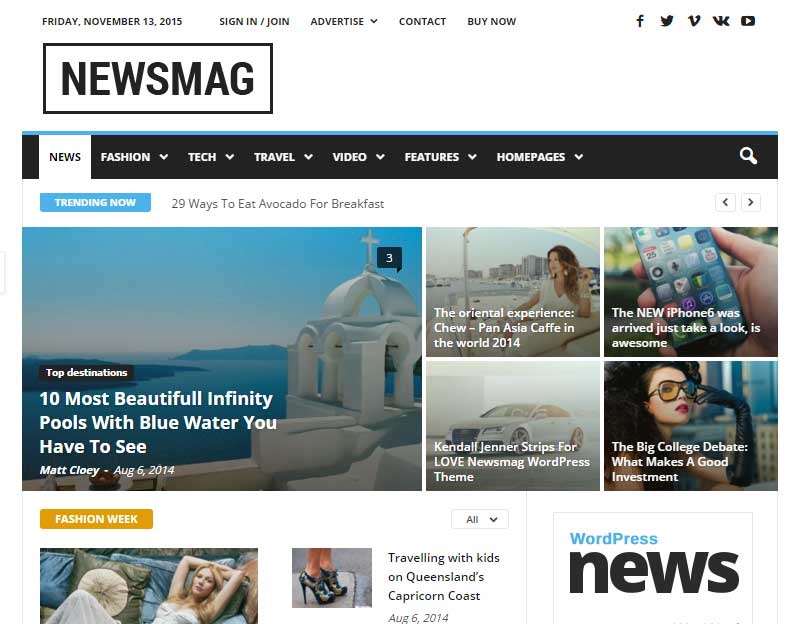 Newsmag is another WordPress theme you might be interested in if you are building a news or magazine-style website. By leveraging the power of the popular WordPress CMS and this theme, you can get your content-rich website online as quickly as possible, without having to compromise on design, style, or functionality.
Whether you are building a busy newspaper or magazine website, or you just want to give your blog content a more professional feel, Newsmag could be a good choice. For extra flexibility, there are seven demo versions to choose from for giving your website a purpose built look and feel.
These demo versions cover a range of topics and subjects, including fashion, tech, video, sports, travel, and of course news and blogging. Applying the layout and settings of each demo version to your site only takes a few clicks, thanks to the one-click installer on offer.
Newsmag – Multiple Demo Versions
As well as the multiple demo version to choose from, there is a great selection of homepage layouts on offer. These layouts are great for articles with large slideshow galleries, infinite scrolling layouts, more-text based content, and a whole lot more.
Depending on how you setup your website, you can display a trending news ticker to catch the attention of your visitors and then alert them to any breaking news. You can also make use of a fixed menu, so your readers always have somewhere else to go on your site, as well as displaying multiple news feeds of the latest articles from specific categories.
Other useful features that will help you build a popular news website include a range of template for different types of articles, smart sidebars that display content relevant to the current article being viewed, and a drag and drop page builder tool for creating custom layouts.
Newsmag has received regular updates and new features since its launch, so if you do choose this theme, your website is likely to always have a modern look and feel.
Find out more about the Newsmag theme
Creating Your Magazine Website Content
Once you've chosen the platform for your website and installed a suitable theme or template, the real work begins.
Creating a successful news or magazine website is all about publishing content that will offer value to your target audience. Depending on the focus of your website, this value could be delivered in a number of ways, from informing, educating, or simply entertaining your audience.
As the number of articles on your website grows, so will the number of readers who will find their way to your website via the search engines. Building up an audience by relying on natural search traffic does take time. However, if you persevere and continue to publish great content, you will see results.
When creating content, you can choose from a range of formats. This includes written articles, video content, image-based reports, guides, and a whole lot more. Think about what format your target audience will appreciate most, and then experiment with your writing style and formatting until you find your voice.
Growing the Audience of Your Magazine Website
If you simply can't wait and want to grow your audience from the outset, you can think about paying for advertising on social media networks, such as Facebook, or seeking out advertising networks and platforms that are relevant to the topic of your website.
Whether you decide to pay for advertising on social media or not, setting up profiles on the most popular networks in your industry is highly recommended. Some social media networks are better suited to certain topics and audiences than others are. For example, if your target audience is primarily women and your content is largely image based, then Pinterest could be the perfect social network for your project.
Other ways to drive traffic to your website include applying to guest post on related websites, in exchange for a link back to your site; forging partnerships with other figures in your industry; and looking for sponsorship opportunities.
Another vital component in your audience building strategy is setting up an email newsletter. Giving your audience a way to sign up for email updates is a proven way to turn one-time visitors into repeat readers. It's a good idea to implement this from the launch of your website. All you need is a suitable email marketing service and an email opt-in form plugin to capture those addresses and building your newsletter.
Final Thoughts
I hope that you now have all the information you need to launch your news or magazine website. From choosing a theme, setting up social media profiles, and publishing content, there is a lot to do. However, it can be a fun journey with plenty of rewards on offer for those who stay the course.
Are you ready to start your magazine website? What topic will you be writing about? Do you have any questions that will help you get started? Please share your thoughts in the comments below.