The homepage is the core of your website. It's the starting point of the audience's journey through your website, storage of vital links and data, a strategic asset for marketing goals. Most often, the homepage is the first visual and emotional touch that visitors have with your content and products. Fortunately, building homepages with Newspaper Theme is easy as a game.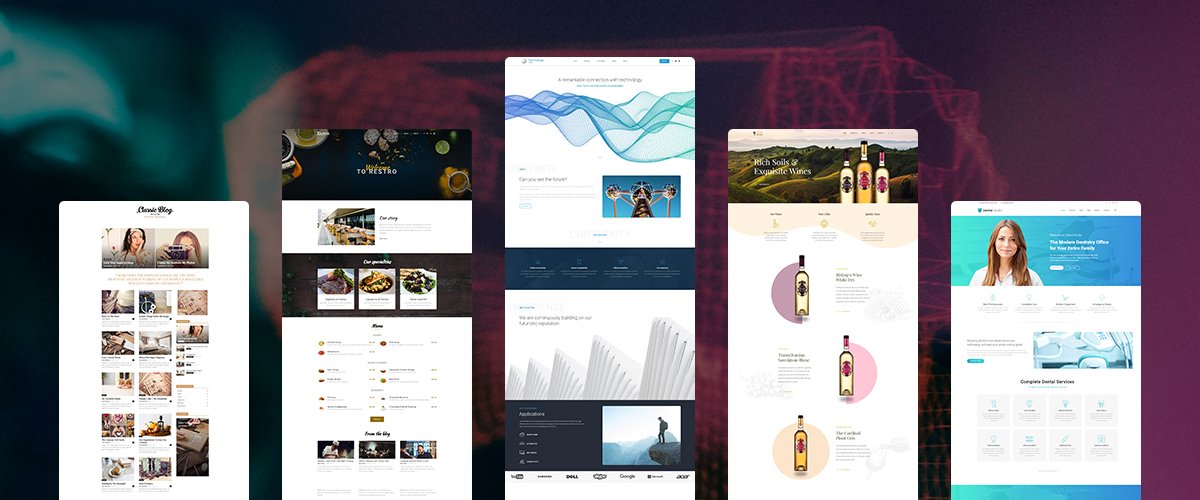 Homepages with Newspaper Theme
If you're creating your first website, remember to use clear structures for their homepages. Here are some important elements you can add to it:
Headline – a short statement that reflects what the website's all about
A hero element with simple imagery that should inspire your visitors to interact further
Call-to-action that draws the attention and uses active language
Present your blog content through Flex Grids and Blocks
Newsletter subscription box to attract more readers to follow and keep up-to-date with your content
Good navigation elements such as links in the menu to take the users easily across the website, a search function, and social network buttons
Testimonials to increase your credibility
A section with team members to help readers build an emotional connection with you
These are popular elements for any Homepage. However, it should not be a limit to you, as you can always add more sections and items. Homepages with Newspaper Theme? The possibilities are endless.
Homepage Templates
Your goals are essential when you start out. Do you want to dabble in e-commerce? Are you going to use the site as a blog? Or, maybe, showcase your portfolio of works and creative products. You should know the answer before starting the process and design the website to best serve that purpose.
Newspaper Theme offers a variety of Homepage designs to choose from to begin easily. From the WordPress Admin Dashboard, open the Cloud Templates section and click on the "Add New" button. You will be greeted with a digital library of our designers' creations, with over a thousand templates; from Article, Author, and Category Page Templates to 404 Page Error ones, and everything in between.
Choose the Homepage tab and scroll down to see each design. Click on the one that catches your eye to see a live preview of it, or import it directly to your website. After the import is over, make it a part of your vision! Edit and customize each element to your heart's desire and create something brand new.
Make your Custom Homepage
In your Admin Dashboard, navigate to the Pages section and click on the "Add New" button. Give the page a title such as Index or Homepage. Save the page. Press the "tagDiv Composer" button to access the front-end editing section.
Let's make an efficient yet beautiful Homepage. Add a Hero Element by dragging and dropping it onto the blank page. The item has a default appearance and settings, so click on it to open the settings and customize it to perfection! Write a short description of your site's purpose and draw the readers in through a short Title.
For content-heavy websites, the general advice is to add a Flex Grid and Flex Block to display all of your relevant posts and articles. However, the decision is in your hands.
If you want to interact with your audience further, add a Row with the Team Member Element. This gives you the possibility to showcase everyone contributing to your website, from authors to designers. Include a description for each member to allow the visitors to build an emotional connection with you.
Creation, design, perfection
Keep the layout nice and simple. Here's a tip: create gaps between sections using white space to help your visitors navigate through the page easily. Add relevant information on the homepage such as a small showcase of your products, testimonials from clients, ads to monetize your site, buttons that invite your readers to engage further. The sky is the limit on what you can create!
Each element that you add on the page with the tagDiv Composer can be clicked on to customize even further. Choose font families in accordance with your vision. Color palettes are great to maintain through each page and the entire website.
For example, for a non-profit organization whose goal is to stop deforestation, their site's color palette could be browns and greens to inspire the idea of trees and nature. Think of a travel beach resort website. They might use blues and yellows to represent the sun and the blue summer sky and help you immerse yourself in the dream vacation they want to portray. So, pick them to serve your goal.
Invest your creativity into your Homepage
If you either build the homepage from the ground up or use one from the Cloud Library and modify it to fit your website's core, Newspaper Theme brings you countless customization possibilities. Design and create any layout for the page to connect and engage with your audience.
With an amazing user experience, any homepage is successful. So design the homepages with Newspaper Theme based on a good interaction between your visitors and your site. Show us in the comments what your Homepage looks like and be an inspiration for the whole community! ?