Keeping in touch with your visitors and future customers is a very important thing for your business. Whether you have a new article you want them to read, a fresh product for sale, or you've just uploaded a great photo from your vacation, e-mail is still one of the most personal ones for your audience to stay up-to-date. Newspaper comes with the fastest solution to this, in the form of the Newsletter plugin. This is specially crafted to let you show newsletter subscription fields to your visitors in various locations. People still check their inbox on a regular basis, so you'll pop-up in their private mail with valuable information, without spamming them.
Where to find the Newsletter plugin?
The Newsletter plugin is placed in the Dashboard section > Newspaper > Plugins. Once you install and activate the plugin, you'll find the Newsletter element in the tagDiv Composer page builder, "External Shortcodes" area. Simply drag and drop the block wherever you want on the page, and start customizing it according to your preferences. The Newsletter element supports different newsletter providers and has awesome styles that catch your visitors' attention.
Integrating different Newsletter providers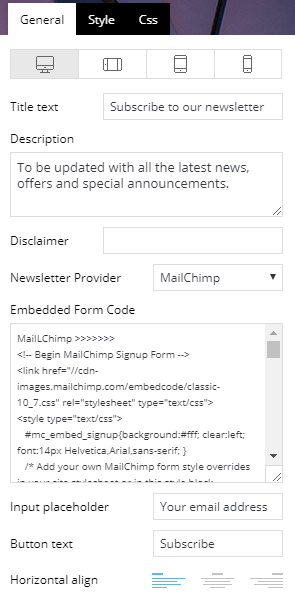 The General tab comprises options for the Title text and description. It also contains the disclaimer text for extra information. The input placeholder is a text that appears in the empty field where you want visitors to enter their personal information. Once they click on it, the text will disappear, leaving space for their own e-mail address. There are various platforms you can use to push your marketing campaign through, whether you need to tell a story or sell products.
First, you need to choose the wanted newsletter provider from the three options available: MailChimp, Mailer Lite, and Feedburner. After you have made this choice, you must enter the embedded form code.
In this tab, you can also change the text on the button and the horizontal alignment of the texts. Moreover, if you want to further customize this element, you can add an extra class.
Select an appealing Newsletter style
The Style tab comes with customization options regarding the appearance of the Newsletter element. There are 8 different designs for the presentation of this feature namely Simple, Simple with image, Bordered, Bordered with image, Bordered with icon, Bordered with top bar, Multicolored border, and Dark.
With the Newspaper theme, you can test your creativity by styling every little part of your Newsletter subscription element with different colors and typography fonts. The title, description, disclaimer text, background, button, input text, or the border can have a distinct color to please the visitor's eye. You may even upload a preferred photo for the style that requires one and personalize the Newsletter element to the core.
Furthermore, pick out a font that you like from the predefined list, or add your own to change the appearance of your texts and make them more appealing. To take things to another level, surprise! The Newsletter subscription element is responsive, and you can customize it to look differently on any screen device. Once you've set everything, the newsletter form will be available on your page for your users.
The importance of Newsletters in your business
Issuing newsletters helps you maintain contact with customers and increase awareness and understanding of your company. The Newspaper WordPress theme helps you keep your visitors engaged and connected to your website. Use a newsletter whenever you publish new content on your website when you want to promote services, or you launch updates and new products.
P.S. Check out our blog for future updates, news, and tips & tricks!