Building a site could be challenging. Designing a membership site could also be. With two powerful tools, Newspaper theme and tagDiv Opt-In Builder, you can now generate income and keep your visitors returning. Now, let's see what this premium plugin can do for your Newspaper website.
What is tagDiv Opt-In Builder?
It's a membership and paywall plugin. tagDiv Opt-In Builder is an easy-to-use solution designed for all the Newspaper theme customers who want to be paid for their work
It offers you the possibility of building endless pricing plans, gaining new leads, and exporting the membership data to use with email marketing tools. Furthermore, it allows you to lock the content and show the exclusive information only to members.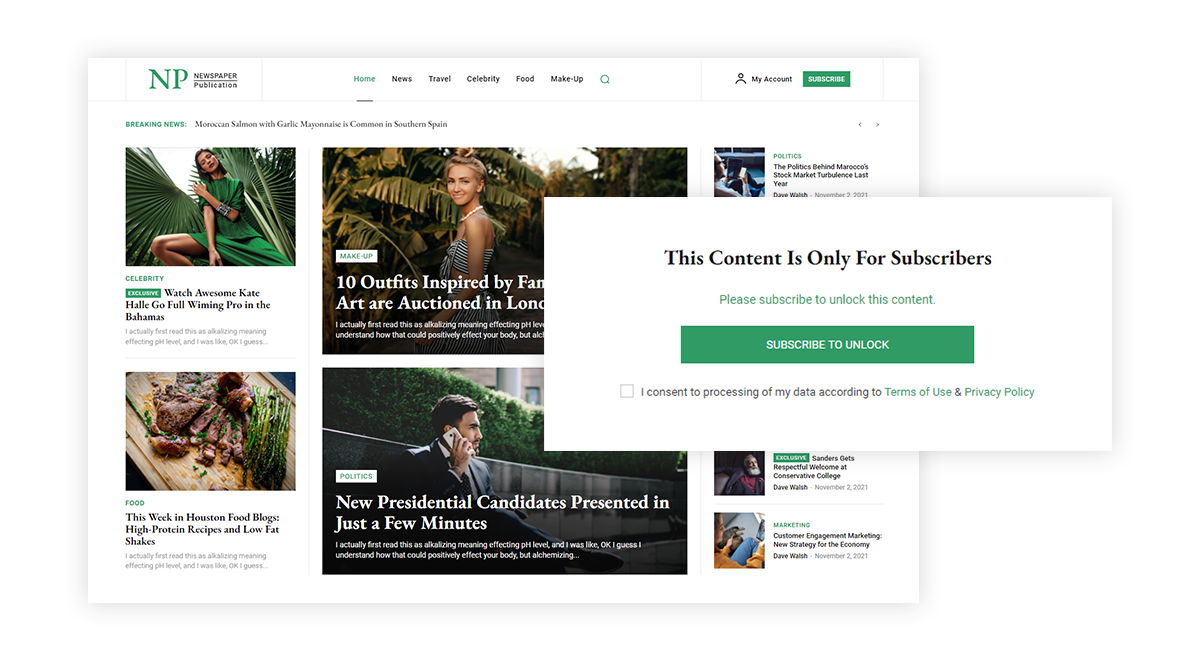 Who is a Membership Website for?
For any kind of creative person with a hobby for which you must pay to see. Any passion can grow into a prolific business. A membership option on your website represents a strong bond between you and your audience.
It means that people can pay for the content you're publishing that brings value to them. By designing a paid membership site, you can receive payment for premium content, video, podcasts, or any type of. You decide what content is available for free and which is the paid-only level.
Web owners that want to lock parts of their website content, generate leads and conversions, build unlimited subscription plans, and be able to use membership management by using a complete tool are the ones that should turn their attention towards the tagDiv Opt-In Builder paywall system integrated with the Newspaper WordPress theme.
Now, let's see for who is a membership website a perfect fit:
1. Bloggers, journalists, marketing agencies, educational trainers
If you're a blogger, journalist, marketing agency, or you work as an educational trainer, you can easily share creative content and power your WordPress site. By developing a membership database, you will get paid for every unique piece of writing.
Examples: Quenza, Violin Lounge.
2. Creative Startups, Small Businesses, NGO
Startups, Small Businesses, and NGOs are community-based. You can design your site and create membership programs for specific products, events, donations, sponsorships, and more.
Examples: Common Sense Media, I Will Teach You to Be Rich
3. Service Subscription
If you own an eCommerce business that it's either selling digital or non-digital products, you can build recurring customers by simply offering members-only product discounts or product subscriptions. This type of subscription model works as a product purpose-built, intended to manage recurring services.
Examples: H&M members club, Travel Club 360.
4. APP & SOFT BUSINESS
If you're selling apps or software, you definitely need more types of pricing plans, including a free trial (for a period of time) or a monthly/yearly subscription. A website with membership-included functionality allows you to offer your apps, products, or any services based on the item license key or something unique you can identify each of your subscribers.
Examples: Semrush, Mailchimp, Spotify, Netflix.
There are so many types of membership websites you could build-up, and we've gathered some of the best ideas in an article. You should check it out!
Step by Step Guide to using tagDiv Opt-In Builder on your WordPress website
Once you get a Newspaper theme license and install it on your WordPress website, the first step is to install the tagDiv Opt-In Builder plugin and activate it.
Membership Wizzard
Now, you need to follow the Wizard steps. For this, we have some handy tips you can follow:
Account Details – you should add the real details of your company
Payments – if you're planning to use this payment method, you should use the company's real data, as well, right from the start.
Plans – this section contains some default pricing plans, which can be edited later.
Pages – this section contains some default plans, which can be modified later using the tagDiv Composer page builder if you want to create another layout.
Locker – in this area, you'll have a default subscription locker that is automatically attached to the first ever-published article.
After the Wizard is completed, you can access each section of the tagDiv Opt-In Builder.
For example, if PayPal is your preferred payment method, you should configure it. To quickly help you with this, you can check out the full documentation on how to set up your PayPal payment.
Pricing Plans
From this area, you can configure your plans, rename them, activate a trial version, or modify the pricing. Just mix and match the desired specifications and build unlimited pricing plans. By using the tagDiv membership plugin, you can adjust any type of paid/free membership plan to match your business demands.
Content Locker
What is a content locker? It is actually a system built that helps you lock portions of your content to show them for paying members. This option allows you to show the content you want while it locks portions of the content that match the established criteria. You can choose to lock a portion of the content or the full of it.
The default-created content locker can be highly customized. However, for the locker to apply, you need to establish which is the post content you want to restrict.
Takeaway note: If your subscription payment method is through the Bank and a visitor subscribes to one of your services and deposits the money via bank, it is mandatory for the Administrator to manually activate the membership for that subscribed user.
For more information, you can always check out the documentation page on how to create a content locker.
The Subscriptions Area
The Subscriptions Area from the tagDiv Opt-In Builder section is the main data center for all your memberships. You can think of this section as a management tool for all the active and expired memberships. From here, you can activate, cancel, remove, edit expiring subscription dates or personal data.
How to Gain New Leads with Newspaper
With Newspaper and the tagDiv Opt-In Builder plugin, you can also gain new Leads through by using the members' emails. Moreover, you can create as many Lists as you need, just to organize your subscribers.
How does it work? It's pretty simple. We've built a shortcode called "Leads" and integrated it within the tagDiv Composer page builder. Drag and drop the block in a post template, style it and get ready to gain new leads.
These leads will automatically be added as new subscribers to the tagDiv Opt-In Builder, Email-Lists section. For the full steps on how to manage the mailing list and configure your Leads block, please use our official plugin documentation.
Conclusion
Newspaper simplifies how you create your news, shops, blogs, events, or any type of website. In the new theme version, Newspaper integrates new marketing functionalities.
You can gather emails and export them for later usage in your newsletter campaigns; you can design pricing pages, pricing plans, stylish pop-ups, lock content, add exclusive badges, and so on.
If you want to build a membership site with the Newspaper Theme and the tagDiv Opt-In Builder, you can follow the recommendations we've provided in this article, as well as the full guides from the tagDiv documentation.