If "what are the main differences between the Newspaper and Newsmag Themes?" is a question that puzzles you, then you're in the right place. They are both excellent themes for any news, magazine, blog, or review websites, built under the "art of publishing" tagline by tagDiv. Newspaper vs Newsmag themes are crafted to be complete solutions for a website, designed to give you everything. But still, when should you use Newsmag and when is Newspaper the right choice? I have decided to address this question and provide the insights you need to choose the perfect blog, news, or magazine theme for your project.
What is the difference between Newspaper and Newsmag WordPress Themes?
The major difference between Newspaper theme and Newsmag theme is related to the design, capabilities, and perspective. Newsmag and Newspaper themes are similar products, with different capabilities. Sharing the same powerful core features, Newsmag and Newspaper are designed to give your website a distinct, professional character. Shopping for a news WordPress theme is just like going to a supermarket searching for a bottle of wine. If you don't know exactly what you are looking for, you can easily get lost. Both Newsmag and Newspaper templates come with intuitive settings to help you achieve your goal of building a beautiful website. Without any coding skills and effort!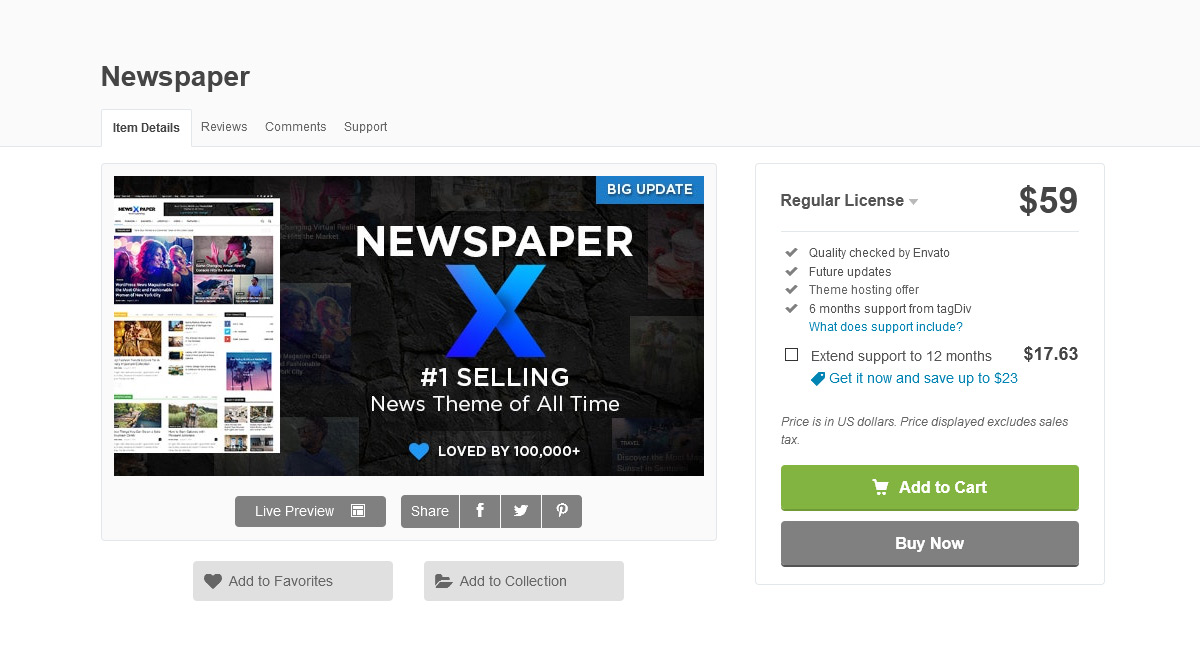 Customization is the Key
One of the deciding factors when looking out for themes and trying to choose between Newsmag or Newspaper themes is customization. Newsmag theme is great for the news and blogging industry, while with Newspaper, you could stand out from the crowd designing for publishing and many more like landing pages, shops, business websites and everything in between. With the Newspaper theme flexibility and premium options, you have the freedom to create anything you want.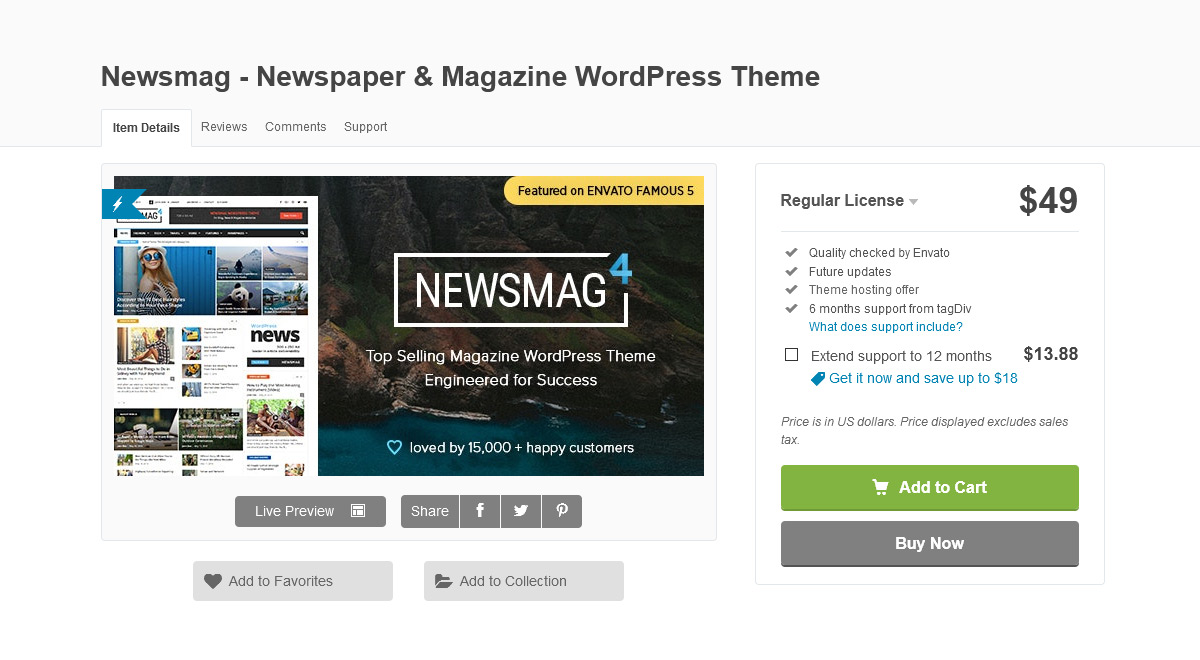 One of the relevant differentiators for these two similar themes is the pricing. Newsmag theme costs $49 while Newspaper theme is $59. This article explains the distinct features, benefits, and flexibility, and where comes this pricing difference.
Both themes are surprisingly easy to use. Build pages that your audience will enjoy, right on the front end with tagDiv Composer – the first page builder ever created for news websites. The features available in each template are different, and so is the number of elements you can use to customize your site.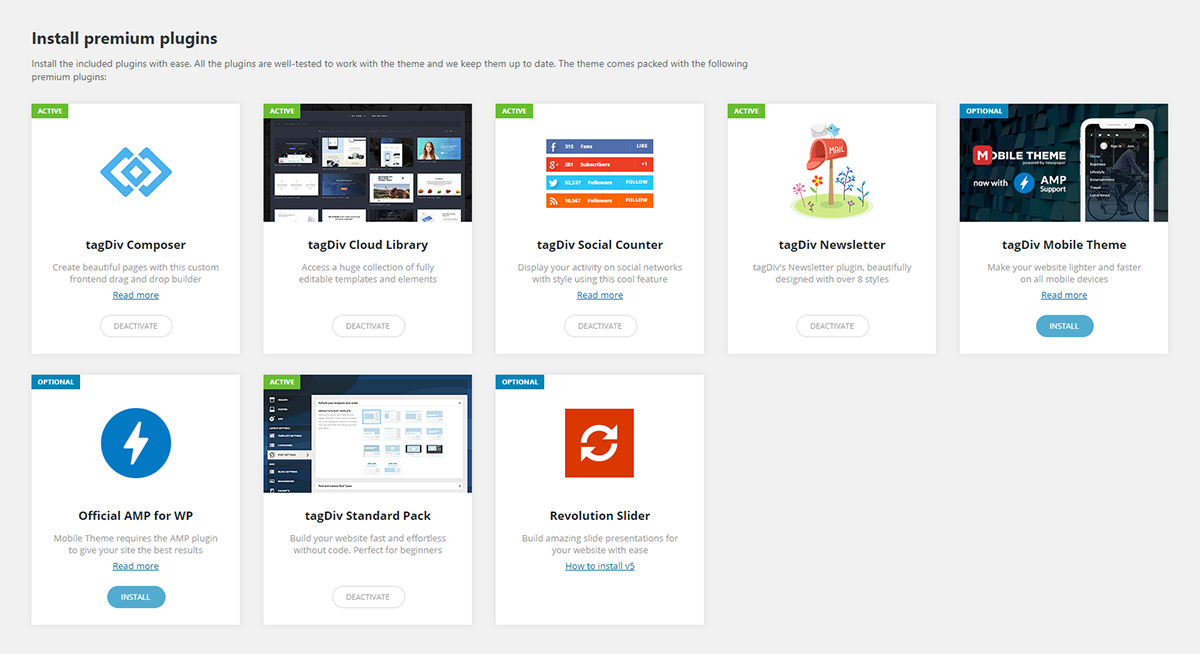 Themes' Required, Optional, and Recommended Plugins
The Newspaper theme includes 8 premium plugins; some are required, while others are optional.
The Newsmag template comes bundled with 7 premium plugins. As you can see in both images, the Newspaper Theme includes the extra powerful tagDiv Cloud Library and the tagDiv Standard Pack plugins that extend your website's functionality and capabilities.
Moreover, we've tested our themes with several plugins and displayed the list in each theme's plugins' center. We've written a comprehensive guide about the recommended and tested plugins that are compatible with Newspaper vs Newsmag WordPress themes.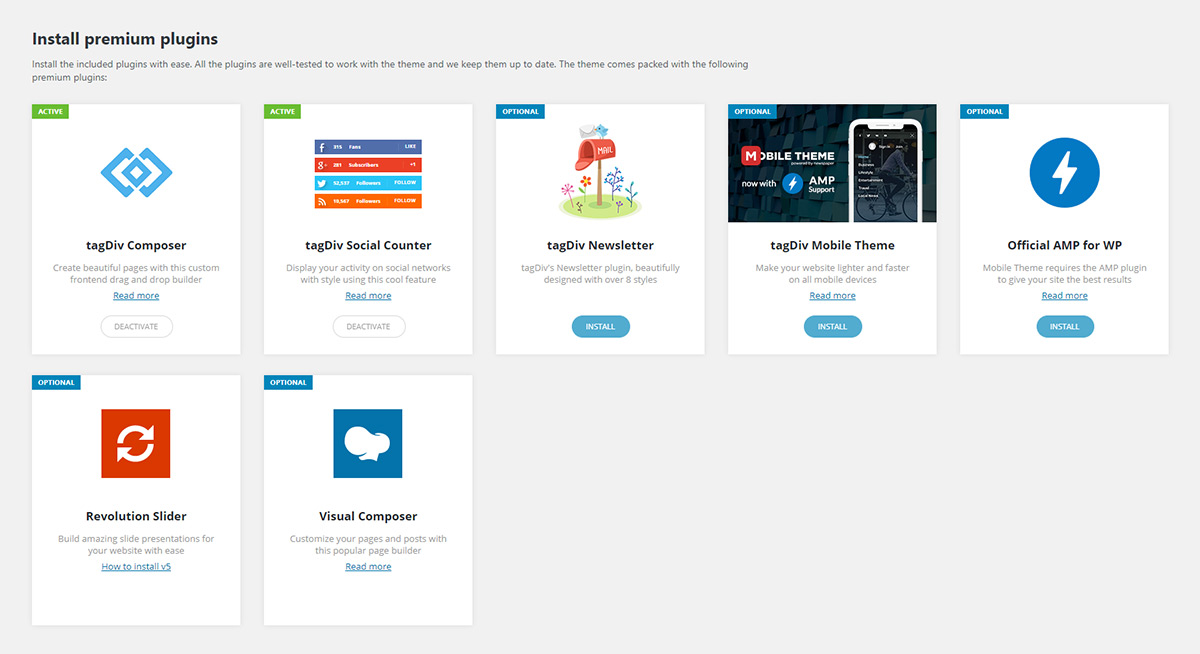 What extra tools has Newspaper vs. Newsmag?
Our customers' demands always guided our professional work. We have listened to all the suggestions, answered all the questions, and implemented the most requested features. With the passing of time, Newspaper theme has gained more and more multipurpose capabilities. We've built the most flexible news WordPress theme that allows you to build any type of news-related website. As you know, websites usually serve more purposes than one. Let's take a look at every tool that's different in Newspaper from Newsmag:
tagDiv Cloud Library
tagDiv Cloud Library is a gallery of pre-made design templates that are entirely customizable. This option is available only with the Newspaper theme. What are the premade design templates, and how can they help you? These function as pre-built websites:
Homepage Templates
Section Templates
Block Templates
Author Templates
Category Templates
Header Templates
Footer Templates
Search Page Templates
Single Post Templates
Please note that these are pre-made design templates you can quickly import and customize to your liking. You can drag and drop elements and mix them to gain the wanted results.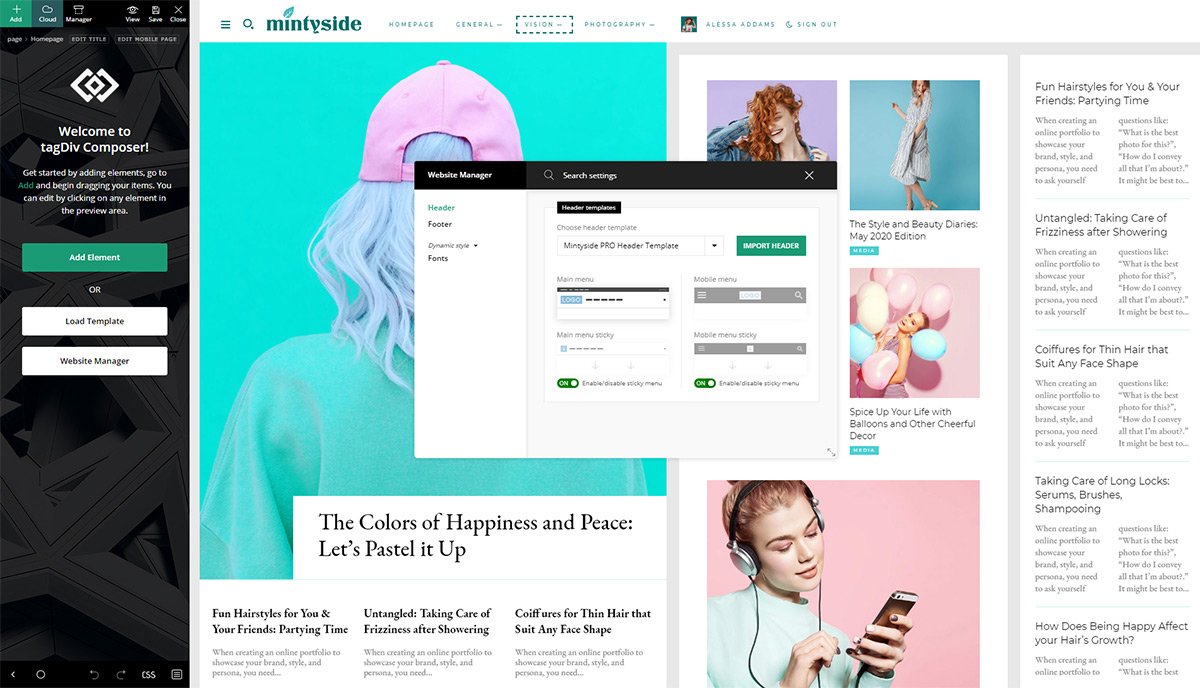 Website Manager
Header Builder – choose your global header template, main menu, mobile menu, and make it sticky.
Footer Builder – choose a global template or import a footer template and customize it.
Fonts – you can see all the fonts currently in use on the current installed page/template. Moreover, to increase your page's consistency, you can also change specific fonts on elements on All Fonts, Content fonts, and Footer Fonts.
Editable Single Posts
A blog, news, or magazine website is primarily based on great amounts of content. Sometimes, you want your posts to look different than others in terms of web design & functionality. Well, the Newspaper WordPress theme offers you the possibility to import a pre-made design template called "Single Post", right from the Cloud Templates area.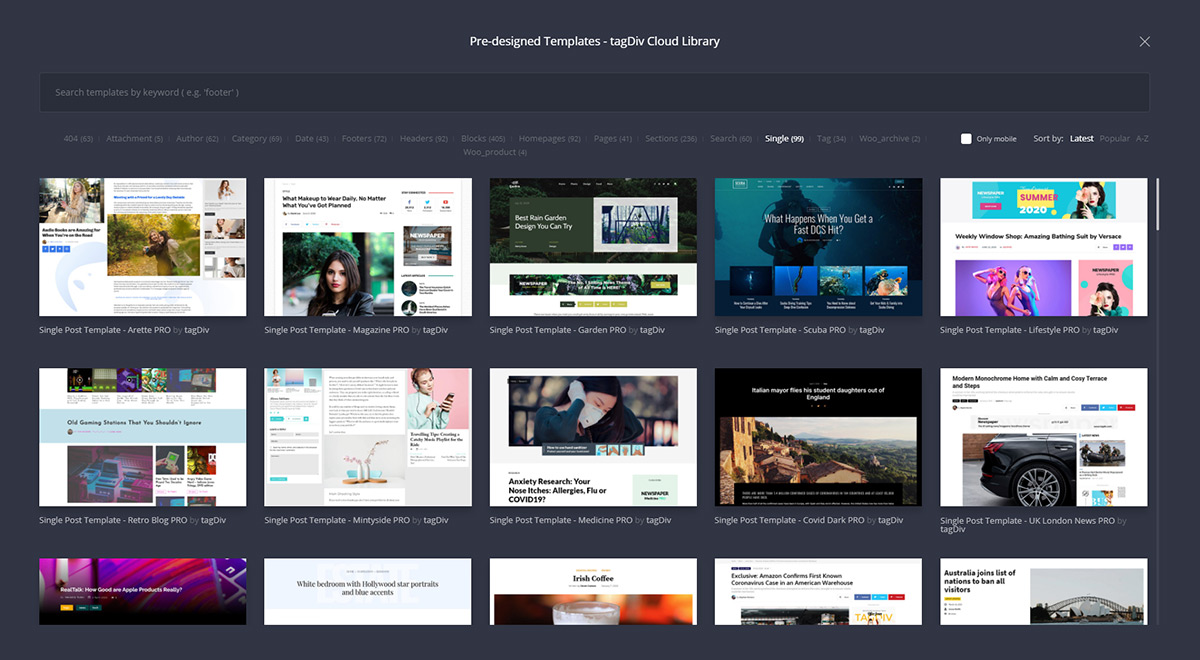 Design Complex News Websites with Ease
When designing a news website, there are a few essential factors you need to consider. First, the width of the content area. Newsmag Theme's width (1021 pixels) is crafted to be used with a strong, visual background on blocks, whereas Newspaper theme (1068 pixels) is wider and built to add value to any content you decide to publish, using a solid, yet elegant spacing between elements. Moreover, the Newspaper template offers you the option to stretch a row to the full width size. To gain even more flexibility, in Newspaper Theme you can choose the content area size from 1200 to 1800 px, while the row is at full width.
The Newspaper theme style helps your visitors to easily identify the content using generous spacing on pages and posts while maintaining an optimal display result on any device.
On the other hand, Newsmag theme is designed to emphasize your content with a special compact grid. The space between elements is smaller, but the separation lines enhance their visibility. This type of grid ensures better readability on medium and small devices, allowing you to apply background on a specific block or widget.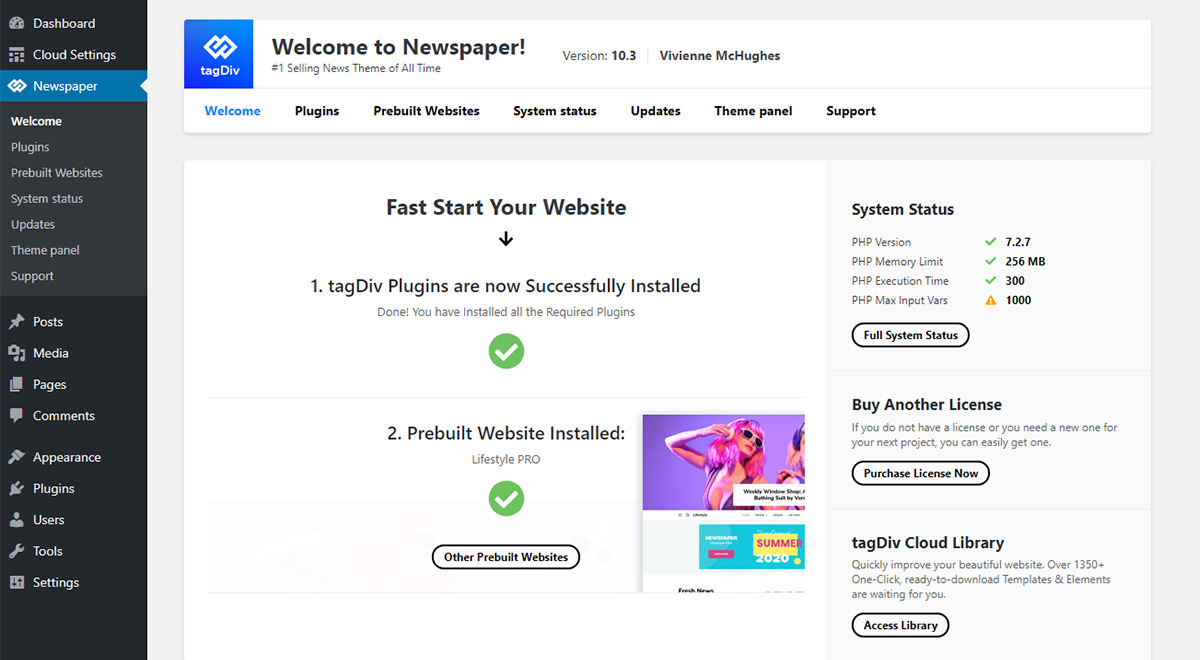 Fully Pre-built Websites
Starting from scratch with a new theme is never an easy task, so our creative team built dozens of unique designs. Starting with Newspaper 10.3.9 theme version and Newsmag 4.9.6 update, you have a new welcome panel that guides you through the template. You can see the full designs on your Prebuilt Websites tab in the theme control center. The Newsmag theme comes with 14 prebuilt websites, while Newspaper has over 90 appealing ones, divided into PRO, Multipurpose, Blog, or Magazine. How to use a prebuilt website? First, preview them, and choose the one you like. If your website already has content, turn off the option 'Include content' and import just the settings. The next step is to customize the design to match your dream, building your website on solid ground.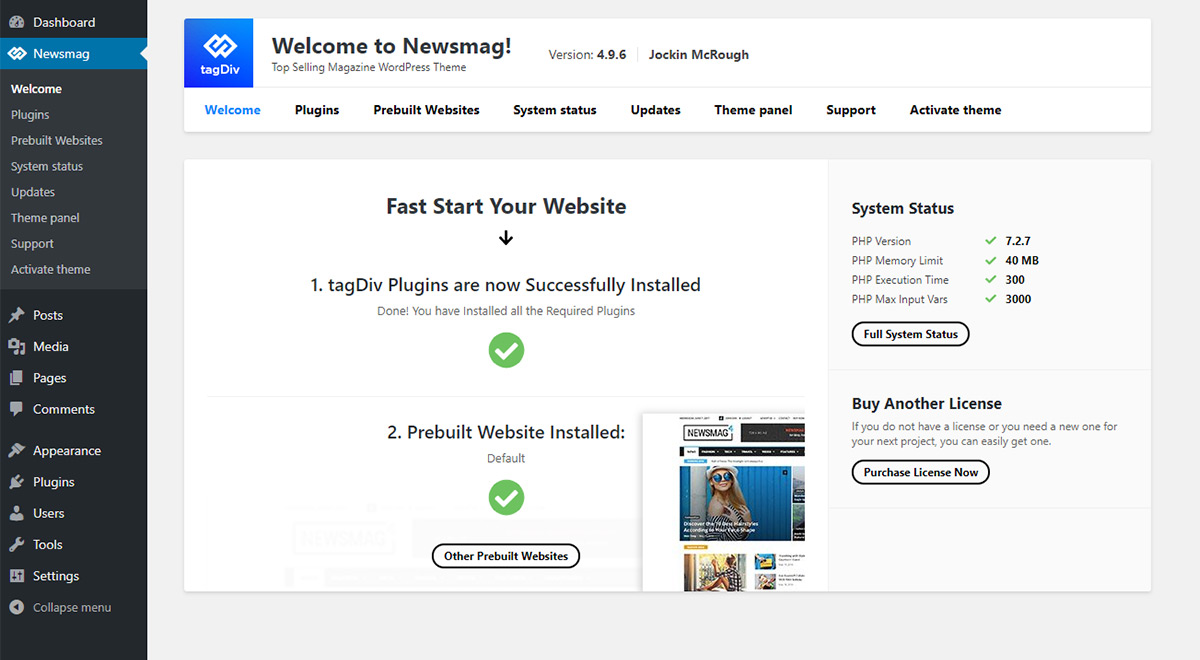 tagDiv Composer Page Builder Elements
tagDiv Composer is available for free in both themes, but the page builder brings different elements to each template. Newspaper theme comes with additional blocks dedicated to showcasing featured content, called Big Grid Full, Big Grid Slide, and Big Grid Flex. These elements can only be used on the wide rows, so they are specific for the Newspaper Theme.
Another difference is represented by the multipurpose shortcodes – elements designed to help you create landing pages on your website. Also, in the Newsmag theme, you have three external shortcodes (Newsletter, Revolution Slider & Social Counter), while the Newspaper theme comes with seven. Moreover, Newspaper has extra extended and header shortcodes that the Newsmag theme does not include.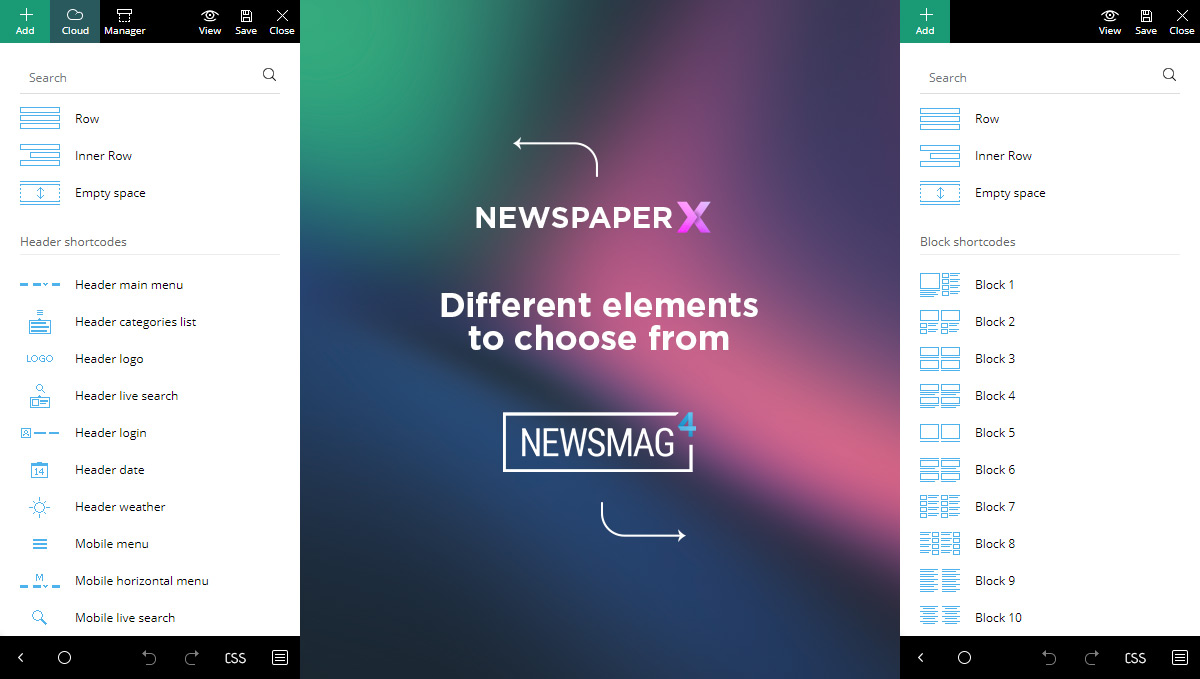 Light Version of tagDiv Composer inside the Newsmag Theme
Both themes use the tagDiv Composer page builder that allows you to customize your site on the frontend. However, the builder's capabilities within the Newsmag theme are a bit constrained. We like to think of Newsmag as a lightweight template that gives you the possibility to build a great blog or magazine with a few clicks.
Extended tagDiv Composer Page Builder Capabilities
Mobile Theme feature
Both themes come with a responsive and retina ready design. Both Newspaper vs Newsmag include a unique feature called Mobile Theme that offers you the opportunity to display the same content in two different ways, one optimized for desktop and another for mobile. This plugin must be used together with the Official AMP for WP plugin, which also comes bundled with both WordPress themes.
Customizable Mobile Page Templates
In one of our latest Newspaper theme updates, we've redesigned the way you were creating your pages for mobile devices. With the tagDiv Composer page builder, you can now build mobile pages and upload only the elements that are really necessary without showing the full menus. Discover how to customize your mobile page templates with Newspaper Theme.
How are the Mobile Theme and Mobile Page Templates Different?
You can get the mobile theme to create content for your mobile devices on both Newspaper vs Newsmag themes. If the mobile theme is applied and the Official AMP plugin is enabled, your pages & posts are blazing fast on mobile devices.
You can get tagDiv Cloud Library & tagDiv Composer and edit any page for the mobile version. You basically have entirely customizable mobile pages, but these are not AMP ready. So, if you want to have responsive AMP-ready pages you'll opt for the Mobile Theme.
If you want to highly customize the mobile pages, you'll use the editable features. By default, if you create your mobile pages from scratch, just as you need them to show on mobile pages, they will load faster and perform better.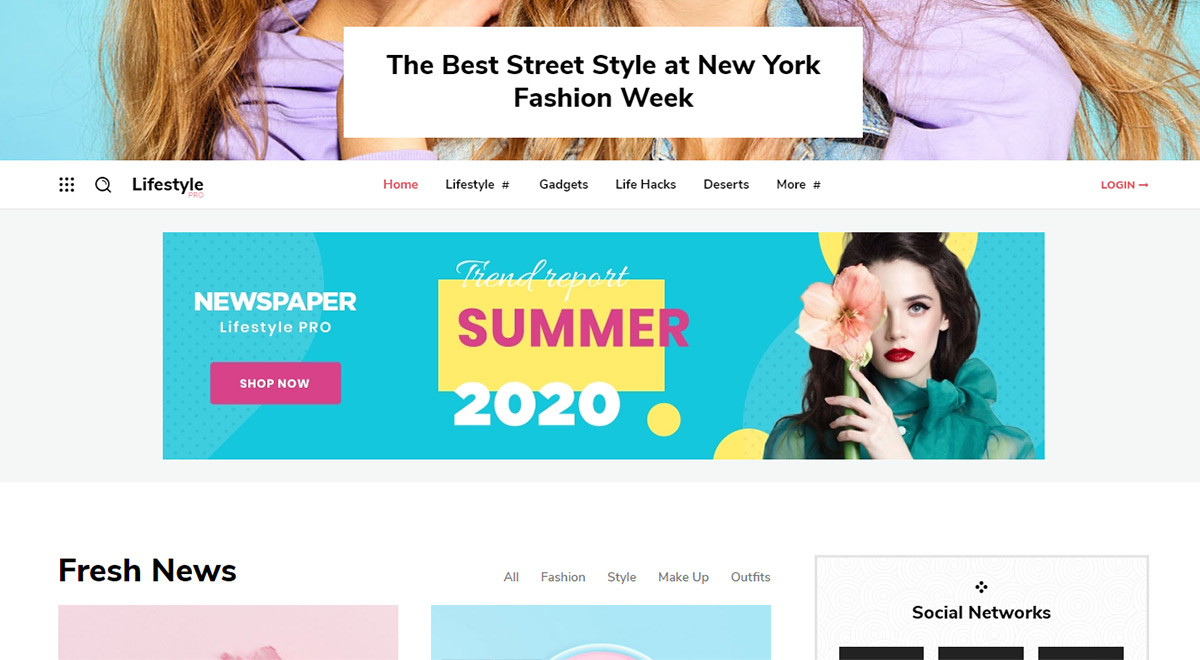 tagDiv Themes Performance
In terms of optimization and performance, both Newspaper and Newsmag are well-established, with hand inspected queries. If you want to find more information about things that could interfere with your site's performance, you can read our article about Page Speed Optimization. The website page loading speed is now almost as important as the content you create and publish. In this context, we made the page loading speed a high priority and optimized both our themes to perform on any devices.
Monetization
Both themes are recommended for Google Ads, AdSense and banner ads. The Newsmag template comes with 10 predefined ad spots, and 5 custom ad spots, while with Newspaper theme the possibilities are endless. Both templates include the "Ad Box" element within the tagDiv Composer page builder. However, the Newspaper theme offers you the possibility to add image ads and more custom ads, as well as additional details. Furthermore, Newspaper theme has an element called "Video pop-up ad" box that allows you to place advertisements below the playing video.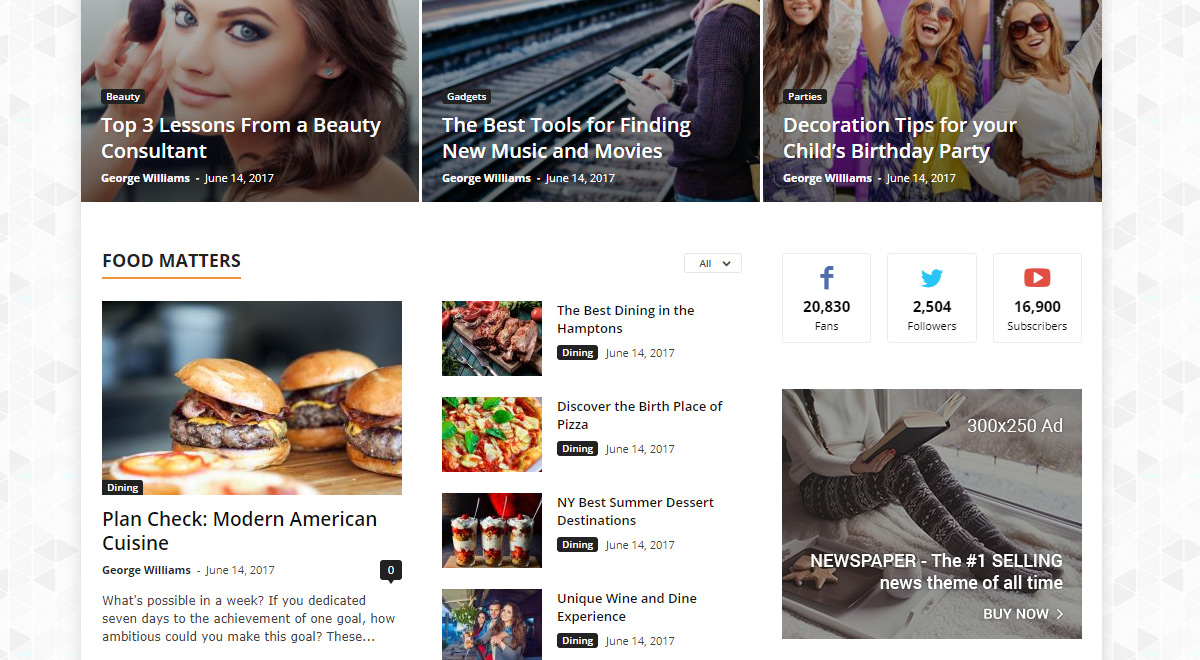 User Experience
Ok, I've read the article until now, but the question remains… How do I choose? We've highlighted below the major features of both themes, so you can easily compare them.
Newsmag Theme Strong Points
Responsive and retina ready
Great for blog, news and magazine websites
14 prebuilt websites
Powered by tagDiv Composer page builder
A bold design with background option on blocks
Easy to use
Monetization ready
AMP ready
WPML compatible
GDPR compliant
Free lifetime updates
Newspaper theme Major Features
Responsive and retina ready
Great for blog, news and magazine websites, landing pages, corporate, business-related sites
Support Full-Width layouts
Over 90 prebuilt websites
Powered by tagDiv Composer, frontend page builder
Includes shortcodes for landing pages
tagDiv Cloud Library – over 1200 ready-made design templates
Editable layouts for articles
Header Builder
Footer Builder
Fonts Manager
Flexible and versatile
AMP ready
Google Ads, AdSense, and Banner ads supported
WPML compatible
GDPR compliant
Free lifetime updates
Guarantee of Good Customer Support
We're providing support through different channels, such as forum, ThemeForest, and email. Pre-sale questions or topics that do not require any further investigations are handled on forum and ThemeForest. However, websites are quite different, and the encountered situations vary from case to case. People use different servers, hosts, plugins, and take distinct actions on their websites. There's no identical situation we're asked about. That's why it is very important to tell us as many details as you can about your issue, so we can understand and deliver the solution as soon as possible. Before making any choice, make sure you:
Meticulously examine your website's goals.
Check out the latest trends in the domain for which you are building the site.
Picture how your site should look like: think about the content width, the required features, media files, chromatics, branding elements.
Write everything down and build your strategy!
Review each aspect and make a decision.
Conclusion
Once you have precisely defined the look and feel of your new project, making the right choice is an easy one! When you choose Newspaper vs Newsmag themes, you actually choose tagDiv company and services to serve you. We have so many things we can do working closely with you. The purpose of our company is to connect users with professional products and a skilled team. Our news themes give you the opportunity to experiment with great-looking demos, fully-functional features, and outstanding performance.