If "what are the main differences between the Newspaper and Newsmag Themes?" is a question that puzzles you, then you're in the right place. They are both excellent themes, for any news, magazine, blog, or review websites, built under the "art of publishing" tagline by tagDiv. Newspaper and Newsmag themes are crafted to be complete solutions for a website, designed to give you everything. But still, when should you use Newsmag and when is Newspaper the right choice? I have decided to address this question and provide the insights you need to choose the perfect theme for your project.
Newspaper vs. Newsmag: User experience
Shopping for a news WordPress theme is just like going to a supermarket searching for a bottle of wine. If you don't know exactly what you are looking for, you can easily get lost. Both Newsmag and Newspaper templates come with intuitive settings to help you achieve your goal of building a beautiful website. Without any coding skills and effort!
The main differences between themes lay in design and perspective
Sharing the same powerful core features, Newsmag and Newspaper are designed to give your website a distinct, professional character. The major difference between them is related to the design, and perspective. But, let's take these step by step!
Designing complex news websites with ease
Wide, wider, widest
When designing a news website, there are a few essential factors you need to consider. First, the width of the content area. Newsmag Theme's width (1021 pixels) is crafted to be used with a strong, visual background on blocks, whereas Newspaper theme (1068 pixels) is wider and built to add value to any content you decide to publish, using a solid, yet elegant spacing between elements.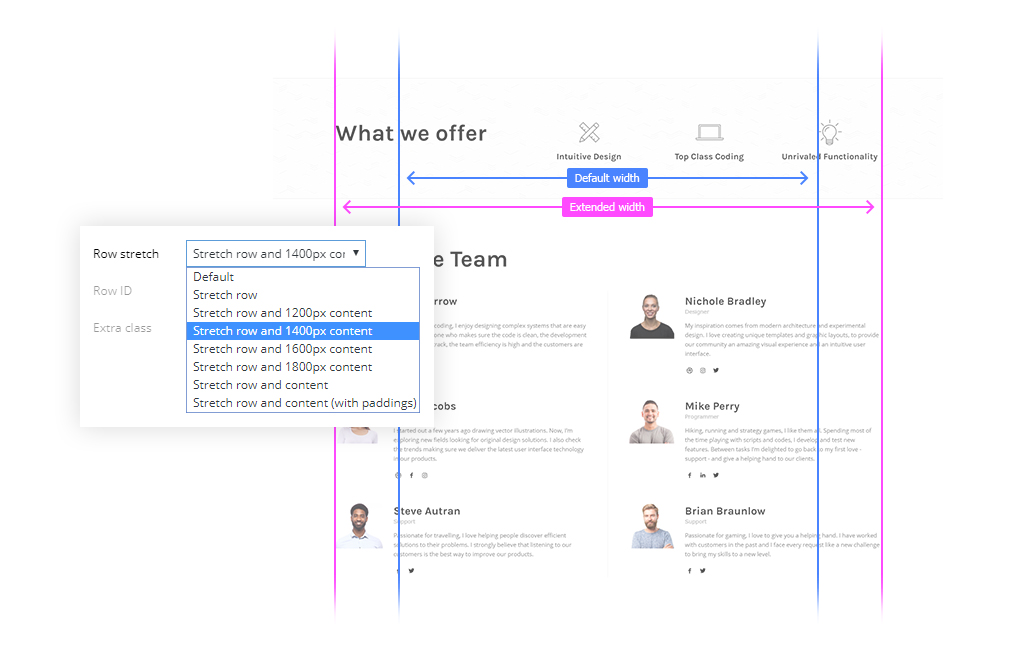 Moreover, starting with the 8.5 version, the Newspaper template offers you the option to stretch a row to the full width size. To gain even more flexibility, in Newspaper Theme you can choose the content area size from 1200 to 1800 px, while the row is at full width. On these rows, you can add any multipurpose element or the blocks marked as "Full" in tagDiv Composer.
Use spacing to emphasize the content
The second factor is the spacing. It doesn't seem important until it hits you. A cluttered page can ruin even the best quality content. The Newspaper theme style helps your visitors to easily identify the content using a generous spacing on pages and posts while maintaining an optimal display result on any device.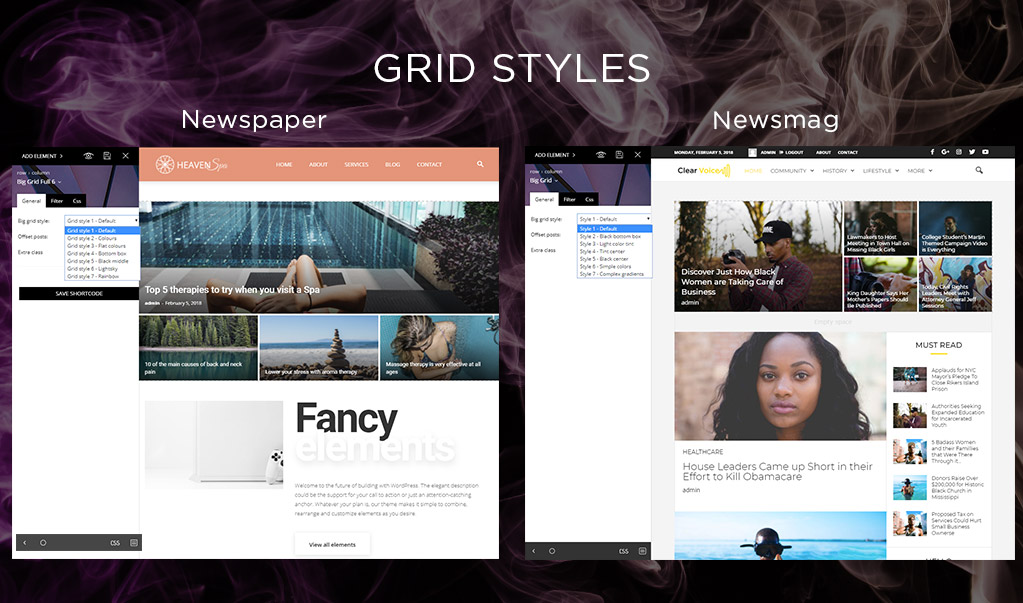 Designed to emphasize your content, Newsmag comes with a special compact grid. The space between elements is smaller, but the separation lines enhance their visibility. This type of grid ensures better readability on medium and small devices, allowing you to apply background on a specific block or widget.
One click Demos
Starting from scratch with a new theme is never an easy task, so our creative team built dozens of unique designs. You can see them on your Install demos tab in the theme control center. The Newsmag theme comes with 14 demos, while Newspaper has over 50 appealing designs. How to use a demo? First, preview them, and choose the one you like. If your website already has content, turn off the option 'Include content' and import just the settings. The next step is to customize the design to match your dream, building your website on solid ground.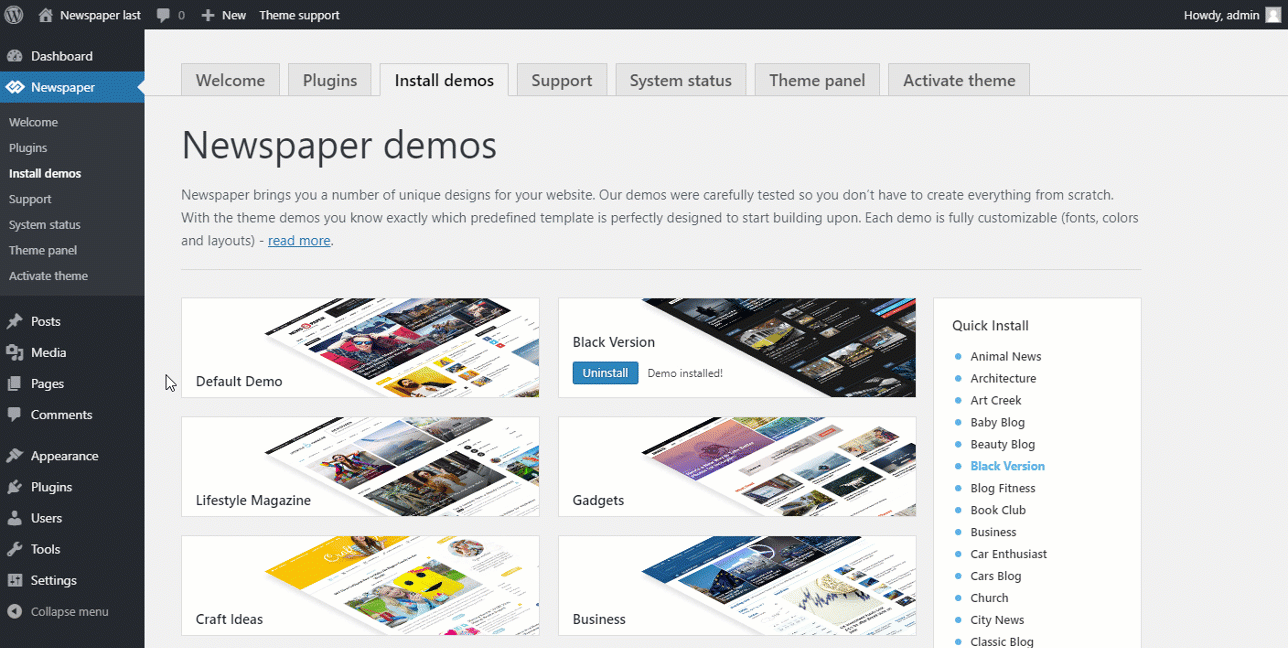 Pages you love to create
Both themes are surprisingly easy to use. Build pages that your audience will enjoy, right on the front end with tagDiv Composer – the first page builder ever created for news websites. With dozens of handcrafted elements, you won't believe how easy it is to design a new page. Create headers, menus, content, layouts, right from the front page and see everything happening live, as you do it. Instantly! You can experiment with blocks and widgets until you reach that unique layout that touches your heart.
The features available in each template are different, and so is the number of elements you can use to customize your site. To make it easier to compare them, we made a list of 12 most important divergent points.
| Feature/element | Newsmag | Newspaper |
| --- | --- | --- |
| Page blocks | 44 | 73 |
| Modules | 15 | 19 |
| Header templates for blocks | – | 17 |
| Post/articles grids | 7 | 12 |
| Full Width Top Posts Styles | – | 10 |
| Category template styles | 6 | 8 |
| Post templates | 9 | 14 |
| Header styles | 10 | 12+3 multipurpose |
| Full-width Big Grid | – | 10 |
| Footer styles | 10 | 14 |
| Block predefined style | 6 | – |
| Demos | 14 | 52 |
tagDiv Composer elements
tagDiv Composer is available for free in both themes, but the page builder brings different elements on each template. Newspaper comes with additional blocks dedicated to showcasing featured content, called Big Grid Full and Big Grid Slide. These elements can only be used on the wide rows, so they are specific for the Newspaper Theme. Another difference comes from the tagDiv Multi-Purpose plugin, which brings 22 new elements designed to help you create landing pages on your website. With Newspaper, you can add services pages, About sections, team presentations, and much more. Also, there are pre-made style shortcodes from demos that you can apply, or create your own and save them for later usage. The plugin is included for free in the Newspaper Theme and can be activated or deactivated from the Plugins tab of the theme control center.
Mobile Theme feature
Both themes come with a responsive and retina ready design. Newspaper includes a unique feature called "Mobile Theme" that offers you the opportunity to display the same content in two different ways, one optimized for desktops, and another for mobile.
Newspaper vs. Newsmag: Performance
The website page loading speed is now almost as important as the content you create and publish. In this context, we made the page loading speed a high priority and optimized both our themes to perform on any devices.
I don't think we should insist on the similar features. If you want to read more about their features, here you can find Newspaper Theme Review and Newsmag Theme Review.
Ok, I've read this, but the question remains… How do I choose?
Let's recap!
Newsmag theme:

Newspaper theme:

Responsive and retina ready
Great for blog, news and magazine websites
14 predefined demos
Optimized for performance
Powered by tagDiv Composer
A bold design with background option on blocks
Easy to use

Responsive and retina ready
Great for blog, news and magazine websites, corporate, business-related sites
Wider layouts
Over 50 demos
Optimized for performance
Powered by tagDiv composer
Ready to build landing pages with predefined multi-purpose elements
Easy to use
If the information posted above doesn't help you decide, we've made a list of things to consider before making a choice:
Meticulously examine your goals.
Check the latest trends in the domain for which you are building the site.
Picture how your site should look like: think about the content width, the required features, media files, chromatics, branding elements.
Write everything down!
Review each aspect and make a decision.
Once you have precisely defined the look and feel of your new project, making the right choice is an easy one!