The eCommerce industry is expanding rapidly. In the last year, the percentage of eCommerce websites has exploded worldwide, and offline shopping dropped significantly. There was a huge demand for electronics, including PCs, tablets, notebooks, and other related products. The demand for technology is overwhelming. People need to use it to keep their jobs in the pandemic context. With this article, we explore how eCommerce changed and why it is important for any business, no matter the industry.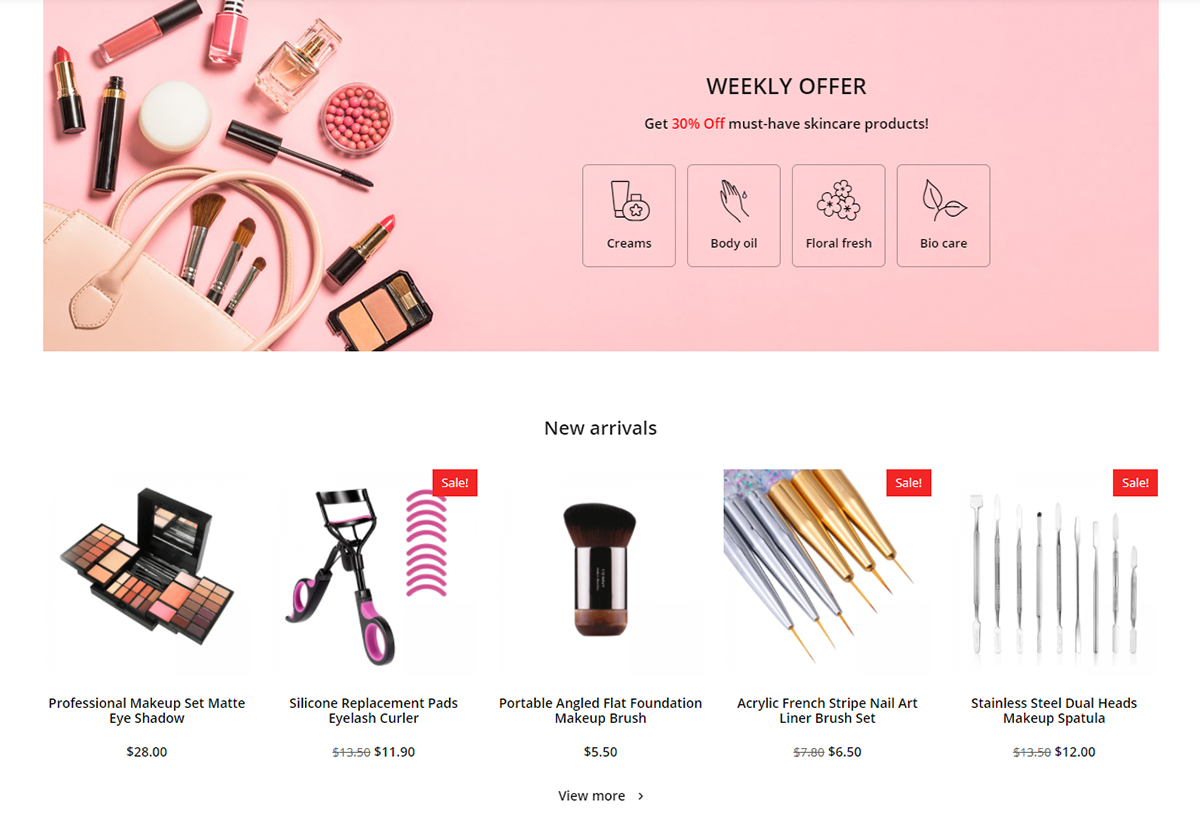 What exactly does eCommerce refer to?
eCommerce, electronic retailing, or eTailing means the same thing: buying and selling goods over the internet. This industry uses the latest electronic technologies for payments and safety, as well as for marketing purposes. Some of the most popular that involve eCommerce businesses can be:
Online shopping for retail sales direct to consumers via web sites and mobile apps, and conversational commerce via live chat, chatbots, and voice assistants
Online marketplaces for business-to-consumer (B2C) and consumer-to-consumer (C2C) deals
Buying and selling between business-to-business (B2B) companies
Electronic data interchange
Internet marketing usage to gain prospects and convert them to paying customers
Pretail – a subcategory of eCommerce for launching new products or online services
Online financial exchanges
Mobile eCommerce is On the Rise
From kids to grown-ups, everybody loves to swipe up and navigate through websites from their smartphones or other mobile devices. It's the easiest, quickest, and accessible way to achieve something desired. And, what does this mean for the mobile eCommerce industry? It means responsive & fast websites, and secure payments for any online retailer.
The pandemic situation has definitely tipped the balance in both consumers' and sellers' favor. People, afraid to go outside their homes, needed a way to satisfy their needs and the businesses thought of new profitable ways to change their business perspectives. In 2020, when the world moved online, literally, they have created new shopping & working places and future predictions do look brighter.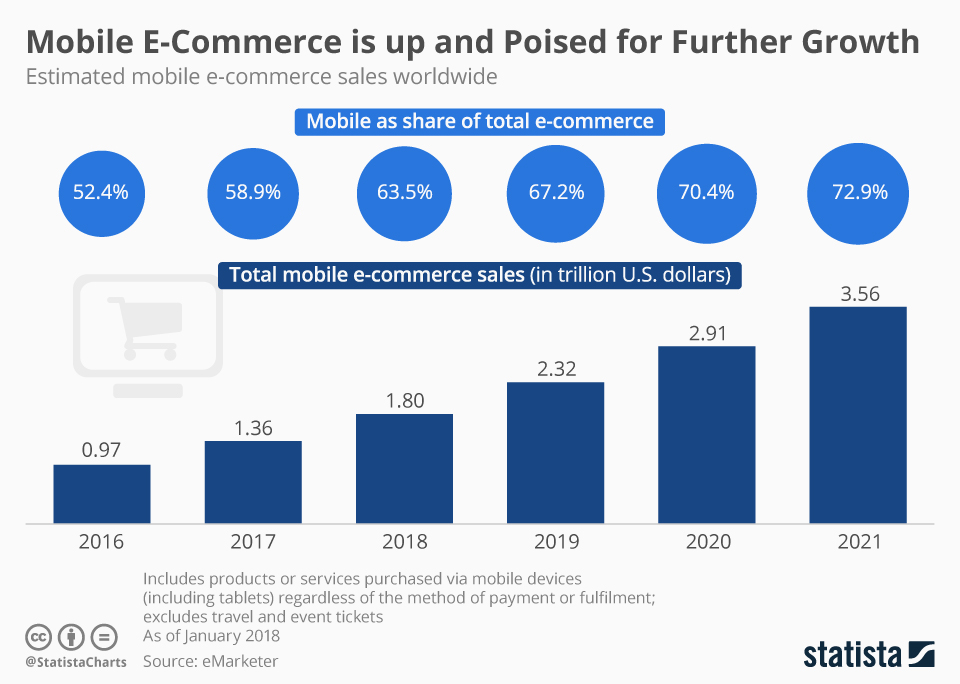 Today, groceries and everything you could possibly think of are at one-click away. International on-demand courier services like Glovo, foodpanda, or Uber Eats are known as quick commerce solutions that are app-based.
People can order food from preferred locations or order shopping items from supermarkets via mobile devices. All these services, the mobile apps for online businesses – they all have presentation websites so you can learn more about them, and even make the needed purchases.
According to Sale Cycle, the fashion industry has also experienced a huge traffic increase between 2020-2021. About 76% of the total fashion traffic and 66% items were performed via a mobile device.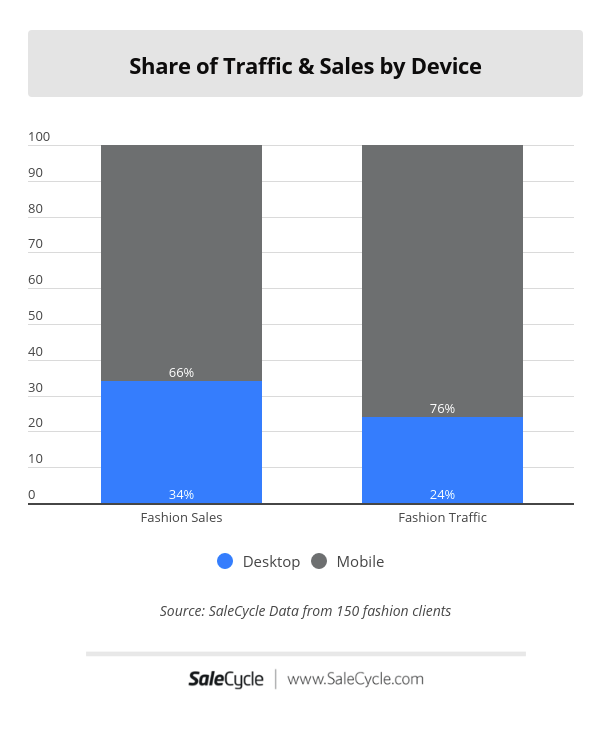 Consumer Behavior has changed and it is here to stay
Deloitte has conducted a study and speculated that in the future "digital devices would replace store clerks, enabling customers to try out products virtually, and algorithms would make personalized recommendations based on purchase history."
Consumers have found new ways of spending their free time instead of cooking or doing shopping physically. This type of consumer behaviour will not revert to the one before it.
For example, according to SquareUp, "customers have embraced online shopping, spending $861.12 billion online with U.S. retailers in 2020, up 44% from 2019."
Most Popular eCommerce CMS Platforms
There are a few eCommerce Content Management Systems that people prefer to build their websites upon. We strongly recommend you to use WordPress, as the possibilities of customization are endless and prices are affordable, but we also want to present to you its competition. We know that there are thousands of websites about all the available CMS stats, and that the figures might differ. The percentage information of the powered websites is selected from the W3techs statistics.
WordPress & WooCommerce
Release date: WordPress was released in 2008
WooCommerce was released in 2011
Owner: Automattic
Powered websites: WordPress powers more than 39.6% of the websites in 2021 and WooCommerce – 12.9%
Pricing: WordPress and WooCommerce are free. However, WooCommerce also comes with premium extension collections that might cost between $300 and $700 for one-year subscription.
Themes: You can get free eCommerce WordPress themes with basic functionality or buy premium ones that range from $14 to $482 on ThemeForest.
---
Release date: 2009
Owner: NASDAQ-listed ecommerce platform
Powered websites: 0.4%
Pricing: 15 days free trial
$29.95/mo up to $299.95/mo depending on the chosen package
Release date: 2006
Owner: Shopify Inc. a Canadian multinational company
Powered websites: 5.7%
Pricing: 14 days free trial
$29 to $299
---
Release date: 2008
Owner: Alexandre Eruimy – CEO
Powered websites: 0.8%
Pricing: It is a free open-source, but it costs to include addons to have the needed functionality. For example, themes' prices range from €60 up to €945, while modules can be free or cost a maximum fee of €6300.
---
WordPress.org publishes real-time statistics about WooCommerce and today, WooCommerce counts over 5 million active installs and 147,169,601 million downloads. The WooCommerce plugin is downloaded more than 150,000 thousands times per day. What does this mean? It means that people just like you want to develop an extraordinary online shop with the best Content Management System and most popular eCommerce plugin. WordPress is an intuitive CMS, preferred by most web creators for its ease of use and versatility. It can be suitable for any type of website, and the possibility of working together with the WooCommerce plugin is another settling factor.  If you want to check out more stats, you can discover more data in Make Web Better's comprehensive article on WooCommerce. Furthermore, if you want to see the best eCommerce Web Design Companies, including tagDiv is listed here, you can read more on Design Rush top.
Conclusion
Whatever your CMS to build your shop is, the eCommerce industry is here to stay, as it's constantly evolving and growing. However, buyers want user-friendly shopping experiences and the entire process should be easy and intuitive, especially for mobile devices. Now, it's time to get eCommerce ready and explore the benefits of selling online. If you're wondering how to build an online shop with Newspaper theme, we've got you covered!