The power of information shapes our everyday lives as people of the modern economy which is more dynamic than ever. Give your users the joy of an immersive digital experience, diving into the center of international markets with the Currency Exchange widget in Newspaper Theme.
The widget displays exchange rates based on the selected base currency, using by default the EURO coin.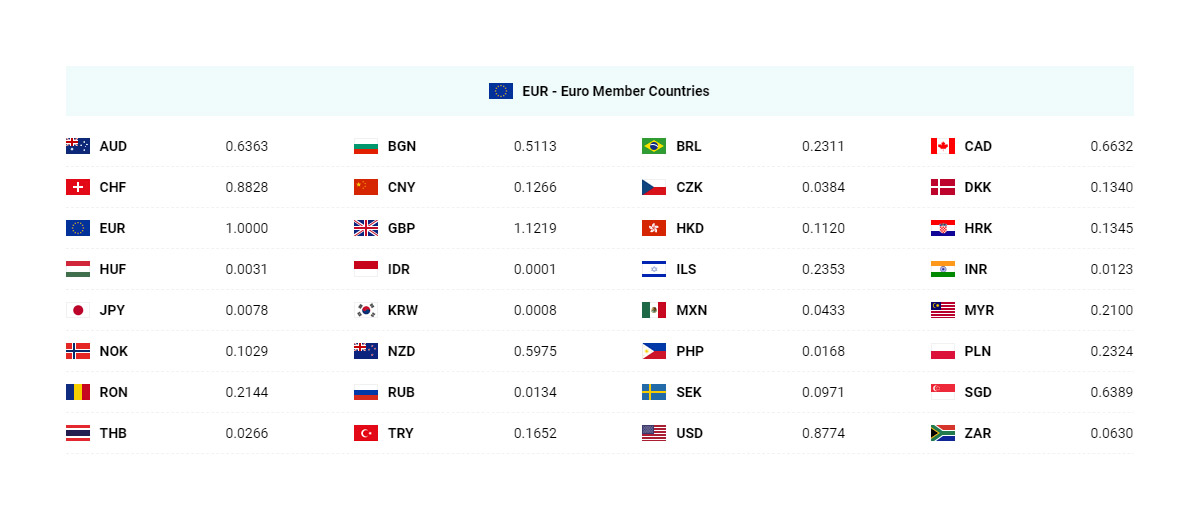 Setting up the Exchange widget in Newspaper Theme
The Exchange widget can be added to pages or inside the widget area as a sidebar element. Its settings include:
API Key:

Base currency:
The coin that serves as a base. The Exchange Widget in Newspaper Theme calculates the rates based on this coin.
Rates:
Add the rates you want to display; use a comma between elements (ex. EUR, USD).
If you leave this field empty, it displays all rates.
Rate decimals:
Set the number of decimals to be displayed for each rate. By default, it displays 4 decimals (ex. 0.4322).
Under the "General" tab you can change the block title settings with its text and background color options.

Translating Exchange Widget in Newspaper Theme
All currency names can be modified or translated from the Theme Panel -> Translations: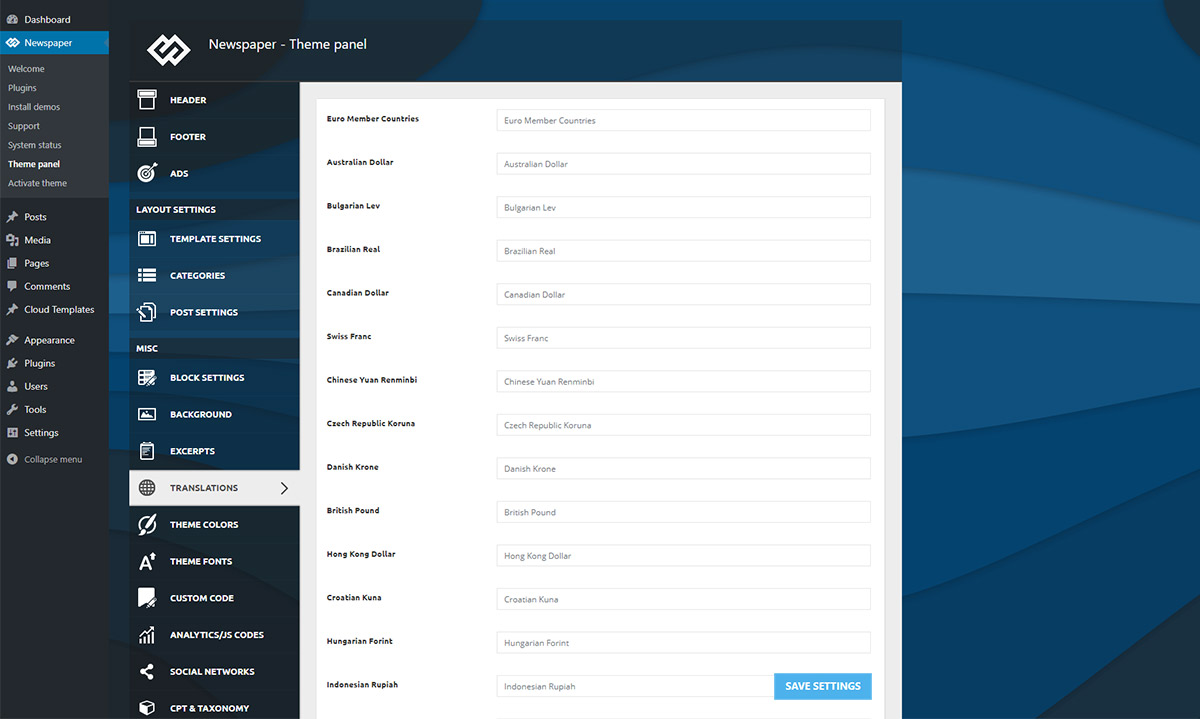 Currency list
The widget can display up to 32 currencies:
EUR – Euro Member Countries (default)
AUD – Australian Dollar
BGN – Bulgarian Lev
BRL – Brazilian Real
CAD – Canadian Dollar
CHF – Swiss Franc
CNY – Chinese Yuan Renminbi
CZK – Czech Republic Koruna
DKK – Danish Krone
GBP – British Pound
HKD – Hong Kong Dollar
HRK – Croatian Kuna
HUF – Hungarian Forint
IDR – Indonesian Rupiah
ILS – Israeli Shekel
INR – Indian Rupee
JPY – Japanese Yen
KRW – Korean (South) Won
MXN – Mexican Peso
MYR – Malaysian Ringgit
NOK – Norwegian Krone
NZD – New Zealand Dollar
PHP – Philippine Peso
PLN – Polish Zloty
RON – Romanian (New) Leu
RUB – Russian Ruble
SEK – Swedish Krona
SGD – Singapore Dollar
THB – Thai Baht
TRY – Turkish Lira
USD – United States Dollar
ZAR – South African Rand