Let's celebrate the Newpaper Theme 7 Years Anniversary! Today is about great achievements, hard work, challenges, and emotions. The Newspaper WordPress Theme now powers more than 100K customers all over the world. We are proud to show you some of their creations in our Showcase page, portfolio projects, mention them on our site, social media, or ThemeForest Newspaper page.
100K is more than a number!
This is a memorable moment for the tagDiv team, and we want to show you how thankful we are for receiving your support and encouragement during this journey. We couldn't have achieved this without you! We consider you as part of our team, and your feedback pushed our creative minds to find new functionalities and simplify the way a website is designed.
7 years ago, when the Newspaper theme got released on Themeforest (on September 4th, 2013) there were only two people in our team. With the growing interest for the news WordPress templates, new members joined the our team. Today, we are a team of 21 web developers, web designers, digital marketing strategists, brand, and project experts working closely together to deliver professional solutions.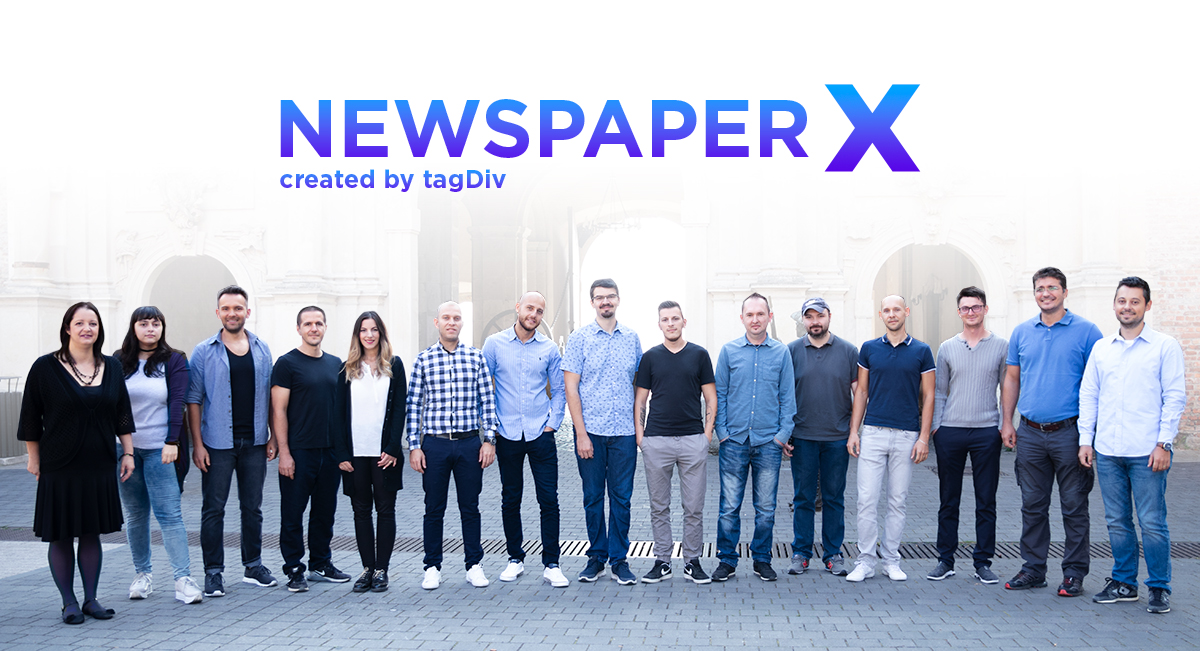 There are countless stunning WordPress websites designed with the Newspaper WordPress Theme. Different, unique, glamorous, styled, bold, popular, branded. Moreover, behind every website, there's a team that maintains it technically and visually. Any website has its authenticity, original content, and social communities. So, Newspaper is more than a popular news theme! Newspaper is your site's home, a comfortable and intuitive place for anyone to discover and enjoy.
Newspaper is the Best Selling News WordPress Theme from All Times
Reaching a theme milestone like this has not been easy. For us, the core motivation is to create a great customer experience and deliver the benefit of having every tool within your grasp. When we craft a new functionality, we always focus on its purpose. 'How would it help customers reach their goals easier and faster'? is the first question we ask.
This Newspaper theme milestone is like achieving your first New Year's resolution, a celebration for us, and each and every customer that made this journey with us. We all had our part in creating this amazing news theme you love tweaking on your WordPress website.
Now we are celebrating the efforts behind the tens of thousands of hours you invested in countless conversations you had with the tagDiv team sharing your suggestions and struggles with us, asking for solutions to build your website faster, easier, to grow your business. We celebrate the amazing community from tagDiv Forums where users are so dedicated that they provide solutions for other customers, and the devs and designers all over the world. We salute you! Thank you for your contribution to improve the theme. We are greatful!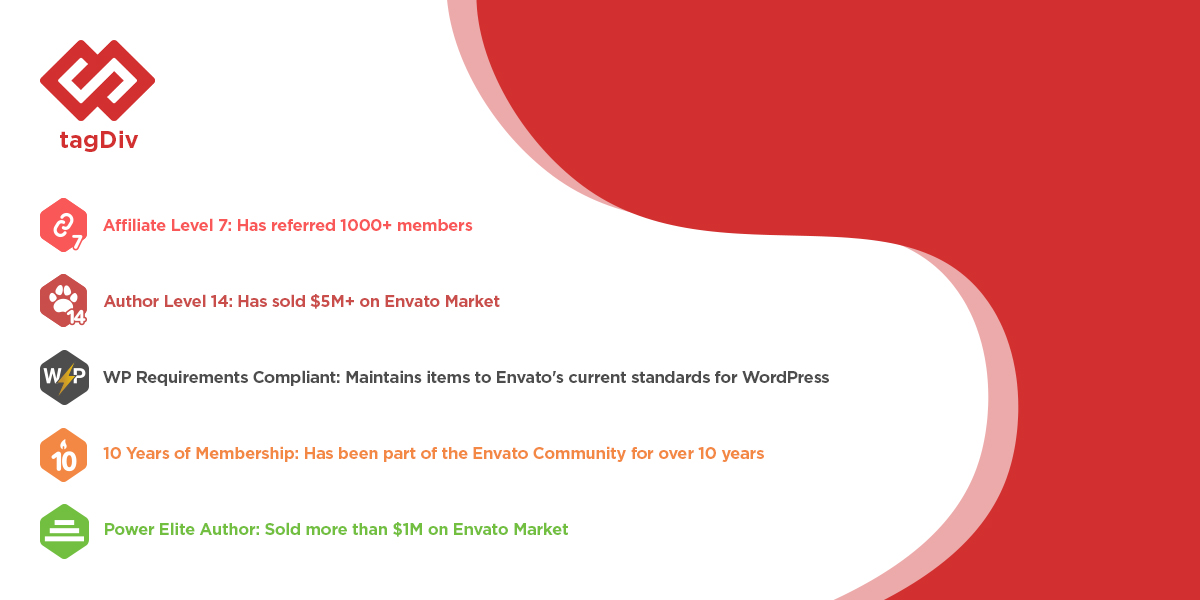 Development. Perseverance. Evolution.
Founded by two friends, Marius (web designer) and Radu (web developer), the tagDiv team started the WordPress journey in a spare room in the house of Radu' s parents. Working on the WordPress theme project after their jobs, the most important issue to solve back then was finding a market fit for the product. They took a year of actual testing of different WordPress themes and systems to understand exactly how things work in the marketplace. Once they decided to go for the news industry and provide a theme that solved the issues for the online publishers, Envato Themeforest was the right market. The Newspaper Theme got launched a year later.
Let's take a trip down to the memory lane, and see how the Newspaper theme changed over time. You can discover all features detailed on the Newspaper theme changelog page.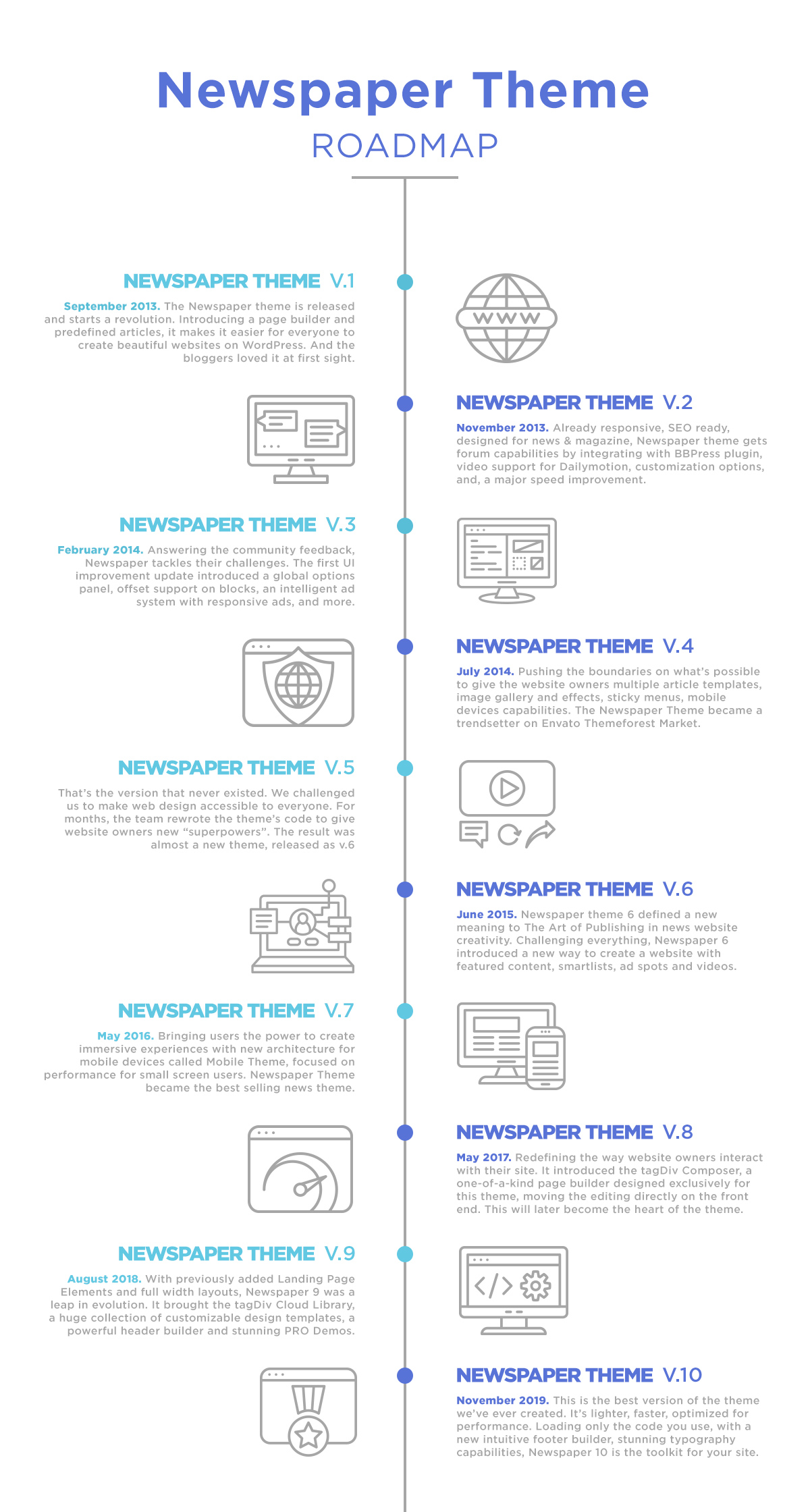 The Thanks Go To…
As with any celebration, it's important to thank everyone for their support, implementation, and implication. We haven't prepared any long speeches, but we believe that a big Thanks! to anyone who helped us make a difference in the WordPress news industry is appropriate.
The tagDiv Team
We've faced challenges, had dozens of brainstorming sessions, conferences, and long coffee-driven discussions. We grew together, we met up outside of the office and through the years, we became a family. Together, we have achieved something amazing: we've reached this great Newspaper theme milestone! You are truly creative when working as a whole, and you're enthusiastic while experimenting and finding new solutions. Team rules!
When you're surrounded by people who believe in you, the workload,and effort seem easier to tackle, says Marius, co-founder tagDiv
Envato Team
We chose Envato ThemeForest market to be the exclusive place to sell the Newspaper WordPress theme. ThemeForest was released by Envato in 2008, and it was on the rise when we were looking for a trustworthy marketplace to launch Newspaper back in 2013.
So, here we are, in 2020, and we are more than happy to continue our collaboration with the Envato team. This partnership is based on trust, respect, and communication. ThemeForest is a reliable source to buy yourself a safe product and give credit to the author's hard work. Thank you, Envato team for being part of our greatest Newspaper Theme milestone ever!
Social Media Communities
We know that a social media presence is your fast way to talk to us. That's why you can reach out to us at any time. We mostly answer pre-sale questions on our social media accounts, as for getting theme support you can always drop an email or use the forum.
If you haven't followed us yet, you can find tagDiv on Facebook, Twitter, YouTube, Instagram, Pinterest, and Linkedin. We're delighted to keep in touch with you and see how much you support our work.
Industry Critics, Online Publications & WordPress Bloggers
There are various publications online, related to WordPress, software, or technology out there. You can check out many business magazines that have published Newspaper theme reviews, tagDiv blog posts, or included our WordPress template into related collections. Moreover, the Newspaper theme is appreciated by popular web design authorities such as Awwwards, CSSDesignAwards, CSS Winner, Shoutmeloud, aThemes, Colorlib, Templatic, and many more. There are so many real stories about Newspaper & tagDiv published on your websites, and they all contributed in our customer's decision-making process. We would like to thank you for believing in our product and for your honest, expressive thoughts!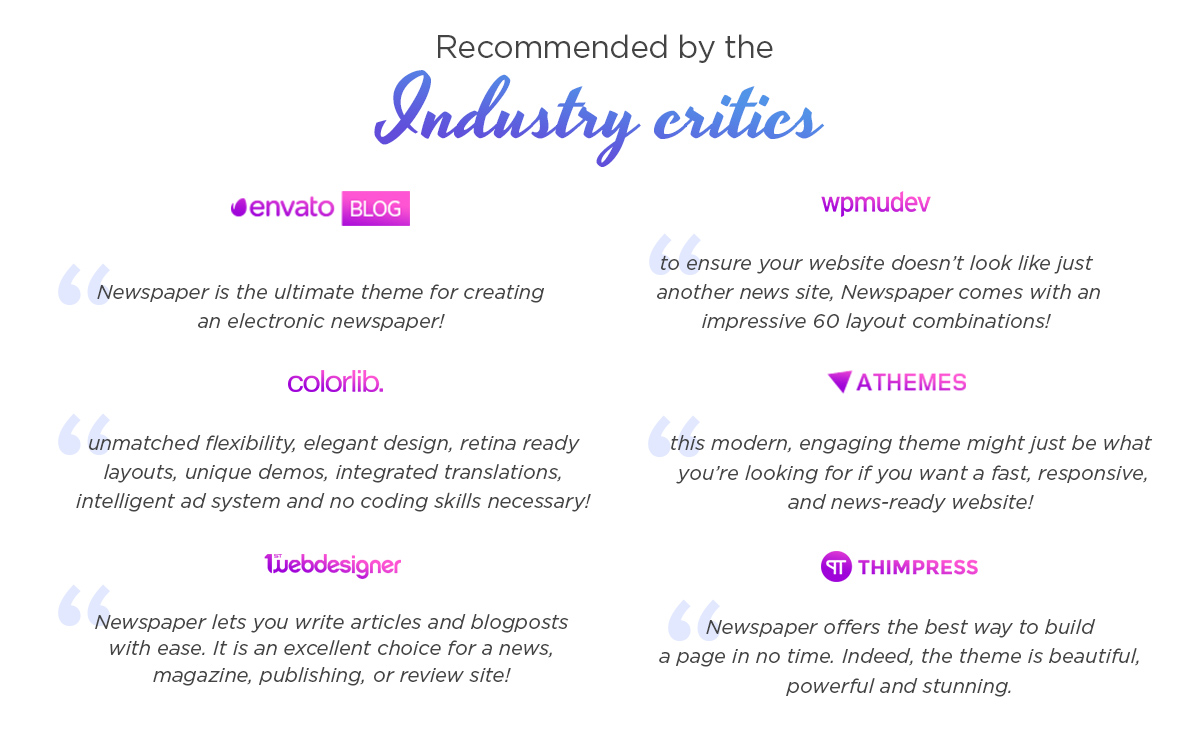 Together We Are Changing the World
Paulo Coelho nicely wrote that "everybody has a creative potential and from the moment you can express this creative potential, you can start changing the world." Our company's performance is definitely a business milestone we want to share with our amazing customers. Let's celebrate tagDiv's achievement together! We've prepared a discount for you to use it if you need a custom web development & web design solution. Submit your new request and include the milestone20TD code within the description, and you'll get 20% off the project! Thank you for taking this amazing journey with us! We'll keep inspiring you so you can develop and achieve your projects and goals with ease.