The Newspaper Theme comes with 63 unique designs for your website. Our demos are carefully tested, so you don't have to create everything from scratch. Installing demos is the fastest way to get started. Choose a template, a click, and you're done.
Preview / Installing Demos:
You can preview the desired demo before installing it. Go to Newspaper > Install demos section. There you can find all of our available demos. Choose the one you like and click on the Preview button to preview a demo or Install button to install a demo.
Check out the new 7 Fully Customizable Demos that allow you to edit every item on any page and template and add your content straight on the front-end through the tagDiv Composer. Now, designing can be a piece of cake!
Quick Install for a Demo
You can also use the Quick Install panel, but note that it automatically installs the demo content.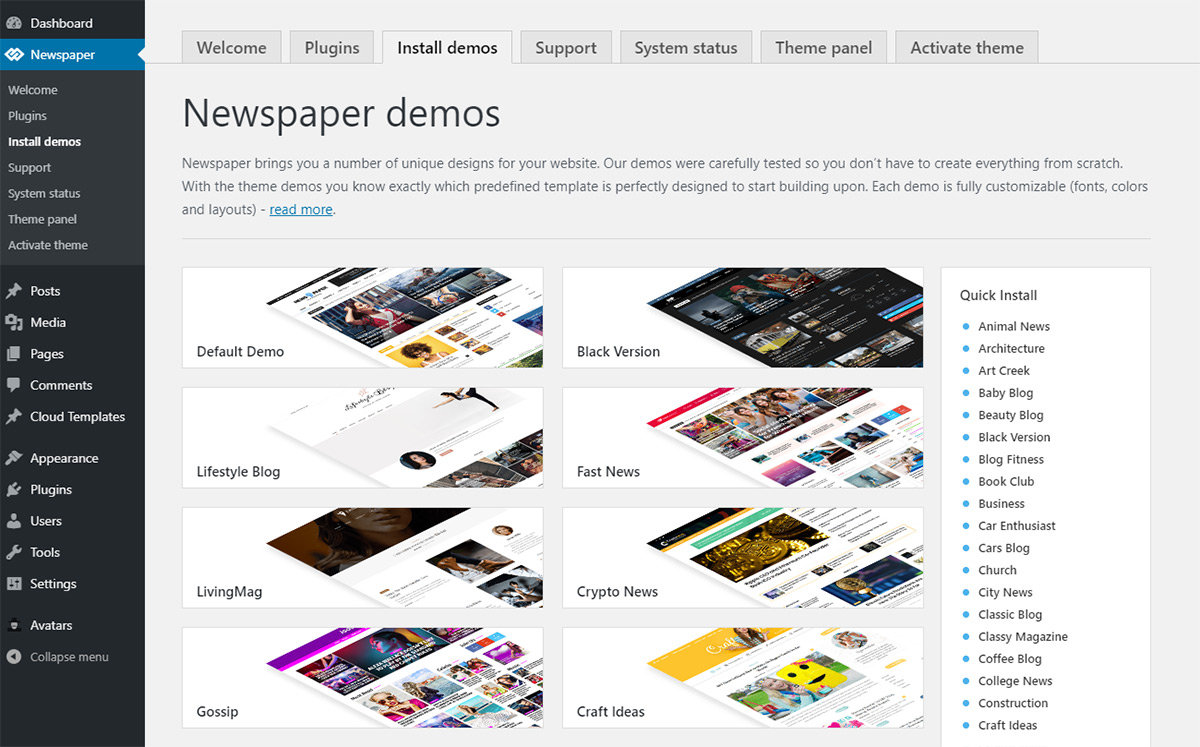 Include / Exclude content:
You can install a demo importing all settings and content or just the settings. Go to Newspaper > Install demos section. Choose the one you like and turn to ON or OFF the Include content setting.
When this option is ON, the demo also installs the content (posts, categories, menus, and many more).
When this option is OFF, the demo includes just the predefined settings.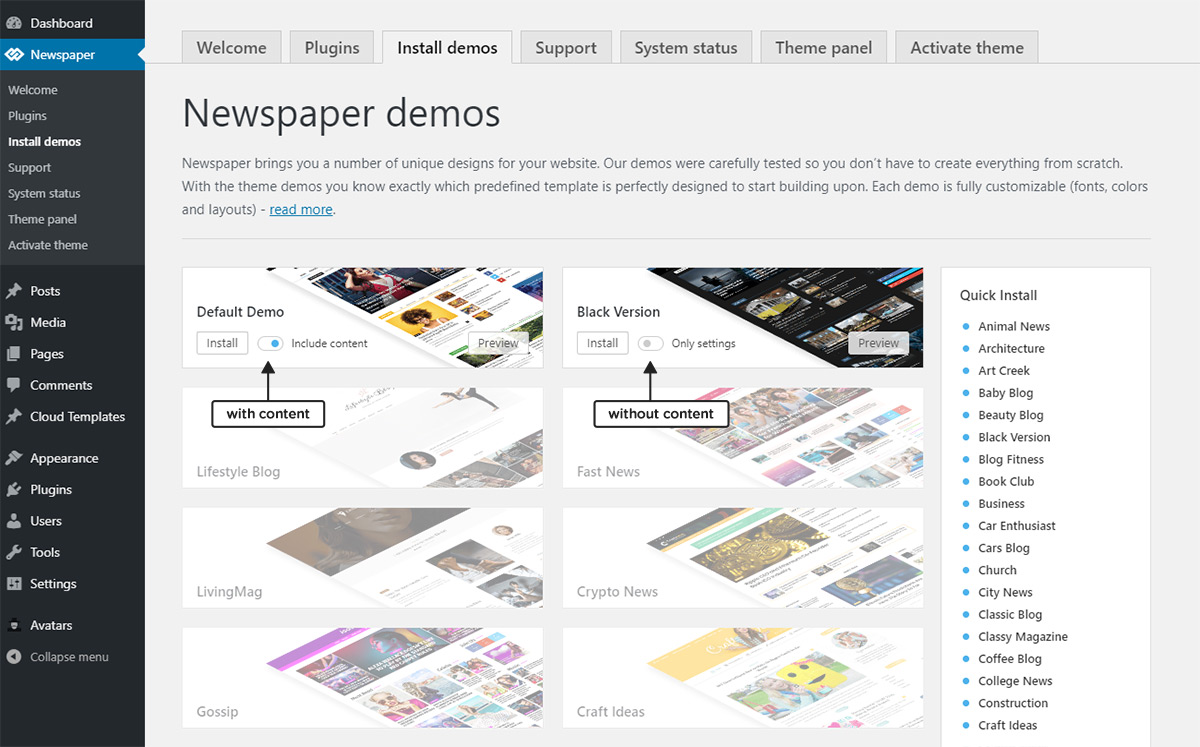 Important notice: If you choose to install a demo with content, do not edit the content and use it as your site content, because the content gets removed when uninstalling or switching demos.
Uninstall a demo:
If you decide to change the demo or uninstall it, the import system makes sure that your website is clean: no additional sidebars, menus or content. It leaves your website just like it was before you installed the demo.
To uninstall a demo go to Newspaper > Install demos section. Click on the Uninstall button.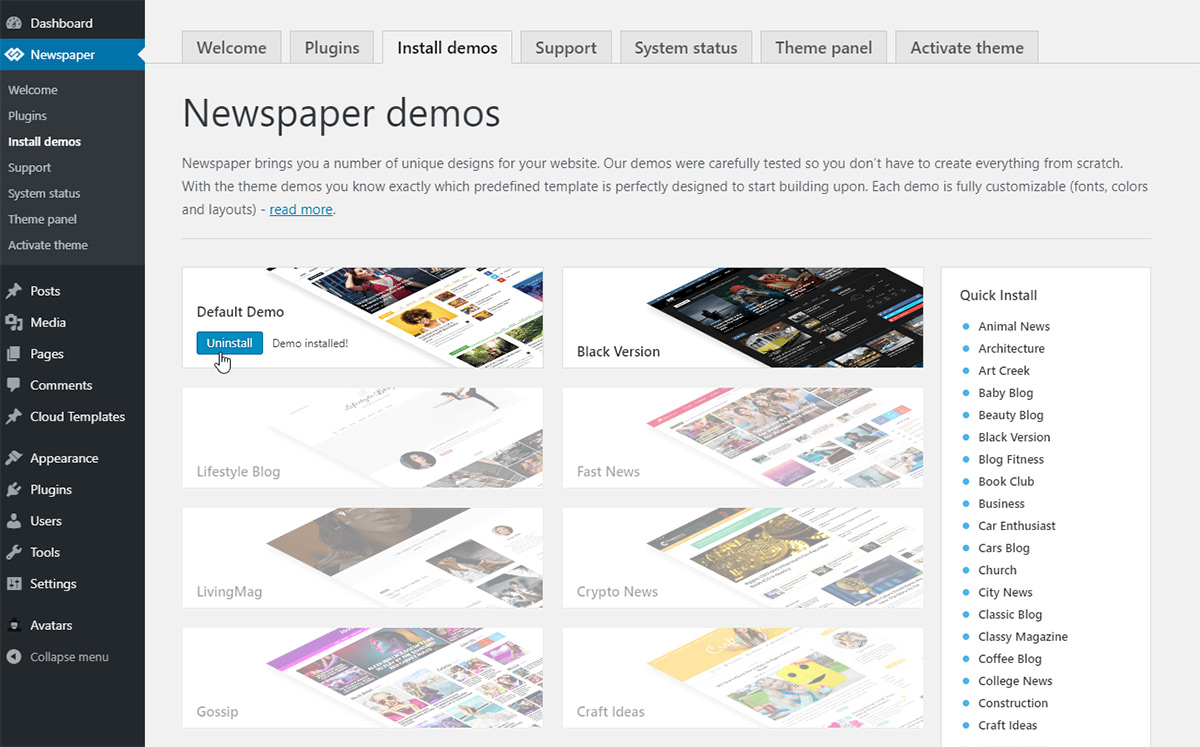 Combining multiple demo elements:
Demos can be installed only one at a time so you cannot combine multiple demos from the section presented in this guide, but you can import sections or entire pages from other demos using the Cloud Library plugin. Please refer to the Cloud Library section for more details on how this can be achieved.