The Newspaper theme comes with a free license for the Revolution Slider plugin, so you use it to create stunning imagery on your website. In this article, you have a step-by-step guide on using the Revolution Slider plugin with Newspaper Theme.
The license is a bundled one and does not come with an activation code. We provide regular updates for the plugin, so you do not need to purchase it to have access to its functionality, and features. Again, you don't need to buy or registered this plugin!
Using the Revolution Slider plugin with Newspaper Theme
Our "Plugins panel" has to have all the plugins bundled into the main theme .zip file to be able to install them. We're always trying to keep our theme's file under 8 MegaBytes, the default upload limit on most hosting environments. Revolution Slider 5 has grown from 1.5MB to almost 5MB.
Due to licensing restrictions, we cannot download it from our servers to your host. So, the solution is to pack it in the plugins section of the Newspaper Theme in a bundle.
You can find Version 5 of the plugin under the following folder structure:
Newspaper-tf\plugins\revolution_slider_5
How to install Revolution Slider 5
Go to your WordPress admin panel and open the Plugins > Add New section. Click on the Upload Plugin button and browse your local computer to find the Newspaper-tf  > Plugins > Revolution Slider 5 folder. Select the revslider.zip file and click the Install Now button.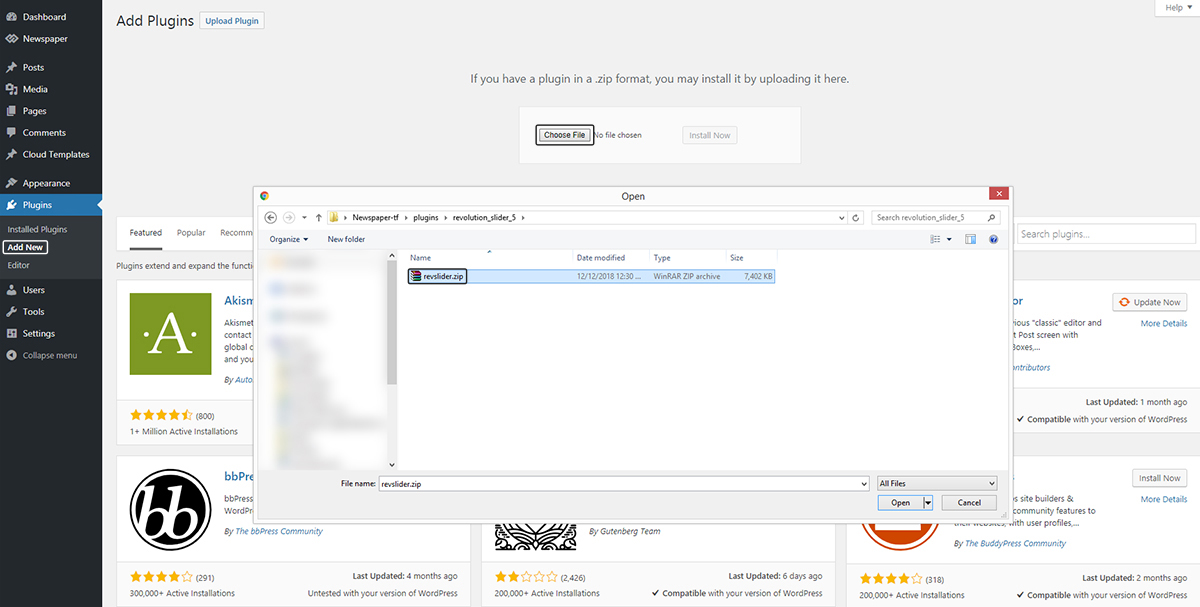 After the process is over, activate the plugin.
Importing sliders for theme demos
The theme provides many predesigned sliders that are used together with the theme demos which you can import and use freely on your website.
Using the Revolution Slider plugin with Newspaper theme is a sure way to create visually impressive pages. Our designers used sliders in the demos. This is the reason why, before using a predefined demo that contains a slider, you need to make a few adjustments:
1. After you have the demo installed, you must install the Revolution Slider plugin and activate it in the Plugins section.
2. Click the Import Slider button in the Revolution Slider section: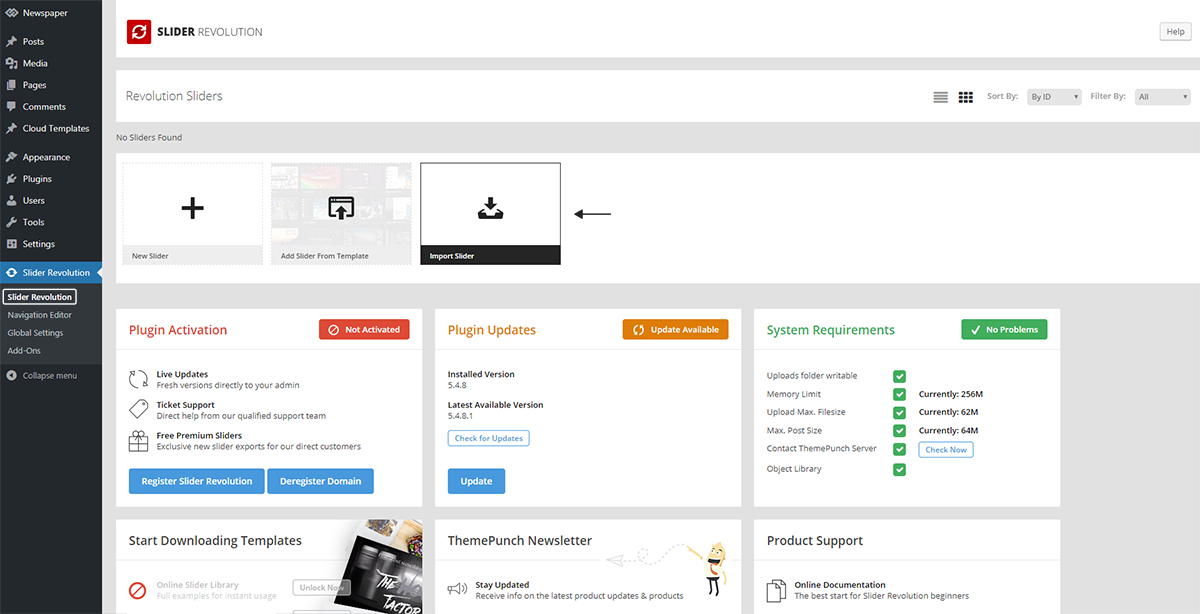 3. Choose the slider associated with your theme demo (you can find it as a .zip file in Newspaper-tf\demo_sliders folder) and click the Import Slider button.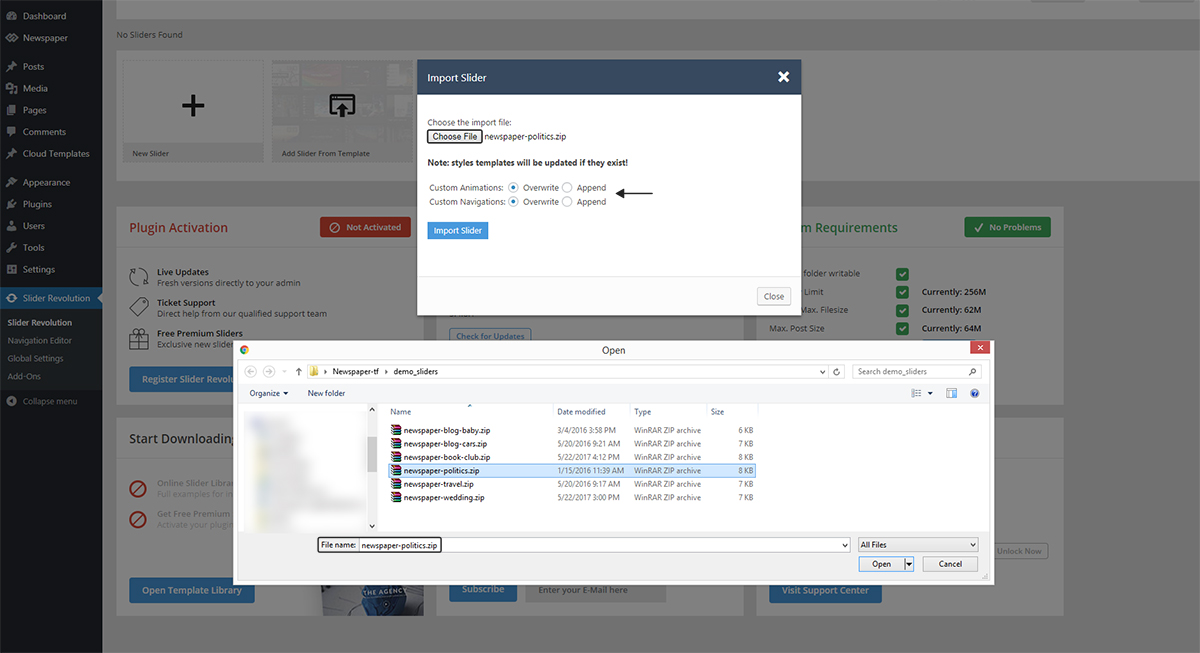 4. Once you complete the installation, you can find it in the Revolution Slider section. You have to click the Settings symbol:

5. The slider requires a category to extract posts from, so you have to choose it from the list: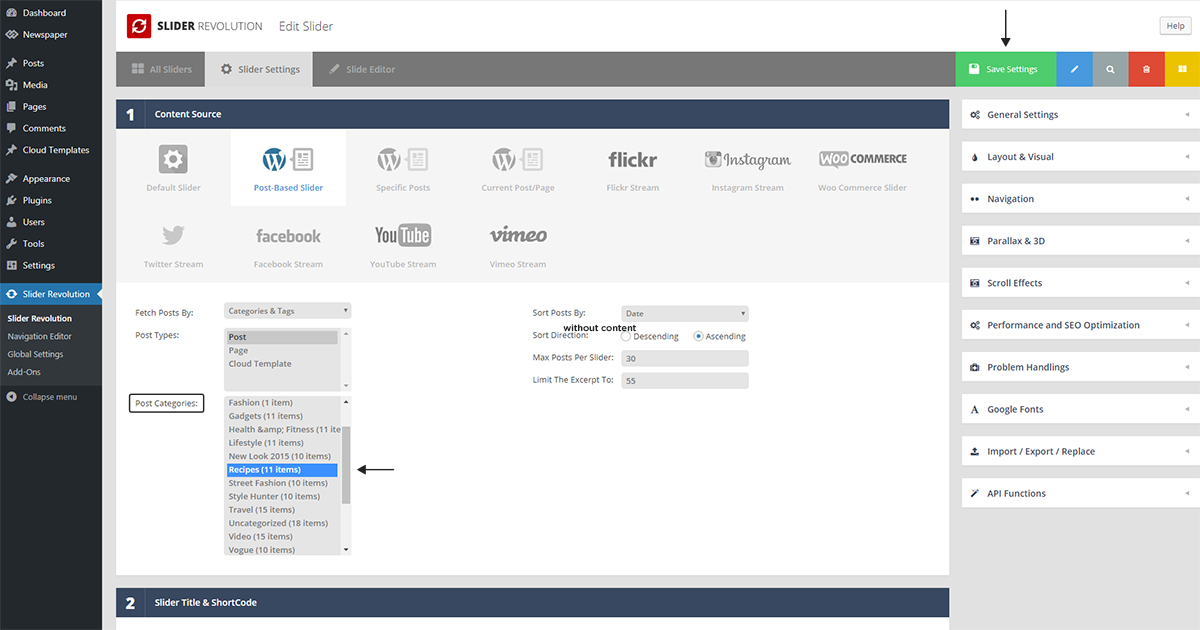 6. With the category set, all you have to do is save your changes by clicking the Save symbol on the right side of the page.
Now, you are ready to use the demo. You can also create a slider where you need it with ease. Have fun creating your website!