The tagDiv Cloud Library brings you over 1200+ already-built layouts. We have designed it to simplify the way you create layouts in the Newspaper theme and make your website stand out! The innovative system of tagDiv Cloud Library allows you to import templates and customize them using the drag and drop functionality.
The plugin has three significant purposes:
Helps you create stunning templates and pages quickly, without the hassle of adding CSS code;
Allows you to use of the tagDiv Composer on all WordPress templates;
Provides a growing database of pre-made templates, homepage, sections, blocks and so forth.
With the tagDiv Cloud Library, there's no need to create your content from scratch. You can easily import the selected element, and use it directly or customize it to your preference and style. You can also import pages easily with one click! Just add your content straight through the tagDiv Composer, and you have a beautiful page from scratch. Find out more about the tagDiv Cloud Library Page Templates here.
Think of it as a template builder that comes with a vast collection of layouts for every section of your site. You can browse the tagDiv Cloud Library collection, preview the unique designs, and import the one(s) you love!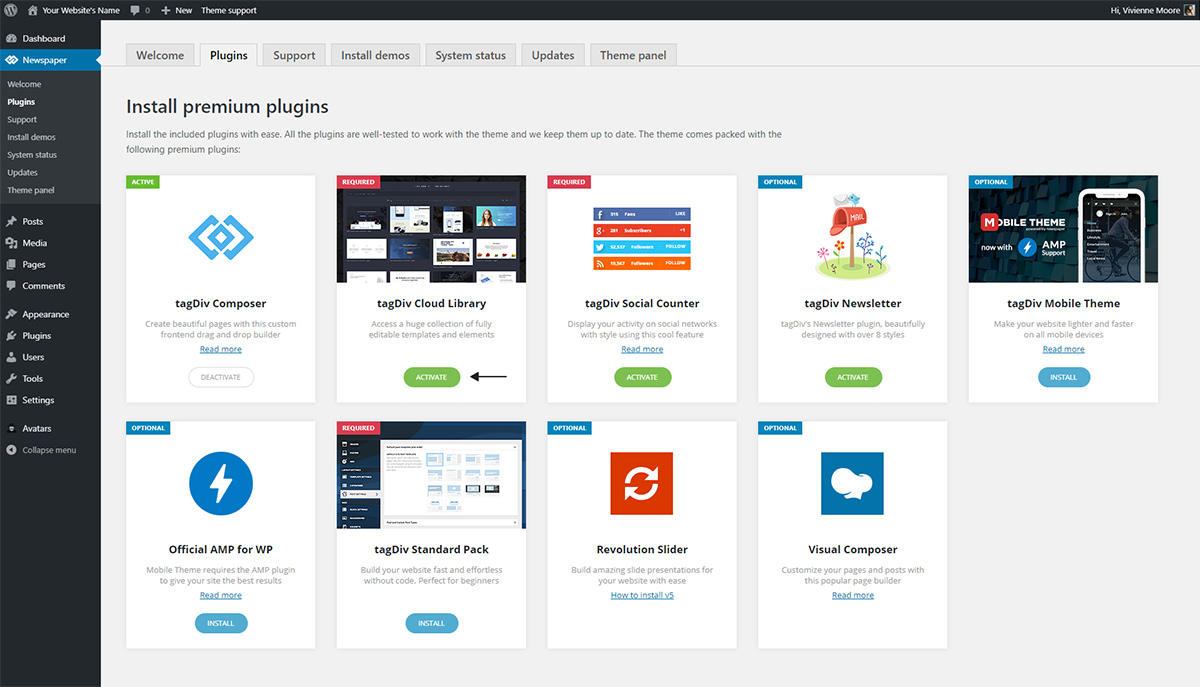 How to use tagDiv Cloud Library
First, make sure to activate the plugin from the theme plugins section:
Then go to either a category, author, tag, date, or post on your website. As long as you're logged in, the WordPress admin bar contains a green button: Cloud Library. Click it to open the tagDiv Cloud Library and browse through the selection of predesigned templates. If you want to create your own, choose the "Blank Template" one.
Click on any of them to open their "Create Template" window. Hit the button to have it imported and assigned straight onto the page you're currently on. Great! But how do you set it globally? What if you want the current template to be on all your categories or posts? To the left of the "Cloud Library" button on your WordPress admin bar, you have your template button.
If you click on this tab, it opens a dropdown window with every template suitable for the page you're editing. It should look something like this: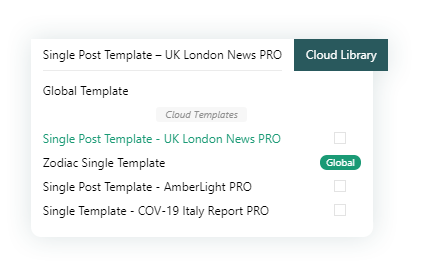 Any Template that you click on is applied on the current page. Please note that it does not get set globally. To assign it globally, you need to check the box next to the wanted template. Then, every page of the same type will use the template assigned by you globally.
Duplicate, Rename, Delete Templates
From the same dialogue box previously opened, you can delete, rename, and duplicate templates. When hovering over the title of a template, three dots appear to the right of it. Move your cursor top of the dots to get access to the following icons

.
Let's explore each one starting from the left, moving to the right:
The trash can icon deletes the template hovered upon. Any deleted templates can be found in the trash of your WordPress Admin Dashboard > Cloud Templates > Trash.
To the right of the trash icon, you have the duplicate icon. It makes a copy of the template.
When you click on the pencil icon, you can rename the template. This is perfect for organizing all templates.
Now that the Template button has been fully explored, let's move on to editing and creating a new template from scratch.
Create Templates from Scratch
Before we jump into the creation process, check out the tagDiv Composer basics tutorial to familiarize yourself with the workflow of dragging-and-dropping items to create your page's layout. When you travel to a category, post, tag, date, search, or author page, next to the "Cloud Library" button on your WordPress Admin Bar, there is an "Edit Template" button.
This is only available if you have installed a demo, or imported a template already. When you click it, you get to drag and drop elements that are necessary for your audience. Keep in mind the user experience – you want every functionality to be highly visible and easily accessible. Take a look at our guide to avoid design mistakes and learn what the do's and don't's of web design are.
Keep everything cohesive, restrict the number of fonts you use on the template to a maximum of three. If you need inspiration, you can also take a look at our 2020 Design Trends, which encompasses the year's most popular styles. Once you're done creating the elements, stylizing them, and choosing colors, save your settings by clicking the save icon on your tagDiv Composer.

Let's sum it up
By exploring different templates and finding out what works best for your website, you get experience. Newspaper Theme opens up a whole new world of creation and possibilities as each choice can impact your audience. Design something stunning that makes use of excellent user experience to connect better with your viewers.
Let us know how you've used the Cloud Library Templates to design your website in the comment box below!