In version 10.3.6 of the Newspaper WordPress theme, we've added five new PRO demos you can one-click install on your website. This year is challenging for everyone, and the majority of us don't even have the chance to go for a relaxing get-away in exotic places. But even if most of us won't get to see the mountains, nor the sea, we can try to make it through together by bringing the beauty and relaxation through these 5 spectacular new PRO demos. 
In terms of beauty, functionality, and high loading speed, the Newspaper theme is the best choice. Furthermore, if you need some extra solutions that require professional web development & web design assistance, here at tagDiv, you're all covered.
We know trends come and go. That's why we revived some of our old full demo designs, the ones you loved having installed on your website. By recreating old demos as new PRO demos, we made them lightweight and faster, without unnecessary elements. Moreover, they have a cool summer vibe and fresh out-of-the-box elements you can mix & match on the frontend of your site using tagDiv Composer page builder & tagDiv Cloud Library. Let's see each new PRO demo characteristics so you can easily choose your new favorite design.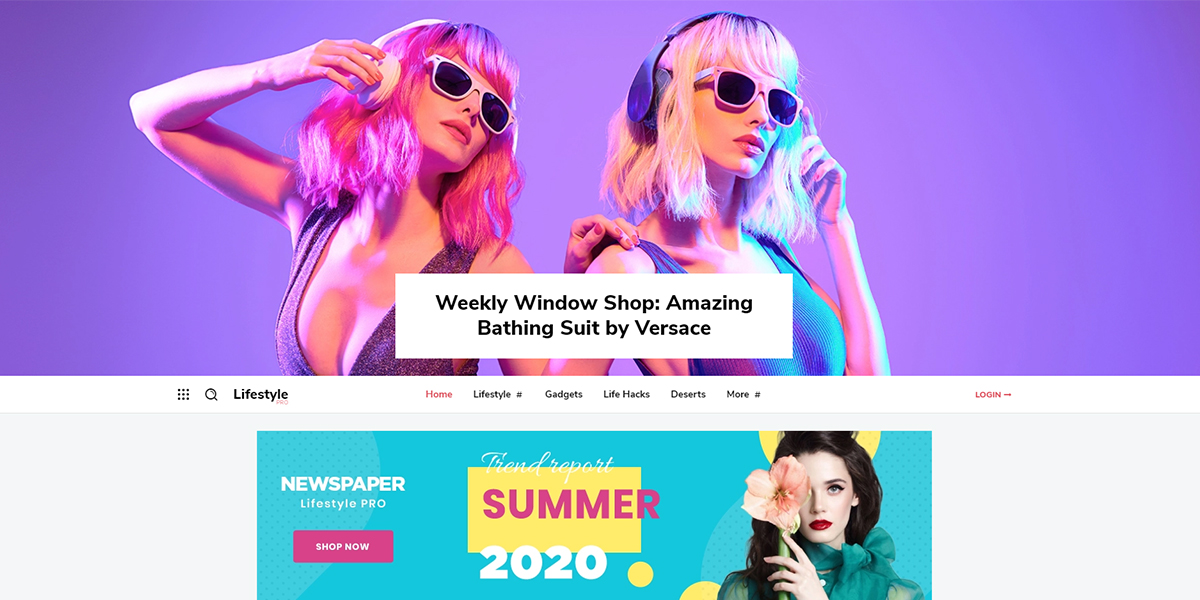 As the name suggests, Lifestyle PRO encompasses interests, behaviors, hobbies, and distinct opinions on health, politics, religion, values, or world view. This demo is built specifically for those who want to share their way of living with others, and also for those who embrace consumption behavior. For example, the majority of us follow celebrities or popular people on social media. They are all influencers that combine personal and psychological factors with social ones, and have a different lifestyle than ordinary people. We follow their activity to learn something new.
So, we've designed a new PRO demo, unique, by using bright colors and a lot of white space to give you the best playground for a Lifestyle website. Whether you have a personal blog or a magazine site, this demo has predefined spots for ads, clean photo areas, and is social network friendly. The beautiful chosen post template comes with the infinite scrolling effect enabled, so your readers can stay longer and enjoy the lovely content. Furthermore, to create this unique demo design, our web designers used alternation and asymmetry as the overall key factors.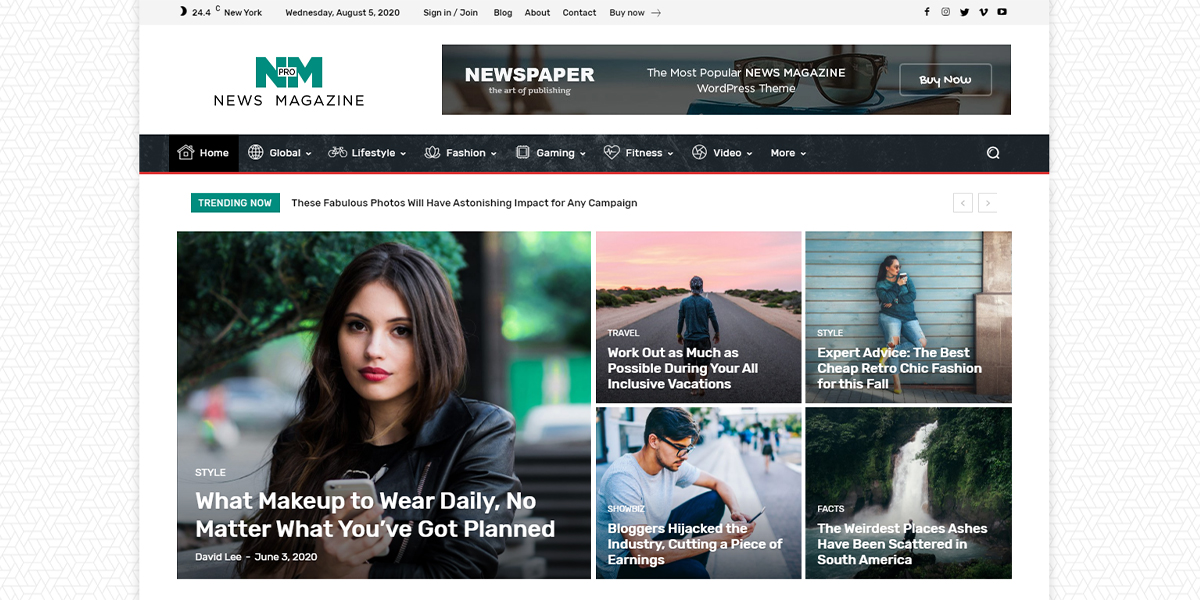 News Magazine PRO demo is an actual remake of the old Magazine demo. You'll notice the difference! This demo design is easier to edit, which makes designing your new magazine website on the frontend a piece of cake. With round and rectangular shapes, bold and thin typography, the Magazine PRO demo shows you the latest articles, creation date, and author name strategically. The homepage is showcasing distinct information and interesting content by alternating image boxes with text, hover colors, and an overall mysterious vibe.
Structured by a Big Grid Flex with thicker white borders between images, social network area, ad spots, different post categories, big titles, text excerpts, embedded video playlist, the Magazine PRO is every blogger's dream. It has a compact design, a fine background texture, and essential features like news ticker, weather shortcode, as well as infinite scrolling enabled on articles.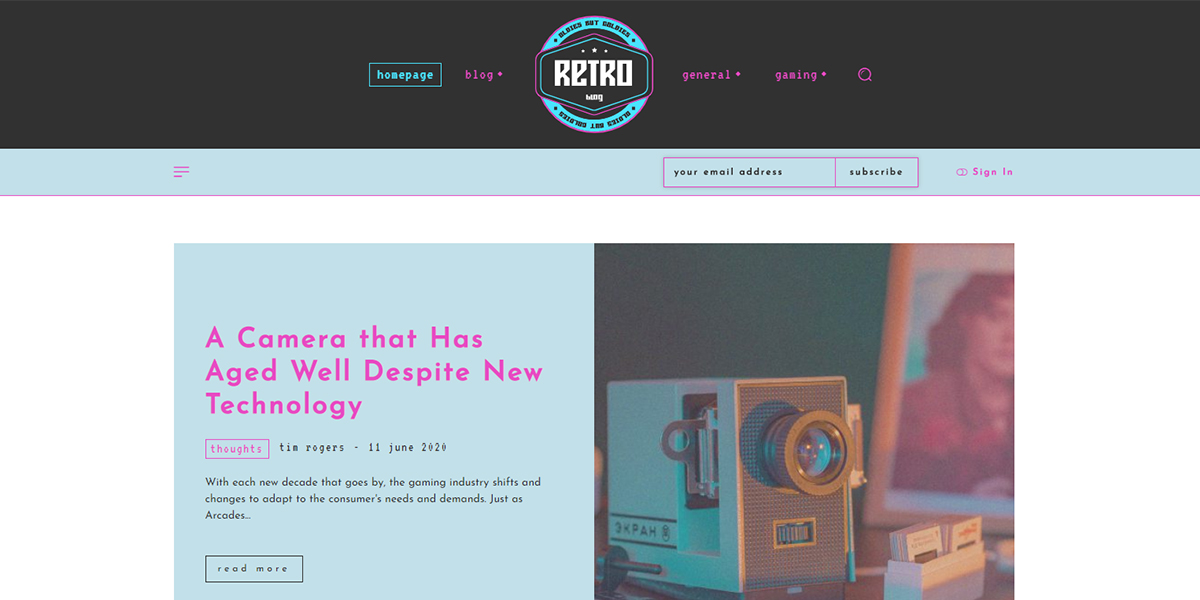 When thinking about vintage culture, we are actually referring to those retro aspects that describe past trends, lifestyles, art forms, old music, attitudes, fashion items. The Retro Blog PRO is a demo inspired by retro gaming that meets arcade colors and lights. There's a contrast between cyan and pink shades, as well as custom-made shapes and icons to highlight the importance of retro in modern life. For example, the animated hamburger menu that smoothly slides from left side, and the usage of the elegant and geometric Josefin Sans Font family gives you the complete vintage feeling.
When you first see this demo design, you'll fall in love with the details. You'll want to go and unpack things from your childhood that used to make you happy and keep you occupied. The Retro Blog PRO demo design makes you want to be a child again and share your best game tips with everyone. With this demo, you can build an amazing tech, video game, game news, or entertainment website.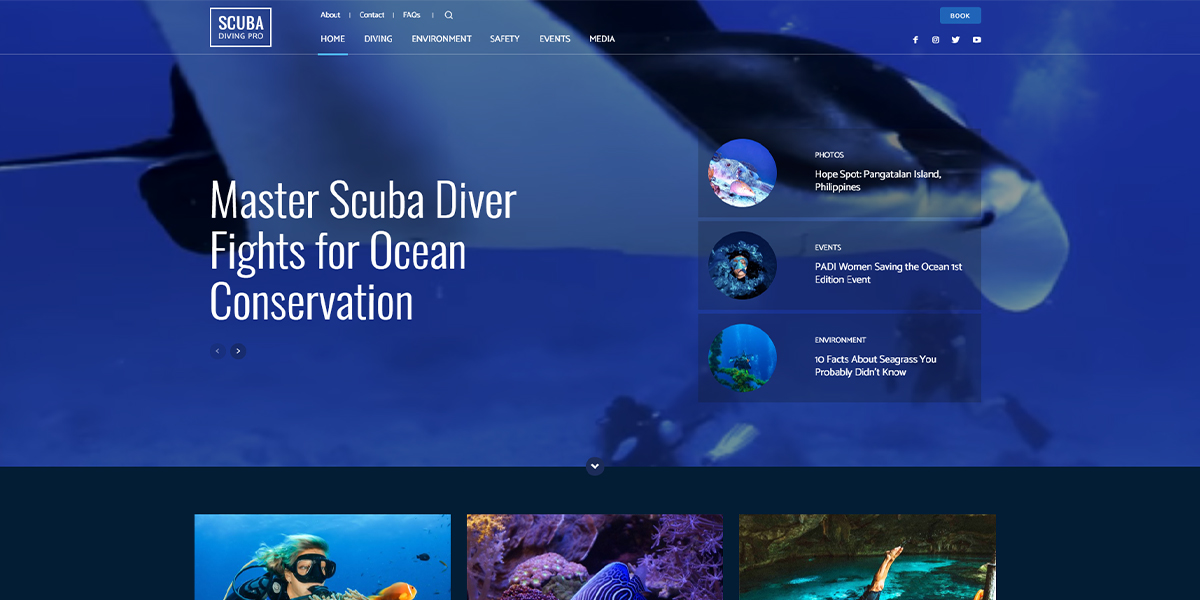 Scuba PRO is just an amazing demo that will immediately take you on a journey under the sea. The high-definition video background for header is a great way to catch your visitor's eyes right from the start. Navigation buttons on the mega menu are also a neat addition to the functionality of the beautiful Scuba PRO demo.
Designed with a blue monochromatic color scheme, and transparent modules placed on row backgrounds, Scuba PRO is a fresh, calming, and vibrant demo design. With a one-of-a-kind footer, organized in four columns, these are the necessary elements to give your readers everything they're looking for. There's a minimal-looking subscription box as well as quick links to the main categories, and social media icons, all shown in the bottom area of the demo design.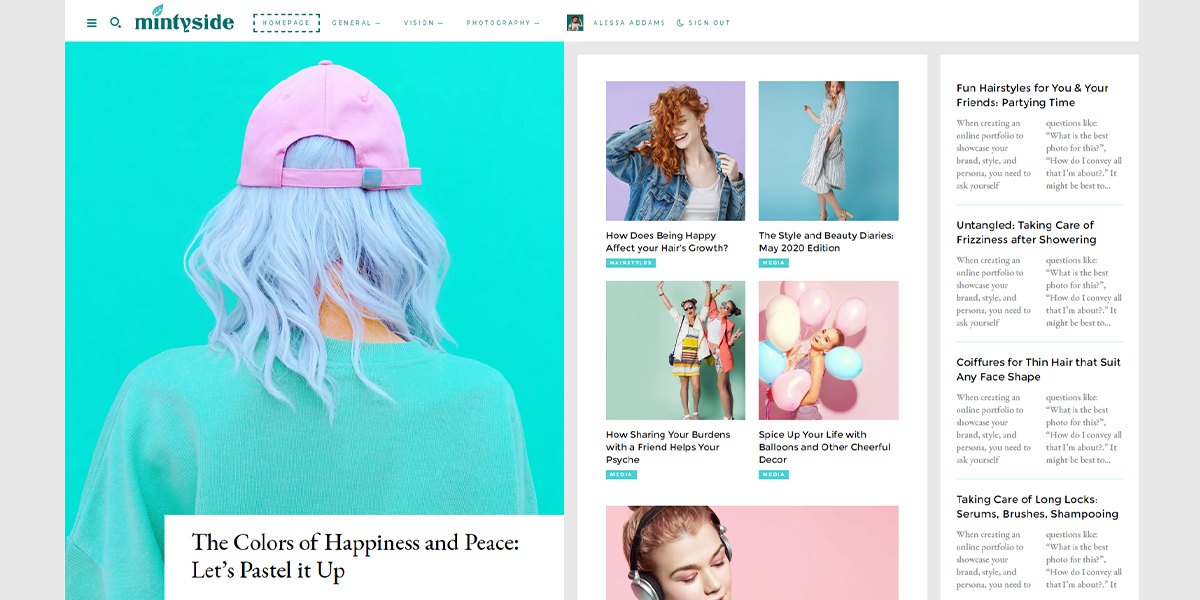 Inspired by the mint symbol of generosity and wisdom, the Mintyside PRO is an explosion of visual elements that serve as the perfect place to show your writing skills. The stylish logo includes a mint leaf, that's well-balanced with the typography.
Modern fonts, pastel colors, and a grey background throughout the entire website make Mintyside PRO a delight. It is a unique demo design, based on a three-column layout. Moreover, wide elements are organized by combining Flex Blocks with two-column excerpts to give you plenty of space to use your content.
Conclusion
In case you're wondering how our web designers craft new demos or redesign old ones, you must know the secret: there's a lot of research done. To keep up the high standards, we use modern typography, popular colors of the year, fresh forms and graphics, as well as the news industry specific: built-in ad spots that are entirely customizable. The new PRO demos of the Newspaper template are, as always, included with the theme's package, and easy to install. They're fast, gorgeous, and customizable from top to bottom. What's your favorite new PRO demo? Let us know below in comments  👇