Every article starts with a blank page. You want to fill it with appealing and interesting content to deliver valuable information. This way, your visitors will always return to find more entertaining content on your website. But how would you start writing an article? With the basics, of course.
You probably already have an idea of who your public is and what's your purpose. What do you want your readers to find on your site? In this article, I'll show you how to create an article with the Newspaper theme and how to customize a single post template. Also, I'll tell you some of my copywriting rules I follow when writing up an article for the blog. It's important to notice here that a copywriter needs to see the full picture of a website and that these copywriting tips also apply all over the site. The whole vibe has to be the same, whether your visitors land on the homepage, blog area, or about us section. Furthermore, make sure you're using the same fonts, tones, call to action, and trust messages.
How People Will Read Your Story
Visitors scan. They don't read everything and do not analyze each word or detail of your article. That's why it's essential to structure your article and use visuals to get the most out of the post. Now that you know this, you also have to understand that a copywriter is more than just a person that writes-up nice articles. He is a good researcher, a great text-director (likely as a cast director/film-maker), and also sees the whole scene, including visual elements and content flow.
"Copywriting is more than simply writing words on a page. Good copywriting is when you strategically create, optimize, and publish content that builds brand awareness and guides customers to convert and buy from you, " says StrategyBeam.
Described as the creative art of convincing people to perform an action, copywriting is everything from the art of writing text ads, promotions, to engaging customers with professional content.
Design Your Articles with the Newspaper Theme
The Newspaper WordPress theme is entirely customizable. The tagDiv Composer page builder and the tagDiv Cloud Library give you the opportunity to design pages, as well as articles right on the frontend of your WordPress site.
The first thing is to install a PRO demo and set up a Single Post Template to outline your articles. These are the steps you should follow:
1. Install WordPress, Newspaper Theme, and activate all the required plugins.
2. Open an article on the frontend using the tagDiv Composer page builder. Click on the tagDiv Cloud Library and select a Single Post Template. There are plenty of amazing already-created designs that can fit your beautiful stories and make them even more appealing.
3. Hit the "Create Template" button and preview your page. open tagDiv Composer and easily customize your Single Post Template.
4. To apply this template globally, you need to click on the Single Post Template near the Cloud Library and hit the checkbox to make it a global one. Moreover, you can also select the pen to rename your Single Post Template.
5. If you have more single post templates and you want to decide for each article another design, you can always add a new post, open it on the frontend and import the desired template from the Cloud Library.
6. Now it's time to add your content, hit the Save button, and view your article.
7. It's so easy to make modifications to your Single Post Templates, and, if it's applied globally, all your articles will have the same design.
How to Structure an Article on Your Newspaper Website
So, now it's time to include your content in a new post. Write an appealing title that will get the Heading 1 formatting. Your article should consist of heading 2 subtitles, heading 3, or heading 4. It's important to use bullets or numbering to give a great balance to your content. Don't forget to include media files to make your story an attractive and credible one. And… use a readable font. Vista Print has listed the most readable fonts, and Georgia, Verdana, Robot, or Lata are just some of the lovely suggestions. Moreover, write your article with SEO in mind. Start your story around the main keyword. For example, if you're writing a post about the best mobile devices to use in 2021, make sure to use the keyword "best mobile devices" (in case you have not used the same main keyword before.)
I decided to apply this to a post of about 2000 words and show exactly how to structure an article on your Newspaper website. First of all, add the heading 1 – the title. Add the introduction paragraph. Now, write the first subtitle and explain everything about this subject in three paragraphs. For a complex structure, add three (or more) heading 3 subtitles, an introductory paragraph, followed by a bulleted list explaining the most important aspects.
Now, write another heading 2 as well as three more paragraphs and conclude the article. Add the featured image and the image content to balance the text and give more credibility to it. If you're also doing SEO on your site, it's important to mention here that you should pay attention to a few details. Before uploading media content, make sure they have an accurate filename. Now, after inserting them in your post, add relevant ALT text description. Done! Preview your article and make the adjustments if there are any 🙂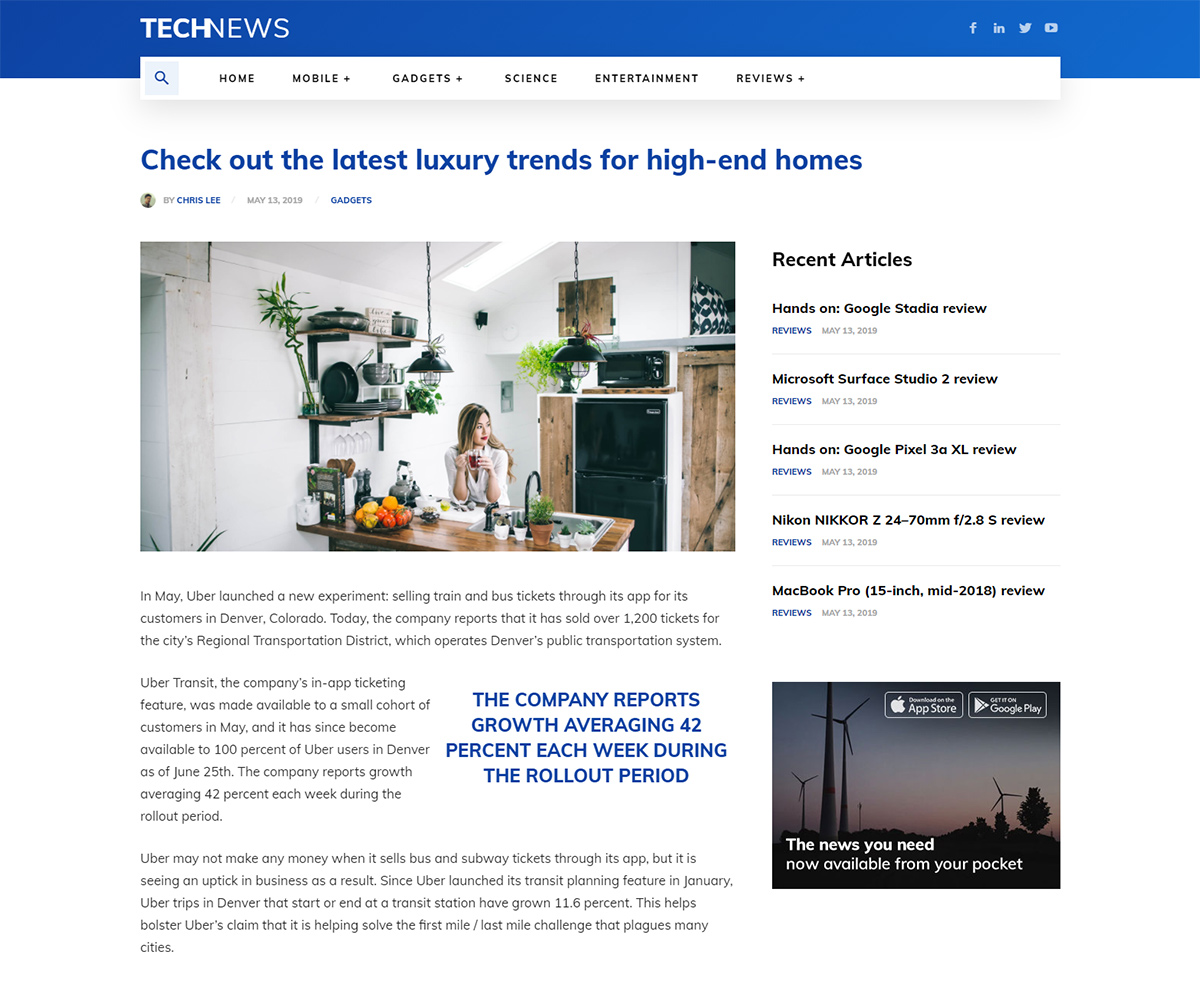 Copywriting Exercises
I know you're talented. Most of the time you write naturally, and don't think about the technical part. That every action performed to create a piece of writing actually has a name. Also, you don't want to cope with writer's block. If you want to avoid it, you should practice and create your own routine. Below, I've listed some of the best exercises and guidelines, so you can have a clear starting point.
Set a timer. For instance, this helps you see how long it takes for you to write an article of 800 words so you can best estimate your timing.
Read the article out loudly. When you work too much on a copy, you don't see the mistakes anymore. If you'll read the article yourself or use a software like ReadAloud by Microsoft that does it for you, you'll get a new perspective over the text.
Present readers the benefits instead of features. For example, if your site is about tech, and you're writing a new article on a freshly released smartphone that uses an advanced camera, you should present how this will improve the experience of taking images & videos.  
Use a few negative formulations/statements. "Negation of ideas can have paradoxical effects, possibly leading the listener to believe that the negated ideas actually existed," noted Dr. hab. Józef Maciuszek & Romuald Polczyk in their psychology article published on PLOS.  For example, rather than saying,"I do not like horror movies," you could say, "I prefer watching comedies instead of horror movies."
Learn and experiment how to research properly.
Seek for inspiration
Cut unnecessary text parts and restructure
Use active voice instead of passive voice
Use formatting to structure your article
Compare and analyze. What people appreciate the most is the evidence. Give as many examples as you can.
In the introduction, try to summarize the whole article in a short sentence
Practice new headlines daily. Blogging Wizard has a comprehensive guide on copywriting formulas that can help you write appealing headlines. 
Use leads in your introduction
Keep in mind that readers are curiosity seekers
Use the reciprocity principle in your writing
Be consistent with your ideas and deliver what you've promised in the introduction
Use social proof to strengthen your digital presence (because, let's face it, copywriting is a digital marketing "component.")
Empathy. Do you resonate with your article? What do you feel while reading it? Which are the situations that you had in mind when writing the copy?
Human behavior – you're actually writing for humans, so a bit of knowledge about how people behave and some psychological facts will definitely help you in this journey.
Understand the principles of persuasion and use at least one of reciprocity, scarcity, authority, consistency, linking, consensus principles when you write.
Moreover, besides the above hacks, you should definitely read different books and get even more copywriting tips. On JacobMcmillen, you'll find the best 30 books' suggestions that range from subjects like copywriting, human behavior, to marketing, and advertising. Seth Godin, Ann Handley, Chip & Dan Heath, and others have based their books on real examples and personal experiences.
What's Your Copywriting Purpose?
These are just a few strategies that you can use daily to strengthen your writing skills and copywriting efforts. Be a better you in this digital era! You know you got talent. Someone asked me recently how often he should write on the blog about his services. The answer is simple: daily. Practice a lot and find the balance between content, images, videos, typography, colors, negative space. Incorporate emotions within your copy and emphasize with your readers. Moreover, you're writing for the online environment. This means you're also an SEO copywriter. You're writing pieces of content that you want to be easily discoverable on SERP. Discover more about the importance of well-done SEO strategies and how to avoid common mistakes. Site's speed, headline, content, meta descriptions, keyword frequency, page linking – everything matters.