Newspaper 11 is Live! We're delighted to introduce to you brand new functionality that make Newspaper Theme 11 the first news theme truly oriented on generating revenue for you. From new pre-built websites, dedicated WooCommerce tools, and fresh tagDiv Cloud Library templates for your shop, version 11 of the Newspaper theme is ready to meet the Web Core vitals and give your website a ranking boost. With characteristics such as performance, responsiveness, and visual stability, Newspaper takes your site to the next level.
Today, it's never been easier to create content using frontend drag and drop functionality to allow your site's growth and expand it on the worldwide web. We have crafted the most powerful options that serve as productivity tools. You ask and we implement every feature that is much requested and you might need. In this article, we cover the changes and highlight the fresh elements that come with the Newspaper 11 theme update to give you more power over your news, blog, or eShop site.
How to Update Newspaper Theme to the Latest Version?
First, make sure you backup your website before installing a new theme version. Then, hit the Newspaper Dashboard Panel and go to the Updates tab. Click to automatically install the latest version available.
tagDiv Shop Plugin: Extra Super Powers for WooCommerce
We've crafted a dedicated plugin that brings you all the eCommerce functionality you would ever need to run an online store. Called 'tagDiv Shop', this plugin delivers awesome enhancements for the WooCommerce functionality. You can install and activate it from the Newspaper Plugins Panel. Before using it, please make sure you've also installed and activated the WooCommerce plugin from the WordPress repository.
We know you love to use tagDiv Composer and build your website on the frontend. To make it easier for you to create your store, the tagDiv Shop plugin brings you all the Woo elements in a single place ready to be dragged and dropped on pages or products. All the Woo shortcodes are listed within the tagDiv Composer page builder and they are divided into several sections for your convenience. We have created 23 new shortcodes/elements to use with your WooCommerce website, and build beautiful pages and categories for your products. All the elements can be combined and displayed exactly the way you like.
Woo Product Blocks
We've carefully created two new shortcodes that allow you to display your products using the best practice eshop interfaces with multiple images, variations on size and color, price, a generous description and reviews. The Woo Product shortcode automatically brings the elements you've already set up when adding the product using WooCommerce. You can even make the products repeat themselves, in an endless cycle.
You can use the Woo Loop shortcode on product pages, and decide how many products you want to display. You can add pagination or enable the infinite loading for the selected products with stunning results.
Woo Loop Sorting Options element can be used only on product category pages. It brings you a dropdown that lets you choose to sort items by popularity, average rating, latest items, and pricing.
After tackling for each setting of the Woo Loop or Woo Loop Sorting Options blocks, hit save and preview the results on the frontend.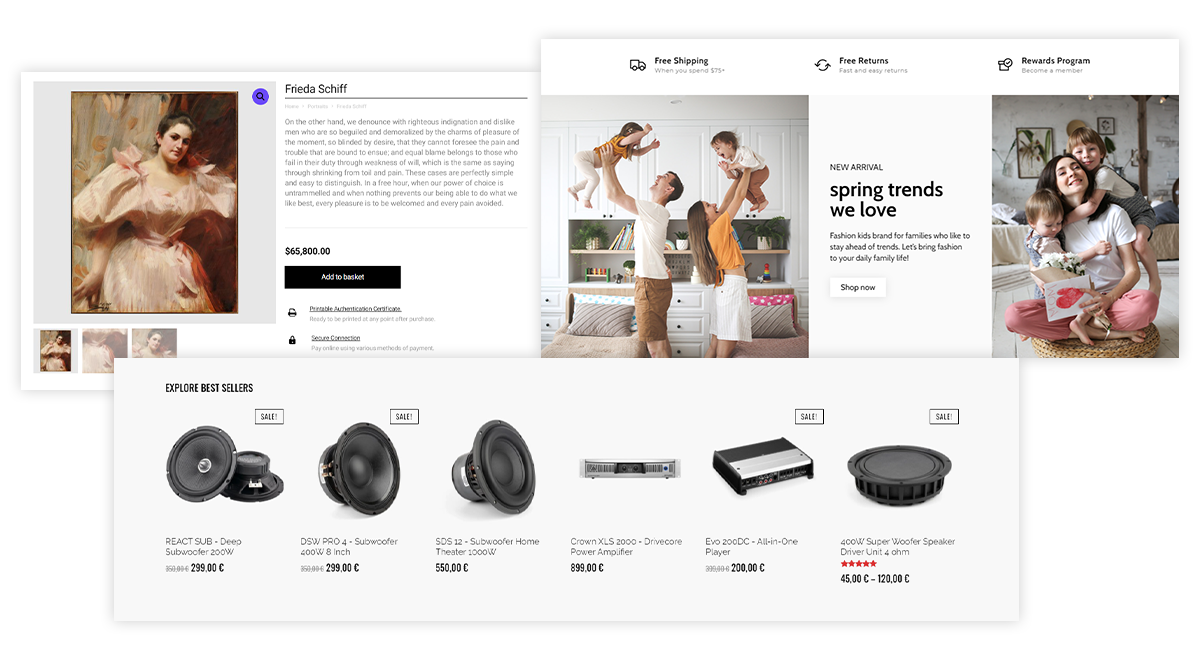 Editable WooCommerce Cloud Templates
Yes. With Newspaper your shop can be up and running in less then a single day as you don't have to create everything from scratch. Newspaper theme 11 comes with import-ready WooCommerce templates. Similar to any page or single post template available in the tagDiv Cloud Library, the WooCommerce Cloud Templates can be visualized under the Woo Archive, Woo Product, Woo Search, and Woo Shop Base tabs. You can import the one you like and customize it to perfection on the frontend using tagDiv Composer.
You can also discover how-to tips and useful best practices for your category templates that apply to any of the available templates within the tagDiv Cloud Library. If you want to display the same template from the Cloud Library for all the shop category, search, product page, and shop base pages, you have to assign them from the Theme Panel, under the SHOP settings.
Woo Archive Template
The Woo Archive Template is a general WooCommerce template that applies the same amazing layout for every filtering page. You can import it and use it on categories, taxonomies, tags, brands, and so on. This saves you a lot of time you can then use to create more awesome content for your audience and grow your website even more.
Woo Single Product Page
Think of the Woo Single Product Page as a single post template. It's completely editable, and you're customizing your selling item presentation page. This is a dedicated product section, where you establish how the elements display. For example, a single product page should contain the product image, title, customer reviews, product description, add to cart, SKU, and others. You can also remove content and add new blocks or sections.
Woo Search Template
Customizing your search page just the way you like is always challenging. As an essential eCommerce tool, by creating this type of page, it's important to have the right connections between elements. Think of the Search Template as a search engine solution that you must include in your online shop. By matching your visitors' keywords with the products on-site, you're ensuring a great UX, increased sales numbers. and returning customers.
Woo Shop Base Page
This is the base shop page, where all your products are listed. It is a template similar to the search or archive templates. The Shop Base template is a page where you can easily arrange your products with a simple yet elegant and user-friendly design. You can customize this page by dragging and dropping elements to make it just as fancy as your audience is.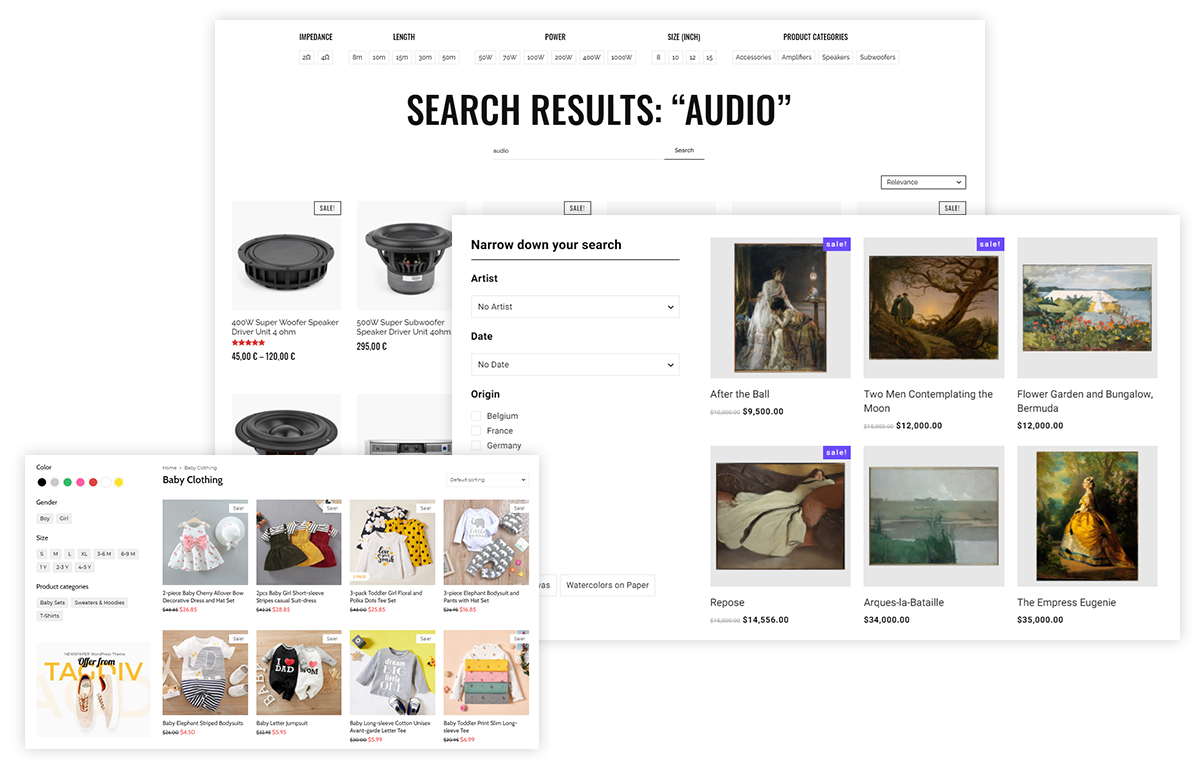 Intuitive Product Filters System
Product filtering helps you to improve the user experience on your website and eShop. Help your customers to easily find the desired or needed items. Let them enjoy browsing your store with an awesome filtering experience. To ensure a great UX, people's eyes are guided in the upper side of your site or in the left side. They search for the filtering options so they can find a product based on their own terms. That's why we've created a system that's intuitive and can provide an unmatched filtering experience for your visitors.
Starting with the Newspaper version 11, these responsive filters will help you boost conversions and increase your items' views count:
Filter by product categories and by tags
Filter any product attribute (size, colors, etc)
Filters style (dropdown, color, image, button, checkbox)
Filters with count of items on Category, Search, and Shop Base pages
If you want to erase filters, we've created a reset filters button.
Entirely Customizable Pre-Built Websites For Your Shop
Going beyondWoo editable templates, we've also created new shop pre-built websites that are entirely customizable. As a brief reminder, in Newspaper theme a pre-built website is a full website containing all the usual pages and elements, designed by our team from ground-up by using tagDiv Cloud Library Templates and the tagDiv Composer page builder. All pre-built websites are ready to be imported on your website and you can preview them within the Newspaper Theme Panel.
Now, let's take a look at the new full shop website designs introduced in Newspaper 11.
The Watches eShop is a lovely pre-built website that showcases watches. It is also practical for a jewelry online store or make-up shop. The homepage is simple and elegant, with minimal header and footer areas that contain all the needed elements: menu, logo, search box, cart & login icons, social media, and subscription box. Color baseline consists of black, grey and red shades. Montserrat family font is used for the product descriptions and Playfair for item titles.
Vaness eShop is a delightful presentation design for any online sweets store. It comes with a unique homepage using a pastel and geometric background combination. Pink, purple, and blue are the defining colors, while the Noto Serif, Cabin fonts make everything strong and visually appealing. Vaness is the perfect pre-built website if you're looking for a fresh, young, and modern approach for your eCommerce shop. Single image blocks, animated buttons, and a unique product style, two search icons, socials, blog section, review area on items' presentation pages, and an interesting crafted newsletter box are just a few of the sweet elements built with Newspaper theme and tagDiv Composer page builder.
The Kids Store is a modern pre-built fashion website where every product page, category is entirely built to ensure a smooth experience for online shoppers. This full demo is outlined by medium light shades of red and soft shades of grey, all combined with Cabin, Open-Sans, and Montserrat family fonts. The homepage contains flexible blocks, payment options, trust indicators and strong points, subscription box, sales banners, and the product pages are designed to include all the functionality one may expect. For example, there are customer review stars, titles, pricing, color range, available sizes, add to cart button, description, and a similar product recommendations block.
Our designers crafted a unique demo for publishing product reviews and selling various gadgets at the same time. The product page is elegant and highlights the product with a background made out of black and grey sections. Elements such as product description, product reviews, and similar product suggestions are just a few of the areas that describe the item's page.The add to cart button and item number box are rounded. Red, grey, and black colors, with the neat yet condensed Abel fonts, make Gadgets Blog the perfect tech eShop for your next business.
Apocryph is a full website that can help you easily create an online art house for a range of items. It comes with a sticky header and a mega menu that highlights every category on the website with medium image thumbnails and titles. The homepage consists of blocks in different sizes and ads spots and the predominant accent color of the website is purple. The Apocryph demo uses the interesting Heebo family font that has its roots in Roboto Laitin and Hebrew typefaces. It is an elegant font, well suited to describe an online art house website that has the purpose to sell paintings, pictures, and any form of online art supplies across the world.
Are you looking for a new WordPress theme for your next audio shop? Look no further than Newspaper. The new Shop Audio pre-built website is up and running! With a balanced homepage, the products are listed and outlined by important features: sale, pricing, excerpt, image boxes, a minimal header and footer area. The cart, my account area, search icon are all placed in the upper right corner of the header. The product page places the item and its description in the center of the site, and the main colors are black, white, grey, and a touch of red.
Makeup Shop is designed with your industry in mind. The new demo brings the functionality created to highlight any beauty product. Small blocks, titles, and pricing, as well as a section assigned to the blog area, with a standard yet fancy footer, the Makeup Shop pre-built website is a neat demo design ready to boost sales and grow your business.
The Vintage Shoppers predesign website is built for any motorcycle or automotive enthusiast who wants to combine a shop with a dedicated blog area. It comes with an elegant design, a black and grey chromatics, with a touch of soft orange. Wide blocks, embedded videos, latest news area – are just a few of the features included in this unique design.
Get Your Newspaper Shop Up and Running!
With Newspaper 11 you can create fully flexible and responsive websites, including online shops for any technology, news, entertainment, lifestyle, fashion, home goods, jewelry, books, and any eCommerce-related industry. If something can be sold online, then we've got you covered. If your dream was always to sell your items online, starting today, everything has become possible with your Newspaper theme! Want to test the new WooCommerce functionality and promote your items? Get your Newspaper theme license and create your new online store!